Hey there! If you're an expat living in Denmark or just someone who values online privacy, you've probably heard about Virtual Private Networks or VPNs. But what exactly are they, and why should you care?
Well, a VPN is a tool that encrypts your internet connection, keeping your online activities private and secure. It's like a secret tunnel for your data, keeping it safe from prying eyes.
Get started with the Best VPN for Denmark:
Sign up with ExpressVPN
Download the App for your mobile, laptop, or PC
Connect to a Danish server
If you're not 100% satisfied, you'll get all your money back within 30 days.
Plus, it can help you access content that might be restricted in your current location. Here at DenmarkExpat.com, we're all about helping you navigate life in Denmark, including your digital life.
So, let's dive into the world of VPNs for Denmark and explore why they're an essential tool for anyone browsing the web in this beautiful country. Buckle up!
Why Use a VPN in Denmark?
Alright, so why should you consider using a VPN in Denmark? Well, there are a few compelling reasons. First, Denmark is a part of the EU, meaning it's subject to data retention laws. This means your internet service provider (ISP) could be required to store and share details about your online activities. A VPN can help you maintain your privacy in this context.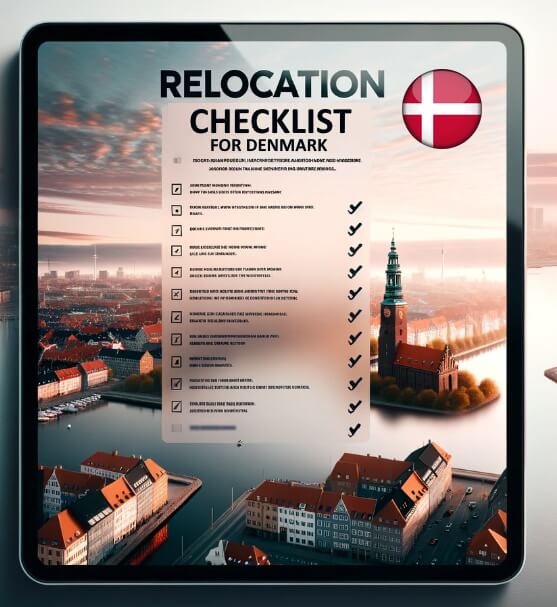 FREE Checklist for a Smooth Move to Denmark
Don't miss a step in your relocation journey. Subscribe and receive our detailed relocation checklist straight to your inbox
Secondly, a VPN allows you to access content that might be geo-restricted. Have you ever tried to watch your favorite show on Netflix or Hulu, only to find it's unavailable in Denmark? A VPN can solve that problem by making it appear like you're browsing from a different country.
Lastly, using a VPN is smart for securing your data, especially when using public Wi-Fi networks. These networks can be a playground for hackers, but a VPN provides an extra layer of security. So, whether you're an expat in Denmark or a local, a VPN can offer you greater freedom and security online. And who wouldn't want that, right?
Factors to Consider When Choosing a VPN
Now that we've established why a VPN is a good idea in Denmark let's discuss choosing the right one. Not all VPNs are created equal, and there are a few key factors you should consider.
Speed: Nobody likes a slow internet connection, right? Some VPNs can slow down your connection, so look for one that offers fast and reliable service. This is especially important if you plan on streaming or gaming.
Security: This is a biggie. A good VPN should have strong encryption to keep your data safe. Look for features like 256-bit encryption and a no-logs policy, which means the VPN provider doesn't record your online activities.
Server Locations: The more server locations a VPN has, the better. This gives you more options for bypassing geo-restrictions. And make sure they have servers in Denmark if you want to access local content abroad.
Ease of Use: A user-friendly interface and good customer support can make your VPN experience smoother. Look for a VPN that's easy to set up and use and has a support team ready to help if you run into any issues.
Price: VPNs can range from free to quite expensive. While free VPNs can be tempting, they often come with limitations and might not be as secure. Paid VPNs usually offer better service and features, so consider it an investment in your online security and freedom.
Remember, the best VPN for you depends on your specific needs and circumstances. So take your time and do your research. Happy hunting!
Top VPNs for Denmark
Alright, now let's get down to the nitty-gritty. Here are some of the top VPNs that you can consider for use in Denmark:
NordVPN:
NordVPN is a popular choice worldwide and for a good reason. It offers super-fast speeds, which is great for streaming and downloading. Security-wise, it's top-notch with AES 256-bit encryption and a strict no-logs policy. Plus, it has over 5,000 servers in 59 countries, including Denmark. The interface is user-friendly, and their customer service is reliable. It's not the cheapest option out there, but you definitely get what you pay for.
ExpressVPN:
ExpressVPN is another heavy-hitter in the VPN world. It's known for its lightning-fast speeds and high-level security, including 256-bit encryption and a no-logs policy. It has a wide network of servers in 94 countries, Denmark included. The setup is straightforward, and their customer support is available 24/7. It's a bit pricier than other options, but its performance and reliability make it worth the cost.
CyberGhost:
CyberGhost is a solid choice, especially for beginners. It offers decent speeds, strong security features, and a no-logs policy. It boasts a large network of over 6,000 servers in 89 countries, with plenty of servers in Denmark. The interface is easy to navigate, making it a good option for VPN newbies. It's also quite affordable, offering good value for money.
Remember, each of these VPNs has its strengths and may suit different needs. Consider what's most important to you – be it speed, security, server locations, ease of use, or price – and choose accordingly. Your perfect VPN match is out there!
How to Use a VPN
So, you've chosen your VPN and are ready to start surfing the web with more security and freedom. But how exactly do you use a VPN? Don't worry; it's pretty straightforward. Here's a simple step-by-step guide:
Sign Up: Choose your preferred VPN provider and sign up for their service. You'll need to provide some basic information and choose a payment plan.
Download and Install: Download the VPN app from the provider's website or your device's app store. Install it on your device just like you would with any other app.
Log In: Open the VPN app and log in with the credentials you used to sign up.
Connect: Most VPN apps will have a big button that says "Connect" or something similar. Click on it to connect to the VPN. Some apps will automatically connect you to the fastest server, but you can usually choose a specific location if you prefer.
Surf Safely: That's it! You're now connected to the VPN and can browse the web with more privacy and freedom. Remember to turn on your VPN whenever you're online, especially if you're using a public Wi-Fi network.
Using a VPN is a simple and effective way to enhance your online experience. So, get out there and start exploring the internet like never before!
Wrapping Up: Your Journey to Online Security in Denmark
And there you have it! We've covered why using a VPN in Denmark is a smart move, what to look for when choosing a VPN, some of the top VPNs to consider, and how to use your chosen VPN. Remember, a VPN is more than just a tool for accessing geo-restricted content (although that's a pretty cool feature). It's also a powerful way to protect online privacy and secure data.
Choosing the right VPN can seem daunting with so many options, but we hope this guide has made the process a little easier. Take your time, consider your specific needs, and choose the VPN that feels like the best fit for you.
Here at DenmarkExpat.com, we're all about helping you navigate life in Denmark offline and online. So, whether you're streaming your favorite show, shopping online, or browsing the web, we hope you do so with the added security and freedom that a VPN provides. Happy surfing!
Frequently Asked Questions (FAQs)
Is VPN legal in Denmark?
Absolutely! Using a VPN is completely legal in Denmark. There are no laws prohibiting the use of VPNs in the country. However, it's important to note that while using a VPN is legal, any illegal activities carried out while using a VPN remain illegal.
So, while a VPN can provide you with privacy and security, it should not be used as a cover for illicit activities. Always use your VPN responsibly!
Can I use a free VPN in Denmark?
Yes, you can use a free VPN in Denmark. However, it's important to be cautious when choosing a free VPN. While they can provide some level of security and privacy, they often come with limitations such as data caps, fewer server options, slower speeds, and less robust security features.
Additionally, some free VPNs make money by selling user data, which can compromise your privacy. A free VPN might suffice if you're looking for a VPN for occasional use or testing purposes. But a paid VPN is usually the better option for regular, secure, unrestricted internet access.
Disclaimer
A quick note, some of the links in this article are affiliate links. This means that if you click on them and make a purchase, we may receive a small commission at no extra cost to you. This helps support our work at DenmarkExpat.com, allowing us to continue providing you with the best information about living in Denmark.
Please understand that we have experience with all these companies, and we recommend them because they are helpful and useful, not because of the small commissions we make if you decide to buy something. Always do your research and make decisions that are best for you.
Thanks for your support, and thanks for reading! We hope this guide has been helpful in your quest for the best VPN for Denmark. Safe and happy browsing!