For any newcomer, securing a place to live is the first significant step towards establishing a new life in a foreign country. In Denmark, it's not just about finding a roof over your head, but also about locating a place that fits your lifestyle and budget. This task becomes more challenging if you don't understand Danish, but that's where we step in – to assist you in making sense of the housing situation in Denmark and making your transition as smooth as possible.
Whether you're a student looking for a place close to your university, or an expat trying to find a family-friendly neighborhood, knowing the ins and outs of the Danish housing market will be incredibly beneficial.
Key Takeaways
Denmark's housing market offers a variety of options from apartments to cooperative housing.
Understanding the rental process, including legal aspects and tenants' rights, is crucial for renters.
Potential buyers need to comprehend the Danish property market, including pricing and property types.
Additional costs, like agent fees and taxes, should be factored into the budget when purchasing a property.
The Danish housing market is stable, with high demand in cities like Copenhagen and Aarhus.
Preparation and understanding are key to successfully navigating the Danish housing market, whether renting or buying.
Different Types of Housing in Denmark
Denmark offers a variety of housing options to accommodate its diverse population, catering to different lifestyles, budgets, and preferences. Here's a brief rundown of the various types of accommodations you can find:
1. Apartments (Lejligheder)
Apartments are prevalent, especially in Danish cities. These can range from small studio apartments perfect for single inhabitants to larger family-sized apartments with multiple rooms. The size, location, and age of the building significantly influence the rent or sale price.
A popular option amongst students and young professionals is shared housing. In these setups, individuals rent a room in a larger house or apartment and share common areas like the kitchen and living room with other tenants. This is an economical option and also a great way to meet new people.
3. Student Residences (Kollegier/Studieboliger)
Specifically designed for students, these residences offer affordable accommodation usually located close to universities. Rooms can be individual or shared, with shared kitchen and lounge facilities. These accommodations often have a long waitlist, so it's advisable to apply as early as possible.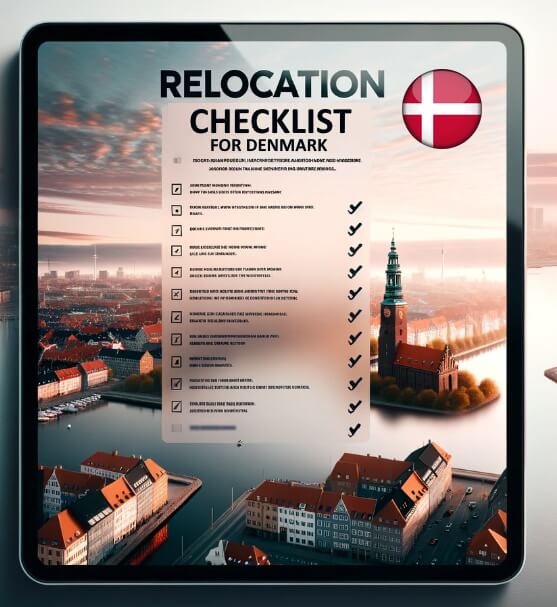 FREE Checklist for a Smooth Move to Denmark
Don't miss a step in your relocation journey. Subscribe and receive our detailed relocation checklist straight to your inbox
4. Houses (Huse)
From terraced houses to detached homes, several types of houses are available for rent or purchase in Denmark. Houses usually come with more space, both indoors and outdoors, making them ideal for families or individuals seeking a larger living area.
5. Co-housing (Andelsbolig)
This unique Danish housing concept involves a group of people collectively buying a property and sharing communal spaces, while each person or family has their private living quarters. It's a community-oriented living style that promotes social interaction and shared responsibilities.
Each of these types of housing has its own advantages and potential drawbacks, depending on your individual needs and preferences. As you venture into the Danish housing market, keep an open mind and consider all options available to you. The perfect Danish home for you could be just around the corner.
Renting Vs. Buying
When moving to Denmark, you may find yourself at the crossroads of whether to rent or buy a property. Both options come with their distinct advantages and potential drawbacks. Here's a straightforward comparison to help you make an informed decision.
Renting in Denmark
Renting is the most common choice for expats and students due to its flexibility and comparatively lower upfront costs. Here are some key points to consider:
Flexibility: Renting can offer more flexibility, especially if you're unsure about your long-term plans in Denmark. Leases are typically signed for one year, with the possibility of extension.
Lower Upfront Cost: Unlike buying, renting doesn't require a large sum of money upfront. Besides the monthly rent, you'll typically be required to pay a deposit (equivalent to up to three months' rent).
Maintenance: As a renter, you won't need to worry about property maintenance costs or taxes. These are usually the landlord's responsibility, unless otherwise stated in your lease.
The rental market, particularly in larger cities like Copenhagen, is highly competitive and can be expensive. Furthermore, rental properties might not offer the same level of personalization that owning a home can.
Buying in Denmark
Buying a property can be a significant financial commitment but comes with its own set of advantages:
Investment: Owning a property can be an excellent investment, especially in areas where property values are rising.
Stability: If you plan on staying in Denmark long-term, owning a property can provide a sense of stability and freedom to personalize your home.
Potential Rental Income: If you decide to move out, you have the option of renting your property for an additional income stream.
Buying a property involves a hefty upfront cost, including a down payment, mortgage setup fees, and transaction fees. The ongoing costs of owning a home, such as property taxes, maintenance, and insurance, should also be considered.
How to Find Accommodation
Once you have decided between renting and buying, the next step is to find the ideal property that suits your needs. Luckily, there are various resources available to help you in your search for accommodation in Denmark.
1. Online Property Portals
The internet is a useful tool in your housing search. Several websites list properties available for rent or purchase. Sites like BoligPortal, Lejebolig, DBA, and Findroommate are popular for rentals, while Boliga and Home are useful for buying properties. Remember to apply filters to narrow down the search according to your specific needs like location, price range, and type of accommodation.
2. Real Estate Agents
Real estate agents can be particularly helpful if you're looking to buy a property or rent high-end accommodation. They can provide guidance and handle much of the paperwork involved. Nybolig and EDC are two of the biggest real estate companies in Denmark.
3. Newspapers and Local Advertisements
Don't underestimate the power of traditional methods. Local newspapers often have property listings, and bulletin boards in supermarkets or local community centers may feature rental advertisements.
4. Social Media and Networking
Joining local social media groups and networking can also be beneficial in your search. The Facebook groups Foreigners in Denmark and Expats in Copenhagen, for instance, often have members posting about available accommodations or providing tips on where to look.
5. Direct Contact with Landlords or Sellers
If you spot a property that you're interested in, don't hesitate to contact the landlord or seller directly. In the case of rentals, reaching out early and showing genuine interest can help you stand out in a competitive market.
Understanding the Danish Rental Market
Understanding the nuances of the Danish rental market is crucial for anyone looking to rent property in Denmark. It can be a bit of a puzzle, especially for newcomers, but fear not. Here's a simplified breakdown of what you need to know.
Rental Process
Typically, the rental process involves finding a suitable property (as discussed in the previous section), applying or expressing interest, and once your application is accepted, signing a lease agreement. A security deposit, along with the first month's rent, is usually required before moving in.
Lease Agreements
Lease agreements in Denmark can be either time-unlimited (tidsbegrænset) or fixed-term (ubegrænset). The latter is more common, with a usual duration of 1-2 years, often with the possibility of extension.
Make sure to read the lease agreement carefully and understand all the terms before signing. Pay particular attention to clauses regarding notice periods, rent increases, and property maintenance responsibilities. If in doubt, don't hesitate to ask for clarification or seek legal advice.
Tenant's Rights
Denmark has strong tenant protection laws. For instance, landlords cannot evict tenants without a valid reason, and rent increases must follow certain regulations. However, it's essential to know that these protections primarily apply to properties that fall under 'regulation protected' (reguleret) and not 'free market' (fri) rentals, which are typically newer or fully renovated properties with fewer restrictions on rental rates.
Rental Rates and Deposits
Rental prices can vary significantly based on the property's location, size, and condition. As mentioned earlier, deposits are usually required and can be up to three months' rent. A prepaid rent (forudbetalt leje) covering 1-3 months may also be asked in addition to the deposit.
High Demand in Cities
The demand for rental properties, especially in major cities like Copenhagen and Aarhus, often outstrips the supply, leading to a highly competitive market. Therefore, it's advisable to start your search early and be proactive.
Legal Aspects of Renting in Denmark
Navigating through the legal aspects of renting in Denmark might seem overwhelming at first, but understanding these fundamental points can make the process significantly more manageable.
1. Lease Agreement (Lejekontrakt)
The lease agreement is a legally binding document that outlines the terms of your rental. It should clearly state the monthly rent, duration of the lease, notice period, and other key terms. Always ensure you read and understand everything in the lease before signing it.
2. Deposit and Prepaid Rent
As mentioned earlier, landlords can ask for a deposit of up to three months' rent and prepaid rent of up to three months. Be aware that while your deposit can be used by the landlord to cover any damages or unpaid rent, the prepaid rent cannot. It is typically used to pay your last months' rent.
3. Tenants' Rights
Danish law provides strong protections for tenants. For instance, landlords can't increase the rent unless it's specified in the contract or significant improvements are made to the property. Moreover, landlords cannot evict tenants without a valid reason, such as violation of the lease agreement.
4. Registration with the Danish Authorities
Once you move into your rented property, you must register your new address with the Danish Civil Registration System (CPR). This registration is crucial as it ties into everything from access to healthcare to the ability to get a phone line or a bank account.
5. Legal Assistance
If you encounter any issues or disputes with your landlord, organizations like LLO (Lejernes Landsorganisation) can provide guidance and support. These tenants' organizations can offer legal advice and assistance to ensure your rights are protected.
Practical Tips for Renting in Denmark
Renting a property in Denmark can be a daunting process, especially if you're new to the country. Here are some practical tips to ensure your renting journey is smooth and successful:
Start Early: The rental market, especially in cities like Copenhagen and Aarhus, can be highly competitive. Begin your search early and apply for several properties to increase your chances of finding suitable accommodation.
Understand the Lease Agreement: Always thoroughly read and understand the lease agreement before signing. Pay particular attention to your rights and responsibilities as a tenant, the rental price, deposit, notice period, and conditions for termination.
Be Prepared for Deposits and Prepaid Rent: Typically, you'll need to pay a deposit (up to three months' rent) and prepaid rent (also up to three months) before moving in. Make sure you're financially prepared for this.
Inspect the Property: Before moving in, inspect the property carefully. If you notice any issues or damages, report them to the landlord immediately. It's a good idea to take photos as proof. This can help avoid disputes over deductions from your deposit when you move out.
Get a Receipt: Whenever you make a payment, whether it's for the deposit, rent, or other fees, ensure you get a receipt as proof of payment. This can be vital in case of any financial disputes.
Register your Address: Once you move in, remember to register your new address with the Danish Civil Registration System (CPR).
Consider Renters' Insurance: While not mandatory, it's a good idea to get renters' insurance (indboforsikring) to cover your personal belongings in case of theft, fire, or other damages.
Seek Help if Needed: If you're unsure about anything or encounter problems, don't hesitate to seek advice. Organisations like LLO can provide legal advice and support to tenants.
Being proactive and well-prepared can help ensure your renting experience in Denmark is a pleasant one.
Understanding the Danish Property Market
If you're considering buying property in Denmark, understanding the basics of the Danish property market is essential. Here's a simple breakdown of key points to know.
Property Types
In Denmark, you'll find a variety of property types to choose from:
Detached houses (villaer)
Terraced or townhouses (rækkehuse)
Apartments (lejligheder)
Cooperative housing (andelsboliger).
Each type comes with its own benefits and considerations, so it's essential to research and choose the property type that suits your needs and lifestyle best.
Property Prices
The cost of property in Denmark can vary greatly based on location, size, and type of property. Generally, prices are highest in larger cities such as Copenhagen and Aarhus, and lower in rural areas.
Mortgage System
Most property buyers in Denmark finance their purchase with a mortgage loan (realkreditlån). Denmark has a unique mortgage system where mortgage bonds are sold on the open market. This system often results in lower interest rates compared to other countries.
Related: Check out our mortgage calculator
Buying Process
The property buying process typically involves finding a property, getting a purchase agreement (købsaftale), applying for a mortgage, and then finalizing the sale at the notary. It's advisable to get a lawyer or real estate agent to guide you through the process.
Real Estate Agents
Real estate agents can provide valuable assistance when buying a property. They can guide you through the process, handle paperwork, and negotiate on your behalf. Some of the biggest real estate companies in Denmark include Nybolig and EDC.
Property Taxes
Property owners in Denmark are subject to various taxes, including land tax (grundskyld) and property value tax (ejendomsværdiskat). Make sure to factor these into your budget when considering buying a property.
Legal Aspects of Buying Property in Denmark
Entering the property market in Denmark involves understanding some legal aspects to ensure a smooth transaction. Here's what you need to know:
Eligibility to Buy Property
As an EU citizen, you're generally free to buy property in Denmark. However, if you're from outside the EU, you'll need to apply for permission from the Danish Ministry of Justice unless you've previously lived in Denmark for at least five years.
Purchase Agreement (Købsaftale)
Once you've found a property you'd like to buy, the next step is to sign a purchase agreement. This legally binding document should detail the price, any fixtures and fittings included, the completion date, and other conditions of sale. Always read this agreement carefully and consider getting it checked by a lawyer.
Title Deed (Skøde)
The title deed is a document that proves your ownership of the property. After the sale is completed, the deed will be registered with the Danish Land Registry (Tinglysning).
Property Inspection and Survey
Before buying, it's crucial to have the property thoroughly inspected. You may also wish to have a property survey done to uncover any potential structural issues that could affect the property's value or require costly repairs.
Mortgage Deed (Pantebrev)
If you're taking out a mortgage to buy the property, a mortgage deed will be drawn up. This document gives the mortgage lender a claim on the property if you fail to keep up with your repayments.
Property Taxes
Property owners in Denmark have to pay land tax (grundskyld) and property value tax (ejendomsværdiskat). These taxes are usually included in your mortgage payments.
Practical Tips for Buying Property in Denmark
Buying a property in a new country is a significant step. Here are some practical tips to guide you through your property buying journey in Denmark:
Research: Take the time to understand the property market in Denmark. Keep an eye on market trends, familiarize yourself with the different property types, and get a sense of the prices in different areas.
Budget Wisely: Besides the property price, you should also account for additional costs such as agent fees, property taxes, legal fees, and the cost of any necessary repairs or renovations.
Hire Professionals: Consider hiring a real estate agent to guide you through the process, and a lawyer to review any legal documents. This can save you time and help you avoid potential pitfalls.
Property Inspection: Never skip the property inspection. This will help you uncover any potential issues with the property, from structural problems to necessary repairs, which can affect its value and your budget.
Understand the Purchase Agreement: Before you sign the purchase agreement, make sure you fully understand all its terms. Don't hesitate to ask your lawyer to clarify any points you're unsure about.
Financing: Familiarize yourself with the Danish mortgage system and explore your financing options. Make sure you understand the terms of any loan agreement before signing.
Property Insurance: Once you buy a property, ensure it's adequately insured. Property insurance can protect you from financial loss due to damages or other unforeseen issues.
Post-Purchase Formalities: After the purchase, don't forget to register your ownership of the property with the Danish Land Registry (Tinglysning).
The Danish Housing Market and Economy
The Danish housing market, like the broader Danish economy, is considered stable and attractive for both local and foreign investors.
Here's what you need to know.
Housing Market Overview
Over the years, Denmark's housing market has seen steady growth. The demand, especially in cities like Copenhagen and Aarhus, has driven property prices upward. However, it's worth noting that while property prices are relatively high in these cities, they are often balanced out by the low mortgage interest rates.
Economic Stability
Denmark's economy is one of the most robust and stable worldwide. Its well-functioning labor market, high standard of living, excellent infrastructure, and robust welfare system make it an attractive place for expats and foreign investors.
Interest Rates
Denmark often has some of the world's lowest mortgage interest rates, making it an attractive place for buying property. The Danish mortgage system, where mortgage bonds are sold on the open market, often results in low-interest rates for borrowers.
Foreign Investment
Foreign investment is generally welcomed in Denmark. The process for buying property is relatively straightforward, and foreign investors have the same rights as Danish citizens when it comes to property ownership.
Future Outlook
While it's impossible to predict the future with certainty, Denmark's housing market is expected to remain robust due to the ongoing demand for housing, especially in urban areas, and the overall stability of the Danish economy.
Additional Resources
A wealth of resources are available to help you make informed decisions and settle comfortably into your new Danish home.
Below are some key resources you might find helpful: