As you wander through the cobblestone streets, admiring the colorful houses and historic landmarks, don't forget to glance at the waterways that crisscross this enchanting city. They aren't just there for their good looks – they're an integral part of Copenhagen's vibrant transportation system, thanks to the much-loved harbour buses, or 'Havnebussen' as we locals like to call them.
Key Takeaways
Copenhagen's harbour buses are a unique and scenic mode of public transport.
The buses operate seven days a week, with a standard two-zone ticket costing DKK 24.
Tickets can be purchased through the DOT Mobilbilletter app or at ticket machines.
Special services like Harbour Bus Tours, night rides, and seasonal rides add to the experience.
All major announcements on the buses are made in English and Danish.
In this guide, we'll provide an all-you-need-to-know introduction to these delightful floating buses, helping you navigate Copenhagen from a truly Danish perspective while ensuring you enjoy every bit of your journey on the scenic waters.
What are Copenhagen's Harbour Buses?
Let's set sail with an understanding of what harbour buses are. These vessels are a little off the beaten track regarding public transport. In essence, they are boats, niftily crafted to serve as buses that glide gracefully on the city's canals and harbors, stopping at several points across the city.
Operating all year round, these harbour buses allow you not just to journey from point A to B, but to do so while taking in the breathtaking views of the cityscape from a unique vantage point. From the city's iconic Little Mermaid statue to the stunning contemporary architecture of The Black Diamond, the views from the harbor bus are nothing short of picture-postcard perfect.
The watery highways of the Copenhagen Harbour Buses are mainly spanned by two lines – Line 991 and Line 992. The 991 route will take you from the industrial-chic Refshaleøen to the bustling residential area of Teglholmen. Meanwhile, Line 992 sails from the historic Nyhavn to the modern neighborhood of Sluseholmen. Both of these routes include stops at much-loved tourist spots like The Opera House and Islands Brygge, among others.
In other words, whether you're en route to a museum, a park, or simply looking to savor the city's sights, the harbour bus lines cover a delightful cross-section of Copenhagen's attractions. So, kick back, enjoy the gentle lapping of the waves against the hull, and take in the sights of the city as it unfolds around you.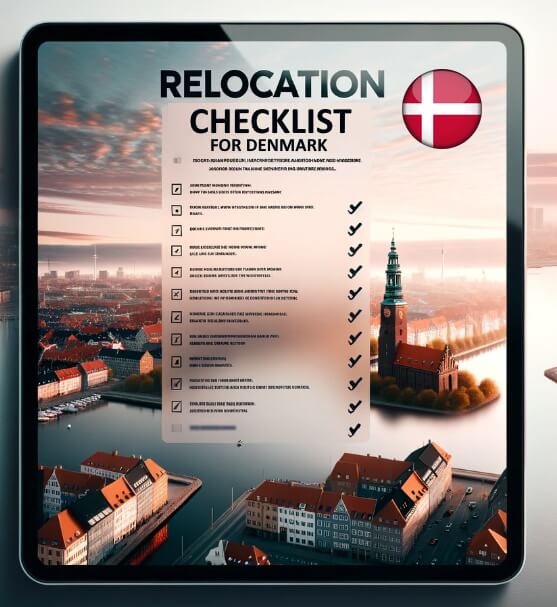 FREE Checklist for a Smooth Move to Denmark
Don't miss a step in your relocation journey. Subscribe and receive our detailed relocation checklist straight to your inbox
You can find more information about the different lines here:
Tickets and Pricing
Now, let's talk about how to get on board these sea-faring buses. Just as the waves are smooth, buying tickets for your journey on the harbour bus is a breeze. You can purchase your ticket directly on your smartphone using the user-friendly DOT Mobilbilletter app, or if you prefer a more traditional route, ticket machines are available at most stops.
As of our summer in 2023, a standard two-zone ticket, which should comfortably cover the central Copenhagen area for your exploration, costs DKK 24. Here's a fantastic tip – if you've got a Copenhagen Card or a City Pass at hand, these cover your journey on the harbour bus as well. Talk about smooth sailing!
How to Use Harbour Buses
If you've ever ridden a bus or taken a train, you're all set for your harbour bus adventure. The system is quite similar. All you need to do is check-in when you board and check-out when you disembark.
Rest assured, language barriers are one less thing to worry about, as key announcements are made in both English and Danish.
Related: Interesting Things to Do in Denmark: Best-hidden Attractions
Tips and Tricks
Ready, Set, Click!: As you cruise along, get ready to be greeted by some of the most photogenic views of Copenhagen. So, make sure your camera is charged and ready to capture those awe-inspiring shots!
Check the Timetable: Although harbour buses sail through the city approximately every 10-20 minutes, we recommend checking the timetable either online or at the bus stops. This way, you can perfectly plan your day and ensure you don't miss your ride.
Enjoy the Sunshine: The harbour buses are operational throughout the year. However, they are at their most enjoyable on bright, sunny days. Imagine sitting on the deck, soaking up the sun, feeling the cool breeze as you enjoy the picturesque sights – it's an experience you won't want to miss!
Avoid Rush Hours: Just like land-based public transport, harbour buses can also get crowded during peak times. Try to avoid these hours if you're in the mood for a leisurely and peaceful ride.
Slap on Some Sunscreen: While the Danish sun is generally mild, if you plan to enjoy the ride on a sunny day, don't forget to apply some sunscreen. After all, sunburns are never a fun souvenir!
Weather-wise: While the harbour buses run all year round, the schedules can sometimes be affected by extreme weather conditions. Always check the weather forecast before you plan your ride.
Accessibility: The harbour buses are wheelchair accessible, but you should check with the service operator if you need assistance.
Have a backup plan: In the unlikely event that the harbour buses are running late or have been suspended due to unforeseen circumstances, it's always a good idea to have a backup plan. The good news is, Copenhagen's land-based public transport is just as efficient.
Exploring Beyond the Basics: Special Harbour Bus Services
Did you think that we were done sharing all there is to know about the fascinating world of Copenhagen's harbour buses? Well, hold onto your sailor hats because there's more! Copenhagen is ever the gracious host, and the harbor bus service is no exception.
Let's explore some special offerings that might add that extra sparkle to your Danish adventure.
Copenhagen Harbour Bus Tours
What if we told you that the already enchanting harbour bus experience could be taken up a notch? Enter, the Harbour Bus Tours. These are specially curated tours that offer guided commentary on the scenic sights and historic landmarks dotting the route.
Available in multiple languages including English, these tours offer you a chance to soak in the cultural richness of Copenhagen while cruising along its beautiful waterways.
Night Rides on the Harbour Buses
Think Copenhagen's beauty dims as the sun sets? Think again! The harbour buses also operate in the evening hours, allowing you to witness the city under a starlit sky.
The twinkling lights from the buildings cast a magical glow on the water, creating a mesmerizing spectacle. This is an experience that stands out, quite literally, in a different light.
Seasonal Rides:
Lastly, keep an eye out for the seasonal rides. During the festive season or special occasions, the harbour buses often run thematic routes, immersing you in the Danish spirit of celebration.
From Christmas lights to midsummer festivities, these rides offer a unique taste of Copenhagen's vibrant culture.
Useful Resources
Rejseplanen (Journey Planner): For planning your journey in and around Copenhagen, the Rejseplanen app or website is quite handy. It provides accurate timetables and routes for all public transport, including the harbour buses. You can find it at rejseplanen.dk.
For any questions or concerns related to the harbour buses, don't hesitate to reach out to DOT (Din Offentlige Transport). You can call them at +45 70 15 70 00 or visit their official website for further details.