As one delves deeper into Copenhagen, it becomes evident that the soul of Copenhagen is captured in its diverse neighborhoods. Each district, with its unique ambiance, tells a different tale, making the city a mosaic of stories waiting to be discovered.
For those eager to experience the myriad facets of this Scandinavian gem, embarking on a journey through its neighborhoods is akin to flipping through the pages of a richly illustrated book. Whether you're wandering through the historic lanes of Indre By, soaking in the bohemian vibes of Christianshavn, or feeling the pulse of the trendy streets of Vesterbro, Copenhagen neighborhoods promise a tapestry of experiences.
Key Takeaways
Copenhagen's neighborhoods each offer a unique blend of history, culture, and modernity.
Indre By is the historic heart with royal palaces and age-old streets.
Vesterbro combines edginess with a thriving arts scene and nightlife.
Nørrebro is a multicultural haven with bustling streets and green spaces.
Østerbro promises elegance with its broad avenues and the picturesque Fælledparken.
Frederiksberg is a green urban oasis marked by its regal avenues and gardens.
Christianshavn is a maritime district with canals and a bohemian spirit.
Islands Brygge boasts urban renewal alongside tranquil harborfront activities.
Amager offers a mix of bustling city life, serene nature, and coastal charm.
Valby beautifully merges its industrial past with contemporary living and greenery.
Copenhagen Neighborhoods: Indre By (The Inner City)
A Glimpse into Copenhagen's Historic Heart
Tucked away at the very core of Copenhagen lies Indre By, often referred to as the "Inner City". This district stands as a testament to Copenhagen's rich history, with its narrow, winding cobblestone streets and iconic structures that narrate tales from centuries past. But don't be fooled by its age; Indre By seamlessly marries the old-world charm with the vibrancy of urban life, making it a bustling epicenter of activities.
Key Attractions
Tivoli Gardens: An enchanting amusement park that has captured the imaginations of both the young and the young-at-heart since 1843. With its mesmerizing rides, lush gardens, and an array of entertainment options, Tivoli offers a magical escape right in the heart of the city.
The King's New Square (Kongens Nytorv): A grand square surrounded by majestic architectural marvels. The square is not just a hub for cultural institutions like the Royal Danish Theater but also acts as a window to Copenhagen's regal past.
Strøget pedestrian street: Known to be one of the longest pedestrian streets in Europe, Strøget is a haven for shopaholics. From luxury brands to quaint local shops, it promises a shopping experience like no other, all while you stroll amidst historic buildings and lively street performers.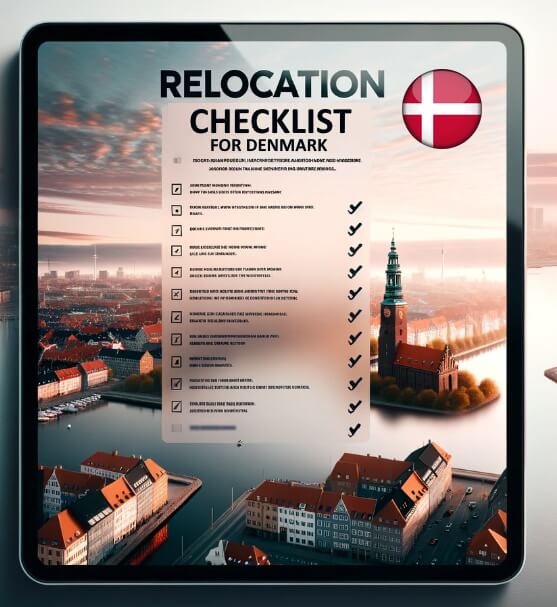 FREE Checklist for a Smooth Move to Denmark
Don't miss a step in your relocation journey. Subscribe and receive our detailed relocation checklist straight to your inbox
Ambiance
The very essence of Indre By lies in its duality. As you wander its streets, you'll be greeted by the harmonious sounds of church bells echoing against the backdrop of laughter from nearby cafes. The district boasts of a myriad of eateries, from traditional Danish bakeries offering delectable pastries to upscale restaurants serving global cuisines.
Yet, amidst this bustling atmosphere, pockets of tranquility can be found in its serene courtyards and by the calm waters of its canals. Whether you're an ardent history buff, a passionate shopper, or simply a curious wanderer, Indre By beckons you to embrace its welcoming embrace and discover its many treasures.
Vesterbro
From Gritty Past to Trendsetting Present
West of Copenhagen's central station unfolds the dynamic and ever-evolving district of Vesterbro. Once known for its rough edges and as the city's red-light district, Vesterbro has undergone a remarkable transformation. Today, it stands as a beacon of urban renewal, buzzing with creativity, art, and a unique blend of old and new.
Key Attractions
Kødbyen (The Meatpacking District): Previously the meat industry hub, Kødbyen has metamorphosed into one of the city's most chic and avant-garde spots. Brimming with contemporary art galleries, chic restaurants, and trendy nightclubs, this area beautifully encapsulates Vesterbro's transformative spirit.
Various Contemporary Art Galleries: The neighborhood is dotted with a plethora of art spaces showcasing cutting-edge art from local and international artists. These galleries not only serve as a platform for artistic expression but also as a testament to Vesterbro's commitment to celebrating creativity in all its forms.
Ambiance
Vesterbro exudes a young and artsy vibe, characterized by its vibrant street art, eclectic boutiques, and a diverse array of cafes and bars. The streets are alive with the hum of conversation, the strumming of street musicians, and the aromas of world cuisines wafting from its many eateries. This district, with its raw energy and bohemian spirit, is a haven for the young, the adventurous, and those looking to immerse themselves in a fusion of history and contemporary culture.
The neighborhood's community is a blend of long-time residents, young professionals, artists, and students, creating a melting pot of experiences and stories. As the sun sets, Vesterbro's nightlife awakens, with its many bars, music venues, and nightclubs promising memorable nights for those eager to dance the night away or simply enjoy a cocktail with friends.
In Vesterbro, every alley and square, every wall, and window narrates a tale of transformation, resilience, and vibrant urban life. For those seeking the pulse of modern Copenhagen while cherishing glimpses of its past, Vesterbro awaits with open arms.
Nørrebro
A Colorful Mélange of Cultures
To the northwest of Copenhagen's city center, Nørrebro unfurls as a dynamic and multifaceted district. With its roots deeply embedded in the city's history, Nørrebro has blossomed into a multicultural melting pot, where a tapestry of cultures, traditions, and stories intertwine, creating a district vibrant with diversity and life.
Key Attractions
Assistens Cemetery: Far from just a resting place, Assistens Cemetery doubles as a serene park, frequented by locals seeking solace, artists finding inspiration, or families enjoying a sunlit afternoon. This hallowed ground serves as the final resting place for notable figures like Hans Christian Andersen and Søren Kierkegaard, making it a significant historical landmark.
Superkilen Park: A celebration of global culture, Superkilen is an urban park divided into three main areas, each highlighting different aspects of global society. With installations and artifacts representing over 60 nationalities, it stands as a symbol of Nørrebro's multicultural essence.
Ambiance
The heartbeat of Nørrebro is its eclectic mix of influences. Streets adorned with vibrant murals lead to bustling marketplaces where a chorus of languages fills the air. Vintage shops stand side-by-side with cozy cafes, offering global cuisines from kebabs to smørrebrød. The aroma of freshly brewed coffee mingles effortlessly with the scent of exotic spices, painting a sensory picture of the world in just a few city blocks.
At the heart of Nørrebro lies its community—a delightful blend of natives, expatriates, artists, and students, all contributing to the neighborhood's spirited and welcoming atmosphere. The district's green spaces serve as popular gathering spots, hosting everything from impromptu music sessions to passionate debates, embodying the spirit of unity in diversity.
In Nørrebro, every corner whispers stories of dreams, aspirations, and coexistence. It beckons the curious soul to dive deep into its vibrant lanes, to be embraced by a world where boundaries fade and the human spirit shines brightest.
Østerbro
Elegance and Serenity by the City's Edge
Journeying to the northeast of Copenhagen, one is gently ushered into the graceful embrace of Østerbro. Often referred to as the city's quieter, posh sibling, Østerbro effortlessly marries the sophistication of urban living with the tranquility of nature. With its wide avenues lined with classic Copenhagen townhouses, chic boutiques, and abundant green spaces, Østerbro presents an idyllic haven for both families and the discerning traveler.
Key Attractions
Fælledparken: As the largest park in Copenhagen, Fælledparken is the green lung of Østerbro. It's a haven for outdoor enthusiasts, offering everything from serene ponds and vast green expanses to playgrounds and sports facilities. Locals and visitors alike flock here to enjoy picnics, engage in sports, or simply bask in the park's calming ambiance.
The Citadel (Kastellet): One of the best-preserved fortresses in Northern Europe, Kastellet stands as a testament to Copenhagen's military history. With its iconic star-shaped layout, the fortress is not just a historical landmark but also a serene space, complete with windmills, churches, and picturesque walking paths.
Ambiance
Stepping into Østerbro feels like taking a deep, rejuvenating breath. The district's ambiance is characterized by a sense of calm and elegance. Wide boulevards give way to cozy squares, where children play and locals engage in leisurely conversations over a cup of coffee. The district's eateries range from upscale restaurants offering gourmet delights to quaint bakeries where the aroma of fresh pastries wafts enticingly.
While Østerbro's heart is undeniably sophisticated, it pulses with a warmth that is both inviting and genuine. Families can be seen enjoying weekend brunches, while art enthusiasts meander through its numerous galleries. The proximity to the waterfront adds another layer of charm, with locals often enjoying serene walks by the harbor during golden sunsets.
In Østerbro, the rush of city life seems to slow down, allowing moments of reflection, relaxation, and genuine connection. For those seeking a blend of upscale urbanity with the gentle touch of nature, Østerbro extends a graceful, welcoming hand.
Frederiksberg
An Urban Oasis of Grace and Greenery
Ensconced in the heart of Copenhagen, yet distinct in its character, Frederiksberg stands tall and proud as a city within a city. Defined by its regal avenues, classical architecture, and lush gardens, Frederiksberg feels like a verdant sanctuary, offering a refined retreat from the hustle and bustle of the surrounding metropolis.
Key Attractions
Frederiksberg Gardens: A quintessential embodiment of Frederiksberg's love affair with nature, this grand garden is an ensemble of romantic lakes, winding paths, and majestic trees. The Chinese Pavilion, the historic Apis Temple, and the resplendent Frederiksberg Palace all add to the allure of this serene space.
Frederiksberg Town Hall: With its imposing structure and intricate design, the Town Hall is an architectural marvel, reflecting Frederiksberg's distinguished legacy.
Copenhagen Zoo: Located on the edge of Frederiksberg Gardens, it's one of the oldest zoos in Europe. It not only offers a peek into the fascinating world of diverse animal species but also boasts panoramic views of the city from its iconic wooden observation tower.
Ambiance
Frederiksberg exudes an air of timeless elegance. As one strolls down its avenues, there's an undeniable sense of being in a place that values its rich heritage, yet embraces the present with open arms. The district is dotted with chic boutiques, gourmet eateries, and coffee shops where the aroma of freshly roasted beans lingers enticingly.
Beyond its urban sophistication, what truly sets Frederiksberg apart is its commitment to providing pockets of greenery and spaces of retreat. Locals often indulge in leisurely picnics in its gardens, or simply find a quiet nook to immerse themselves in a book or indulge in introspective moments.
The community spirit in Frederiksberg is palpable. With its mix of families, professionals, and students from the nearby University of Copenhagen, there's a harmonious blend of vibrancy and tranquility. Events, whether they be local markets, concerts, or art exhibitions, are celebrated with enthusiasm, reflecting the district's welcoming and inclusive nature.
In Frederiksberg, one is invited to savor the slower, finer aspects of life. It's a district where beauty, culture, and nature converge, promising a holistic urban experience for those fortunate enough to wander its graceful paths.
Christianshavn
Canals, Cobblestones, and a Spirit of Freedom
As you journey eastward from the heart of Copenhagen, the scenic waterways and historic ambiance of Christianshavn beckon. Nestled between canals and brimming with maritime charm, this district, with its rich history and bohemian spirit, offers a unique blend of traditional Copenhagen culture and avant-garde ethos.
Key Attractions
The Canals: Modeled after Amsterdam, Christianshavn's canals are its lifeblood. Lined with colorful townhouses and historic ships, a walk or boat ride along these waterways promises picturesque views and a glimpse into the maritime heritage of the district.
Freetown Christiania: An autonomous and artistically vibrant commune, Christiania stands as a testament to the free-spirited ethos of parts of Christianshavn. With its distinct rules, colorful murals, and artisanal workshops, it offers a unique, alternative experience distinct from the rest of Copenhagen.
Church of Our Saviour: This baroque church is not just an architectural marvel but also offers one of the best panoramic views of Copenhagen from its helical spire. Those daring enough to climb its winding stairs are rewarded with a breathtaking vista of the city's skyline.
Ambiance
Walking through Christianshavn feels like stepping back in time while simultaneously being caressed by a breeze of contemporary bohemianism. The cobblestone streets echo with tales of seafarers, while the walls of buildings might just surprise you with a burst of modern street art.
The district is a gastronomic delight, with an array of eateries ranging from cozy traditional Danish cafes to internationally acclaimed restaurants. As the evening draws near, the ambient glow from lamps reflects off the canals, creating a dreamy atmosphere, further accentuated by the melodies of street musicians or the distant hum of a passing boat.
The heart of Christianshavn lies in its community. A harmonious blend of families, artists, and entrepreneurs, there's a palpable sense of mutual respect and shared love for the district's heritage and unique character. It's a place where traditions are cherished, but individuality is celebrated with fervor.
Christianshavn invites you to lose yourself in its labyrinthine alleys, to find solace by its serene canals, and to immerse yourself in a world where the past and present dance in beautiful synchrony.
Related: Facts about Denmark: Exploring the Land of Vikings
Islands Brygge
Urban Renewal Meets Riverside Relaxation
Situated on the harborfront, Islands Brygge is a district where Copenhagen's maritime legacy seamlessly merges with modern urban development. Once an industrial area with warehouses and factories, today Islands Brygge pulsates with cultural activities, waterfront recreation, and a sense of community that bridges the gap between the old and the new.
Key Attractions
Harbour Bath: A true testament to Copenhagen's commitment to sustainable living and urban innovation, the Harbour Bath at Islands Brygge offers a refreshing swimming experience right in the city's harbor. It's a hotspot during the summer months, with locals and visitors flocking to enjoy its clean waters and sun-drenched decks.
Kulturhuset Islands Brygge: Serving as the cultural heart of the district, this center hosts an array of events, from art exhibitions and workshops to concerts and local community gatherings. It stands as a beacon of Islands Brygge's dedication to fostering art, culture, and community ties.
Ambiance
Islands Brygge presents a harmonious juxtaposition of the laid-back ambiance of a seaside town and the dynamic energy of urban life. As you wander through its streets, you're greeted by contemporary architecture, interspersed with green pockets and historic remnants of its industrial past.
The waterfront promenade is a hive of activity, with families, joggers, cyclists, and rollerbladers all soaking in the district's refreshing atmosphere. Pop-up cafes and food trucks offer a delightful array of cuisines, with the tantalizing aroma of food wafting through the air, complemented by the gentle lapping of harbor waters.
Community spirit thrives in Islands Brygge. Local markets showcasing artisanal crafts, organic produce, and handmade delicacies are a frequent sight, reflecting the district's emphasis on sustainability and local enterprise. Street performers, from musicians to acrobats, add to the lively atmosphere, ensuring there's never a dull moment.
In Islands Brygge, the city's relentless pace gives way to moments of leisure and reflection. It offers an oasis where you can bask in the sun, dive into clear waters, or simply enjoy a leisurely evening with friends, all against the backdrop of Copenhagen's evolving skyline.
Amager
A Vibrant Island Escape Amidst the City
Beyond the heart of Copenhagen lies the captivating island district of Amager. With its roots entrenched deep in history, today, Amager is a splendid fusion of nature's bounty, urban sophistication, and coastal charm. Offering vast green spaces, bustling commercial zones, and tranquil beaches, it stands as a testament to Copenhagen's ability to harmoniously blend diverse landscapes into one cohesive narrative.
Key Attractions
Amager Strandpark: A crown jewel of Amager, this expansive beach park stretches along the coastline, offering a myriad of recreational opportunities. From serene spots for sunbathing and picnicking to areas designated for kite surfing and kayaking, there's something for every outdoor enthusiast here.
DR Byen: Home to the Danish Broadcasting Corporation, this modern architectural marvel serves as a hub for media, culture, and entertainment. Its distinctive buildings and state-of-the-art facilities provide a glimpse into the cutting edge of Scandinavian design and innovation.
Naturcenter Amager: This nature center is a gateway to exploring the diverse ecosystems of Amager Fælled, an expansive natural area brimming with wildlife, ponds, and meadows.
Ambiance
Amager's essence is its ability to offer myriad experiences, all within the confines of a single island district. The bustling neighborhoods, filled with shops, cafes, and eateries, hum with the vibrant rhythm of city life. Yet, just a short walk or bike ride away, the urban soundscape fades, replaced by the gentle rustling of leaves and the melodic calls of coastal birds.
The island's coastal areas, with their pristine beaches and dunes, invite residents and visitors to momentarily disconnect from the city's pace, to rejuvenate amidst the sound of waves and the touch of a gentle sea breeze.
A strong sense of community thrives in Amager. Festivals celebrating art, music, and local traditions are frequent occurrences, allowing neighbors to bond and share their diverse backgrounds and stories. Organic farmers' markets, pop-up events, and local fairs further echo the district's emphasis on sustainability and community engagement.
Amager extends an invitation to explore and embrace its multifaceted beauty. Whether you're seeking the vibrancy of urban life, the solace of nature, or the allure of the coast, this district promises a rich tapestry of experiences, all tied together with a warm, welcoming spirit.
Valby
A Harmonious Blend of Industrial Heritage and Green Tranquility
Nestled to the southwest of Copenhagen's heart, Valby, with its rich industrial past, has gracefully evolved into a modern, family-friendly district. It's a place where historic factories stand side by side with modern residential buildings, and vast parks provide a verdant escape from the urban environment. Valby retains its authentic charm while embracing the future with optimism and innovation.
Key Attractions
Carlsberg City District (Carlsberg Byen): Once the home of the world-renowned Carlsberg Breweries, this area has been masterfully transformed into a vibrant urban space. While it showcases modern residential and commercial structures, the historic brewery buildings and the iconic Elephant Gate stand as reminders of Valby's industrial legacy.
Valby Park: As the largest park in Copenhagen, Valby Park is a true green sanctuary. With its beautifully themed gardens, play areas, and vast open spaces, it offers residents and visitors alike a chance to reconnect with nature, engage in sports, or simply relax amidst lush greenery.
Spinderiet: A former cotton mill turned shopping center, Spinderiet symbolizes Valby's adaptive reuse ethos. With its array of shops, cafes, and cultural spaces, it's a lively hub for socializing and shopping.
Ambiance
Valby feels like a comforting embrace. It's a district where the narratives of the past seamlessly weave into the aspirations of the present. The wide streets, punctuated with patches of green and historic landmarks, tell tales of an industrious past, while the lively squares and modern amenities resonate with contemporary vibrancy.
Cafes and eateries, ranging from traditional Danish bakeries to international cuisine, line the streets, offering delectable treats and warm conversations. The district's arts scene is equally flourishing, with local theaters, galleries, and studios showcasing the creative spirit of its residents.
Family is at the heart of Valby. Playgrounds echo with the laughter of children, and community events are celebrated with gusto, reflecting the district's inclusive and close-knit character. It's common to see families cycling together, neighbors sharing a cup of coffee, or community members participating in local initiatives.
Valby is an ode to balance – a harmonious coexistence of the old and the new, the urban and the natural. For those who yearn for a district that cherishes its roots while reaching for the stars, Valby extends a heartwarming welcome.
Related: Housing in Denmark 2023: Complete Guide to Renting & Buying