Denmark, a Scandinavian country, is renowned for its high standard of living, outstanding education and healthcare, and superior infrastructure. It is no wonder that many people from other countries are keen to settle down or work in Denmark.
The cities in the country are some of the best in the world and offer exceptional living conditions, healthcare, infrastructure, and education. However, many people prefer to live in cities as they offer more job opportunities.
Here is a list of the best cities in Denmark to help you out
So, if you are planning to become a long-term resident of this country, you should know which are the biggest cities in Denmark.
That way, you can select one perfect city that meets your expectations.
Copenhagen
Copenhagen is not just the biggest city in Denmark but also the kingdom's capital. It is located along the eastern coast of Zealand Island, but a small part of Copenhagen is on Amager Island.
The capital is steeped in history and will please history buffs. It was founded as a fishing village by the Vikings in the 10th century.
While Copenhagen has witnessed a lot since it was founded, today, it is one of the most developed cities in the world with amazing infrastructure.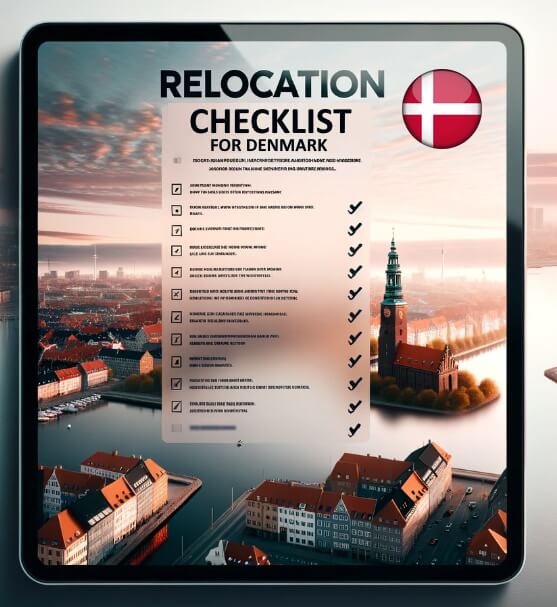 FREE Checklist for a Smooth Move to Denmark
Don't miss a step in your relocation journey. Subscribe and receive our detailed relocation checklist straight to your inbox
The city is home to numerous universities and institutions of higher learning, including the University of Copenhagen and the Technical University of Denmark. That is one of the reasons it attracts students and scholars from across the world.
Copenhagen is a green city with a lot of emphasis on clean and fresh living. It has tracks spread across the city for bicycles, allowing residents to reduce their carbon footprint by choosing to travel on two wheels rather than four wheels (cars).
There is no dearth of attractions in the city. You can plan outings to restaurants, nightclubs, museums, and other attractions, such as the Tivoli Gardens, Rosenborg Castle Museum, and the statue of the Little Mermaid. One thing is for sure, there is never a dull moment in Copenhagen that has so much to offer visitors and residents alike.
Aarhus
Aarhus is the second-biggest city in Denmark after Copenhagen. Located on the east coast of the Jutland Peninsula, it is approximately 187km (116mi) from the capital, Copenhagen.
The city was founded in the 8th century as a fortified settlement by the Vikings. The real development came during the industrial revolution, and today, Aarhus is recognized as a hub for culture and economy.
The city attracts many businesses as it is a major industrial port. It is home to several companies so that you will find numerous job opportunities in Aarhus. That is one of the reasons many professionals love to stay here.
It also hosts several conferences and has superior venues for them. Aarhus is listed among the top 100 cities for conferences.
Families looking to relocate to Aarhus will be happy to hear that the city has Aarhus University for higher education and is a vital center for research and development. The city has had a long affair with music and is known to have a rich and vivid musical history.
Odense
If you are looking for the biggest cities in Denmark, Odense cannot be left out. It is the third-largest city in Denmark. It is located on Funen Island and is about 167km (103mi) from Copenhagen, towards the southwest.
The city and the surrounding areas have a 4000-year-old history. So, if you enjoy historical places, you will love Odense as you can spend days discovering its rich history.
Be sure to take time out to visit the Hans Christian Andersen Museum, Odense Palace, and Odense Theatre. Music lovers will adore the Odense Symphony Orchestra.
Today, Odense is one of the primary industrial cities in Denmark. It is home to several large industries, including Albani Brewery and GASA. So, it can offer numerous job opportunities to locals and foreigners.
Aalborg
Aalborg is the fourth-largest city in Denmark and is located in North Jutland. It is approximately 118km (73mi) from the city of Aarhus. The city was a major harbor during the Middle Ages, which is true today.
That is one of the reasons that Aalborg has an industrial hub. So, if you are looking for jobs as a foreigner, this could be the perfect city to explore. It offers a lot to discerning travelers, visitors, and residents.
The city mesmerizes you with its architecture. It is dotted with half-timbered mansions built centuries ago by affluent mansions. You can spend an entire day checking out these mansions and marveling at the architecture.
Aalborg is also a cultural hub, thanks to the numerous museums, ornate palaces, theaters, and orchestras. If you decide to go on a cultural trip, you will find plenty to keep you busy and entertained.
Every May, the city hosts the Aalborg Festival in the last week of the month. It is one of the biggest festivals in Scandinavia. It is a cultural event that should be a part of your must-visit list.
Frederiksberg
Frederiksberg is the fifth-largest city in Denmark and is renowned for its affluence. It is a part of the Capital Region but is independent of Copenhagen. Many attractions people associate with Copenhagen, like the zoo, are located in Frederiksberg.
The city is extremely green and attracts locals during the weekend who come to spend time in the gardens around Frederiksberg Palace. It is also a shopper's paradise, and Gammel Kongevej is the place to shop for designer clothing and articles. As you walk along Værnedamsvej Street, you will find several cafes and stores selling specialty food.
Families can visit the Copenhagen Zoo, which will delight their kids as it is home to polar bears, seals, and even elephants.
Conclusion
These are some of the biggest cities in Denmark, and most visitors make it a point to visit and explore them. They are also the cities where you will find history, culture, nature, and job opportunities.