As an expatriate in Denmark, you can own a car and ensure you stay mobile and commute or travel on your own terms. Many people are surprised at the high cost of vehicles in the country but if you opt for a car loan in Denmark, you can actually afford one.
The Best Way To Get A Car Loan In Denmark:
Go to Lendo.dk
Select the main purpose "Car loan" = Billån
Select the desired amount (the price of the car)
Select the term/payment (løbetid) for the loan
Press "Continue" (Fortsæt) and enter your personal information
💡 Tip: If you use Chrome browser, right-click and use the "Translate to English" function.
*Ex: Total credit amount DKK 200,000. Term 5 years. APR 7.68%. Variable debtor rate 7.00%. Establishment DKK 400. Total repayment DKK 48,000. Term 1-12 years. Interest rate range 2.95-22.52%.
The main reason for the high vehicle cost is the Vehicle Registration Tax, known. This tax can be 150 percent of the vehicle value if it exceeds a certain price. The good news is that RA can be lowered if your car is equipped with safety equipment and has high fuel efficiency.
Another factor that affects the prices of cars in Denmark is the green owner tax or grøn ejerafgift. This tax is an environmental tax and is levied based on the environmental friendliness of a vehicle.
Types of Car Loans in Denmark
In Denmark, you can get access to two types of car loans. These are: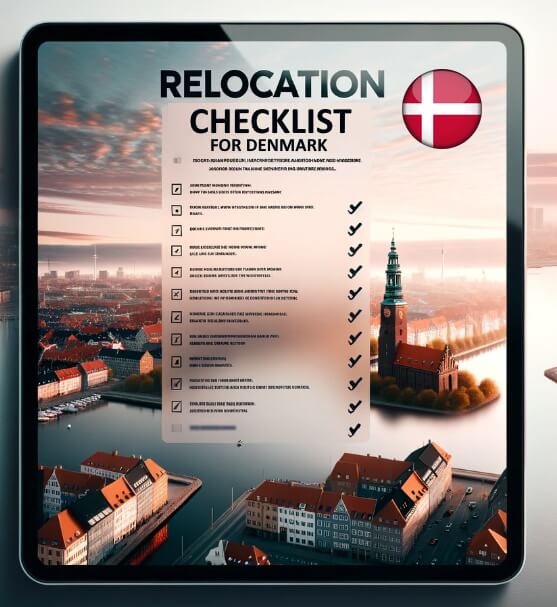 FREE Checklist for a Smooth Move to Denmark
Don't miss a step in your relocation journey. Subscribe and receive our detailed relocation checklist straight to your inbox
Secured car loan
Unsecured car loan
As the name suggests, in a secured car loan, your car functions as collateral and is pledged to the lender. Hence, you need to ensure that you pay the monthly loan installments. If you default on the payments, the lender is within their legal rights to repossess your vehicle. The lender will thereafter sell the car to recover the car loan amount.
Since secured car loans are backed by collateral, they are often cheaper than an unsecured car loan, where the interest rate on loan is high since there is no collateral to reduce the risk to the lender. However, with an unsecured loan, you do not have to pay a registration fee, which is mandatory when taking a secured car loan in Denmark.
That is why when comparing car loans in Denmark, it is prudent to look at the APR rather than the interest rate.
Understanding APR and Interest Rate in Denmark
APR stands for annual percentage rate. The annual interest rate the lender will charge you on the car loan you take. It is expressed as a percentage and covers the annual cost of funds during the loan term.
Remember, when you take a car loan in Denmark, you pay the interest and other fees, such as registration fees and foundation costs. The total you will incur on the car loan will be represented as APR. Hence, if you want to compare car loans from different lenders in Denmark, it is advisable to compare the APRs, not the interest rate. It will give you the true picture.
You may already be aware of the interest rate; it is the cost you pay a lender for borrowing money. The interest rate is a percentage of the amount you want to borrow and it is added to the loan amount and then divided by the number of months you want the loan for. This gives you the monthly installments that you need to pay the lender.
Related article: loans in Denmark
In Denmark, lenders do assess lenders for risk of default. That and internal costs determine the interest rate you would have to pay for taking a car loan.
If you are considered risk-worthy and credit-worthy, you will receive a more favorable interest rate. Also, if you use your car as collateral, you reduce the risk to the lender and this, too, helps to reduce the interest rate.
The interest rate in Denmark, just like any other country, is dependent on the state of the economy. If the economy is flourishing, you will always get the lowest interest rate, even if you want to apply for a car loan with collateral.
How to Apply for Car Loan in Denmark
While you can physically visit a bank to apply for a car loan in person, it is much easier to apply online. It hardly takes time.
One of the best places to apply for a car loan in Denmark is Lendo.
You can apply directly on this site for a car loan, and filling up the online form takes hardly a couple of minutes. The loan application is free and without any obligation on your part to take a loan.
Once you fill out the online application, within a couple of hours, you will receive offers from potential lenders for an unsecured car loan with the lowest possible interest rate and no-down-payment car loans.
You can compare the different loans and their APRs to determine which one best suits your needs and fits your budget. It is best to remember that to get a car loan in Denmark, you have to fulfill certain criteria. These include:
A good credit history
A steady source of income
A Danish social security number
Lenders check Denmark's credit history when a person applies for a car loan. So, make sure that you diligently pay your bills and taxes while you are in Denmark. In case you do not have a credit history in Denmark, don't worry. You can still apply for a car loan along with a co-applicant, who can be a local. You can request your Danish friends to help you out in this regard.
When you apply for a car loan in Denmark through Autolånet, the entire loan application process is quick and hassle-free.
Use a Loan Calculator
Using an online car loan calculator in Denmark is advisable before applying for a loan.
This calculator is very easy to use; enter the loan amount you want to borrow and the loan duration. You will immediately get the amount you can expect to pay each month during the loan term.
You may wonder why it is necessary to use an online car loan calculator in Denmark. The reason is very simple – it helps you avoid unforeseen expenses and prepares you for your financial obligations.
In Conclusion
This is everything about a car loan in Denmark. Go ahead and apply for a loan to enjoy vehicle ownership while working or studying in this country.