Travel Insurance Denmark: Travel insurance is essential for any trip, and Denmark is no exception. It provides you with financial protection and peace of mind in case of unforeseen events like illness, injury, theft, or trip cancellation. Accidents and unexpected situations can happen anywhere, and having the right travel insurance will ensure that you're covered during your Danish adventure.
Understanding the Danish healthcare system
Denmark has a high-quality and efficient healthcare system, but it may differ from what you're used to in your home country. The Danish healthcare system is primarily funded by taxes and offers free public healthcare services to its residents.
Related: Pharmacy in Denmark
However, this does not mean that tourists can access free healthcare. As a visitor, you will likely be required to pay for any medical treatment you receive, making travel insurance even more essential.
Types of travel insurance for Denmark
Several types of travel insurance policies are available for your trip to Denmark. Choosing the right one is essential based on your travel plans and needs. Here are the most common types:
Type:
Single-trip insurance
Multi-trip insurance
Long-term travel insurance
Description:
This type of insurance is designed for one trip only. It covers you for the entire duration of your journey to Denmark, usually up to a maximum of 30-60 days.

This is an excellent option for planning a one-time vacation or a short business trip.
Multi-trip insurance is the way to go if you're a frequent traveler or planning multiple trips within a year.

This policy covers you for multiple journeys, typically within a 12-month period. It can be more cost-effective than purchasing single-trip policies for each trip you take.
Long-term travel insurance is designed for extended stays abroad, such as a gap year or a long-term work assignment.

This policy covers medical emergencies, trip cancellations, and other unexpected events during your extended stay in Denmark.
Factors to consider when choosing travel insurance Denmark
There are several factors to consider when choosing travel insurance for your trip to Denmark:
Coverage
Make sure the policy you choose covers all the essentials, such as medical expenses, trip cancellations, baggage loss, and personal liability. Additionally, look for coverage specific to Denmark, like emergency dental treatment and repatriation.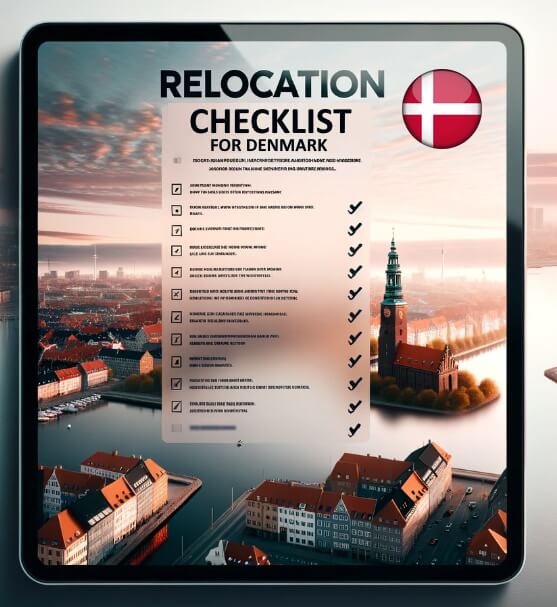 FREE Checklist for a Smooth Move to Denmark
Don't miss a step in your relocation journey. Subscribe and receive our detailed relocation checklist straight to your inbox
Deductibles
The deductible is the amount you'll need to pay out-of-pocket before the insurance company covers any expenses. Choose a deductible that you're comfortable with and that fits your budget.
Exclusions
Read the fine print and understand any exclusions in the policy. Some policies may not cover certain activities, like extreme sports, or may have restrictions based on pre-existing medical conditions.
Customer support
Choose an insurance provider with a good reputation for customer support.
You'll want to ensure they have a responsive and helpful customer service team, as they will be your first point of contact in an emergency or if you need assistance during your trip.
Top travel insurance providers for Denmark
Several reputable travel insurance providers offer coverage for trips to Denmark. Some of the top options include:
World Nomads: Known for their flexible and comprehensive policies, World Nomads is a popular choice among travelers. They offer coverage for various activities, including adventure sports.
Allianz Travel: Allianz is a well-established company offering various travel insurance policies. Their plans cater to different needs, from single-trip coverage to annual multi-trip policies.
AXA travel: AXA provides travel insurance with a strong focus on medical coverage, making it a suitable choice for those with health concerns. They also offer customizable plans to fit your specific needs.
Always compare multiple providers and policies to ensure you get the best coverage and price for your needs.
The claims process for travel insurance
In the event that you need to claim your travel insurance policy, it's crucial to understand the process. Here are the general steps you should follow:
Contact your insurance provider as soon as possible. Most companies have a 24/7 hotline you can call in case of emergencies.
Provide all the necessary documentation, such as receipts, police reports, and medical records, to support your claim.
Fill out the claim form provided by your insurer and submit it along with the required documents.
Wait for your insurance provider to assess your claim and determine if it's covered under your policy. This process may take a few weeks.
If your claim is approved, the insurance company will reimburse you for the expenses covered by your policy.
Tips for a safe and enjoyable trip to Denmark
To make your trip to Denmark as safe and enjoyable as possible, follow these tips:
Stay informed about local laws, customs, and safety advisories.
Always keep a copy of your travel insurance policy and emergency contact numbers with you.
Secure your belongings and be vigilant against theft, especially in tourist areas.
Register with your country's embassy or consulate in Denmark in case of emergencies.
Carry a basic first-aid kit and any necessary medications with you.
Conclusion
Travel insurance is a vital component of planning your trip to Denmark. It ensures that you're protected against unforeseen events, allowing you to enjoy your adventure with the peace of mind. Carefully consider your options and choose a policy that fits your needs and travel plans. With the right travel insurance in place, you can focus on experiencing the beauty and culture of Denmark.
FAQ
Is travel insurance mandatory for visiting Denmark?
While travel insurance is not legally required for visiting Denmark, protecting yourself against unforeseen expenses and emergencies during your trip is highly recommended.
Can I purchase travel insurance after arriving in Denmark?
It's generally best to purchase travel insurance before your trip. However, some providers may allow you to buy coverage after you've arrived, but there may be waiting periods or limitations in place.
Many travel insurance providers now offer coverage for COVID-19-related expenses, such as medical treatment and trip cancellations. Be sure to check the policy details and confirm that it includes COVID-19 coverage before purchasing.
Will my existing health insurance cover me in Denmark?
Some health insurance policies may provide international coverage, but checking your policy's details is essential. Even if your health insurance covers you abroad, travel insurance is still recommended for additional protection.