Denmark is a compact Northern European country with excellent infrastructure to keep the population mobile. Familiar gas station brand names like Shell, Circle K, or Uno X make fueling up on petrol convenient.
Gas costs more in Denmark. Being aware of current market prices is a prudent way to save.
Gas stations in Denmark are called petrol stations (Tankstations). While most petrol pumps function similarly, a few tips can get you on the road safely and quickly.
Gas Stations
Danish petrol stations provide quality gasoline and bioethanol blends. There are many 24-hour stations to serve you. Major highways have limited gas station access, and 75% of filling stations are without staff.
Learn more about gasoline types, diesel, LPG, CNG, H2, and electric car charging stations in Denmark.
Petrol Stations By Brand
We seldom think about gas stations, which are essential to our lifestyle. Denmark offers consumers a great selection of recognizable brands and bargain gas stations.
Shell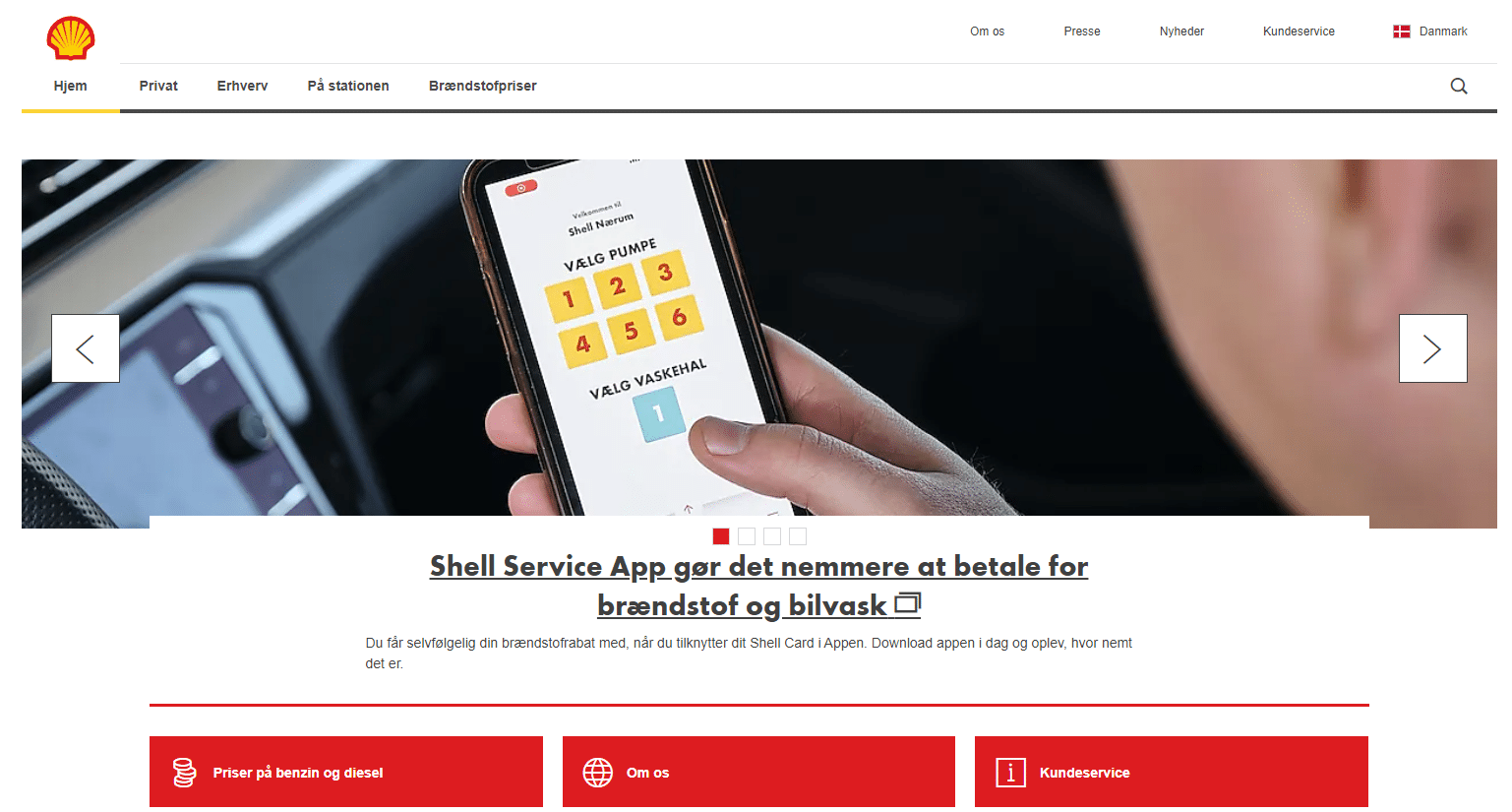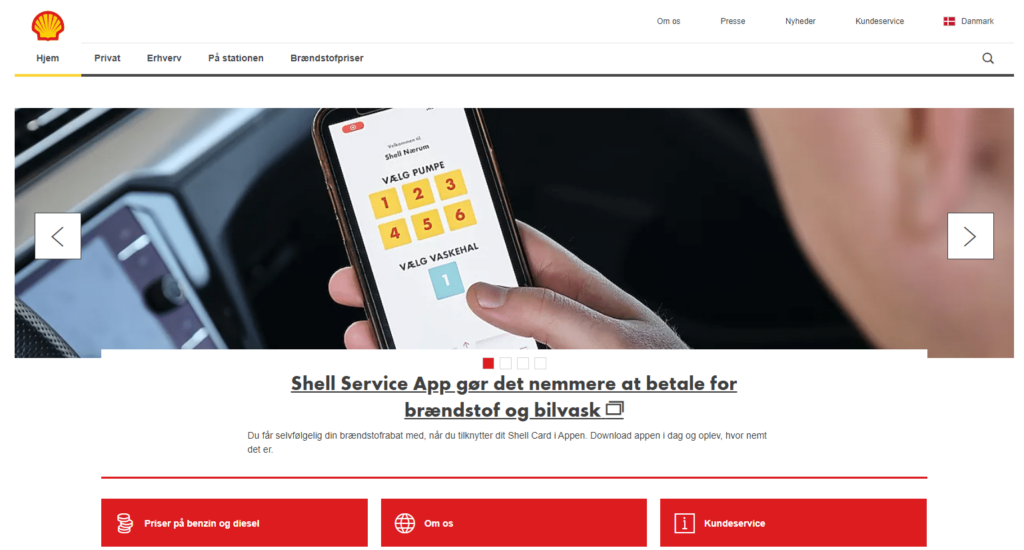 Shell is a universal brand recognized worldwide for its quality gas and service stations. Shell is one of the early petrol service providers and has been servicing Denmark since 1913.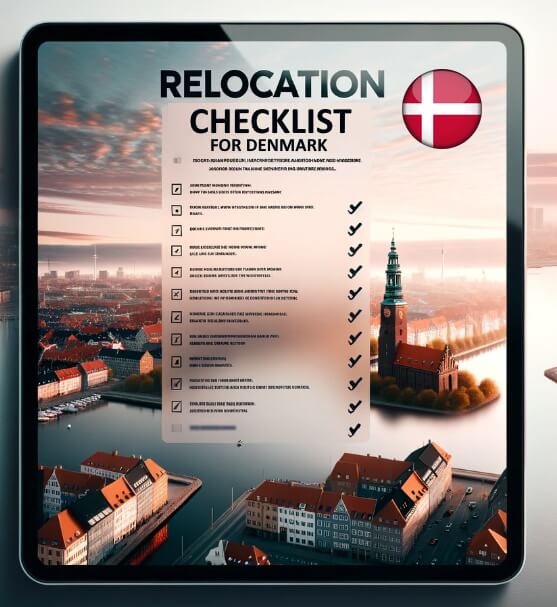 FREE Checklist for a Smooth Move to Denmark
Don't miss a step in your relocation journey. Subscribe and receive our detailed relocation checklist straight to your inbox
Shell has representation throughout the country and a head office in Nærum, north of Copenhagen. For more information about Shell and its Danish presence, visit this website.
Opening Hours
Most Shell petrol stations are open from 6 am to 11 pm on Monday to Sunday. For locations in Denmark, this map lists locations, opening hours, and types of services.
Circle K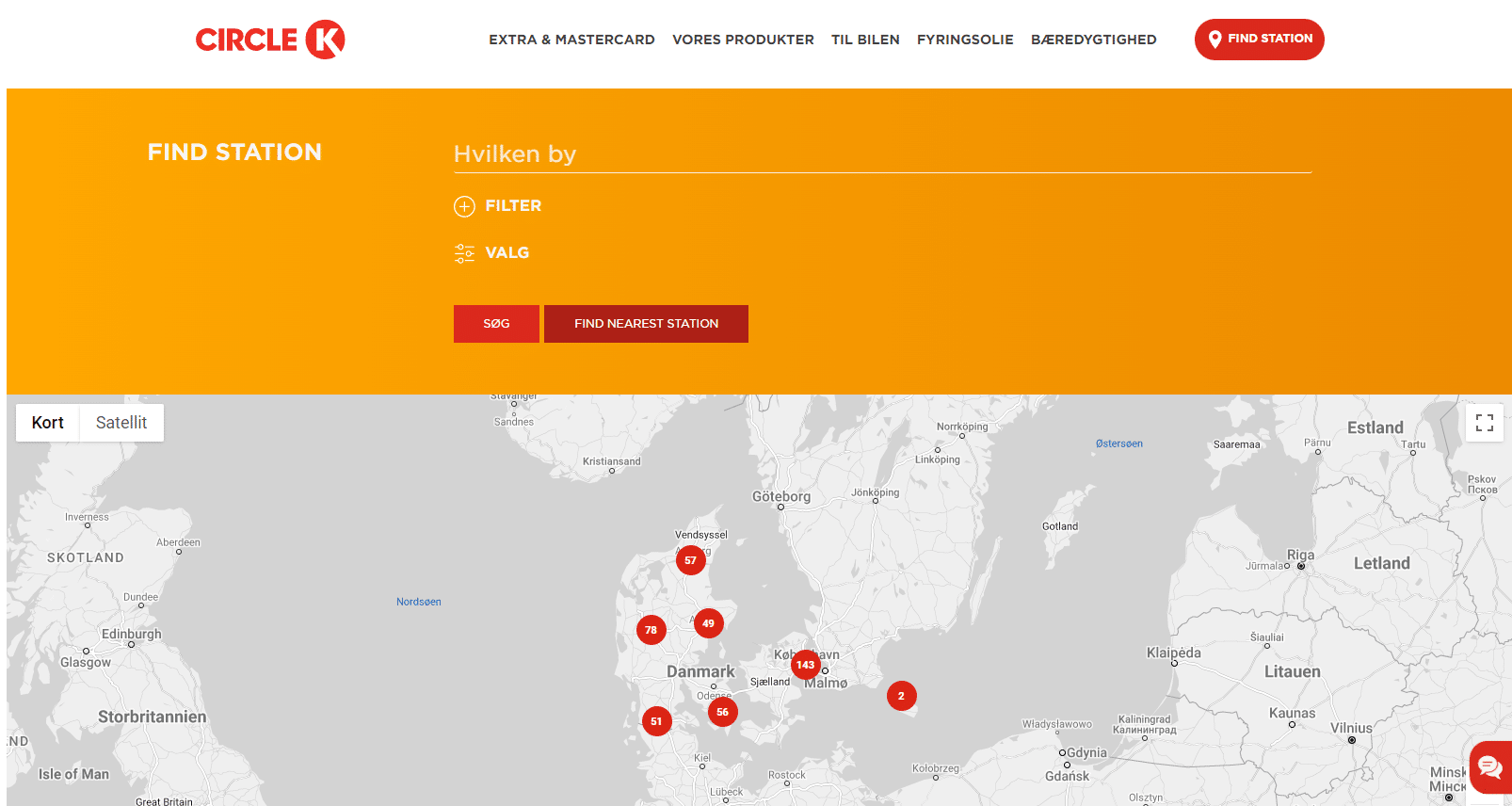 Circle K is another global petrol station with over 300 filling stations across Denmark. Circle K stations offer a quick-stop solution to fill up on fuel and stock up on snacks and drinks.
Circle K belongs to the mega-conglomerate Couche-Tarde. It owns the Norwegian Statoil petrol station brand.
The convenience of fuel, facilities, and snacks under one roof make Circle K popular. Circle K offers self-serve fuel pumps.
Circle K has an office in Copenhagen to serve the Danish client better. You can visit their website for more information at www.Statoil.dk.
Opening Hours
As with many of Denmark's petrol stations, Cirkle K is open 24 hours, Monday to Friday. Download the app for more information about fuel service options.
OK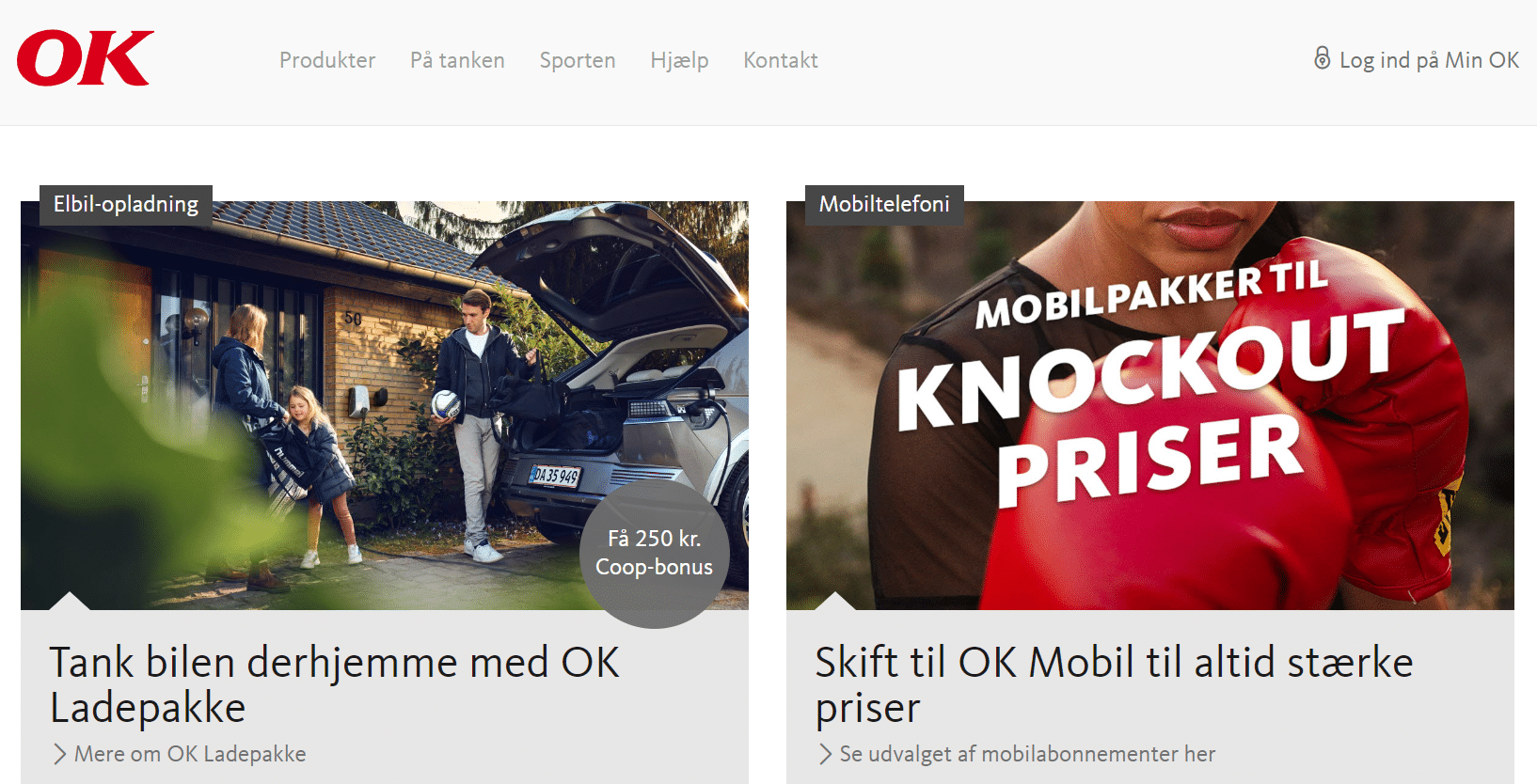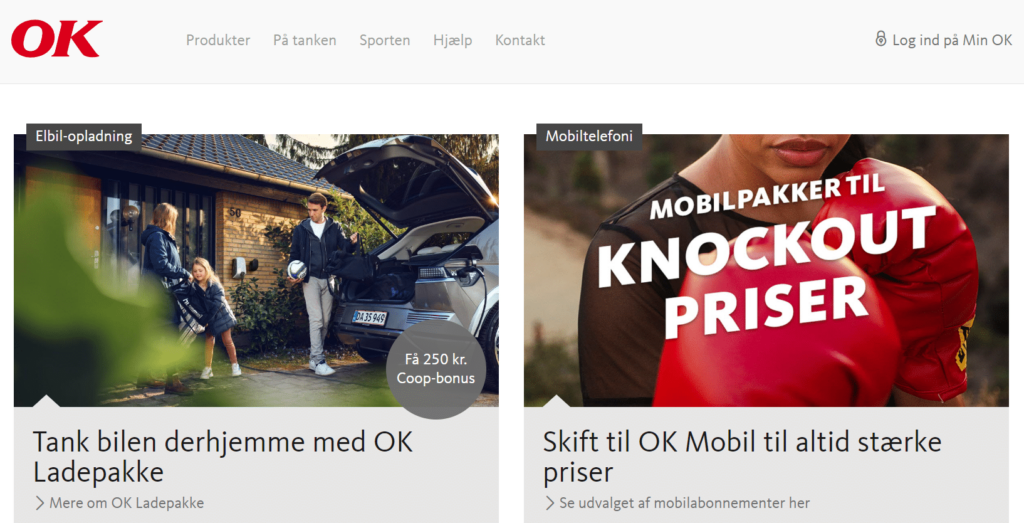 Traveling through Denmark, the red and white OK logo is familiar. Providing petrol service from 700 stations, OK is a popular customer-owned filling station.
OK stations have a close relationship with local communities and offer an OK Gas Card that donates a portion of sales to promote and build local sports facilities.
This unique petrol filling station offers an affordable OK Mobile division and further discounts on service subscriptions.
Visit OK Benzin (Gas) in Jutland in Arhus to find their home office. Or take advantage of the website and promo info.
Opening Hours
There are no consistent opening hours for Ok Tankstations. Some stations offer 24-hour service while others fluctuate between 5:30 am opening and 11 pm closing. Use the app.
INGO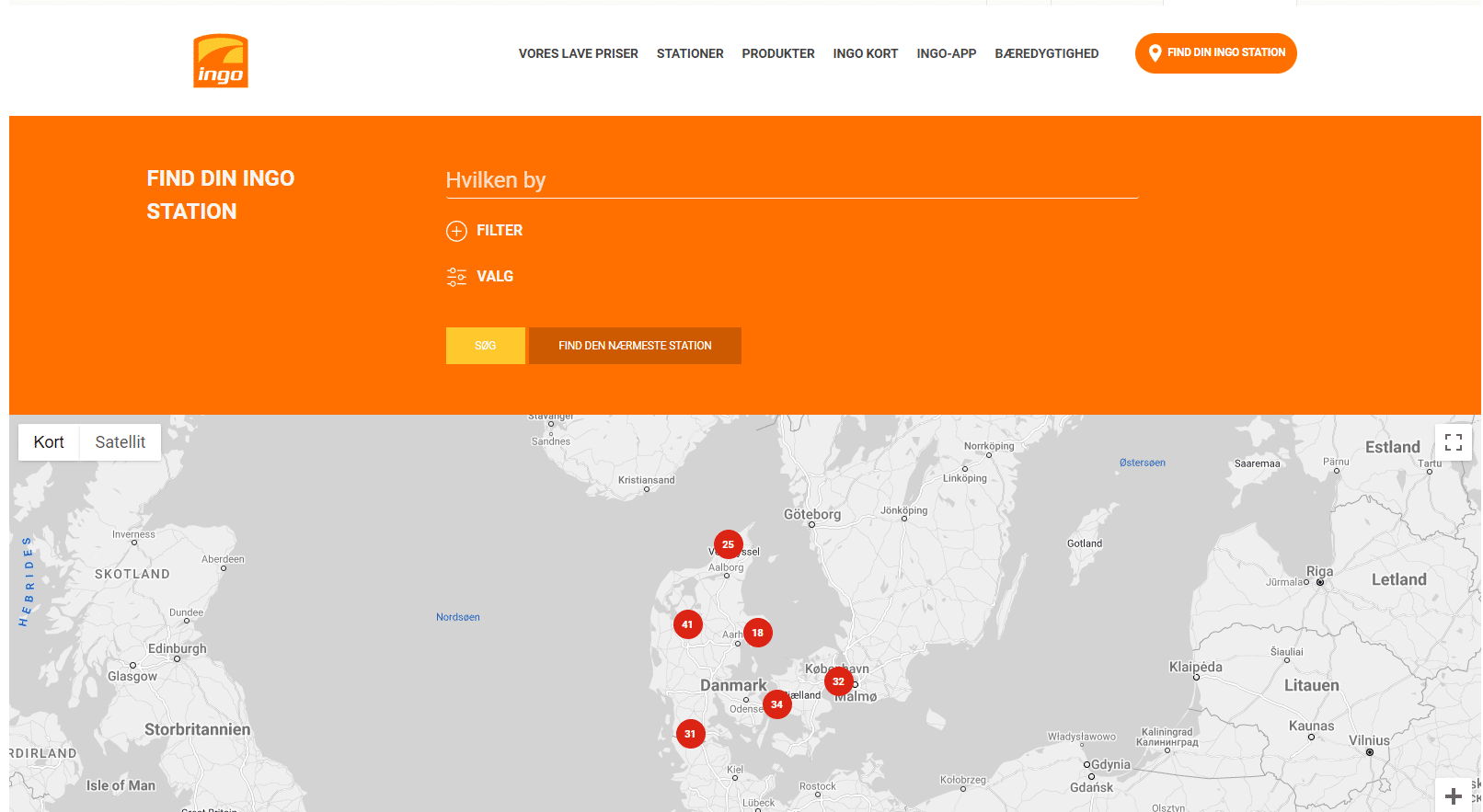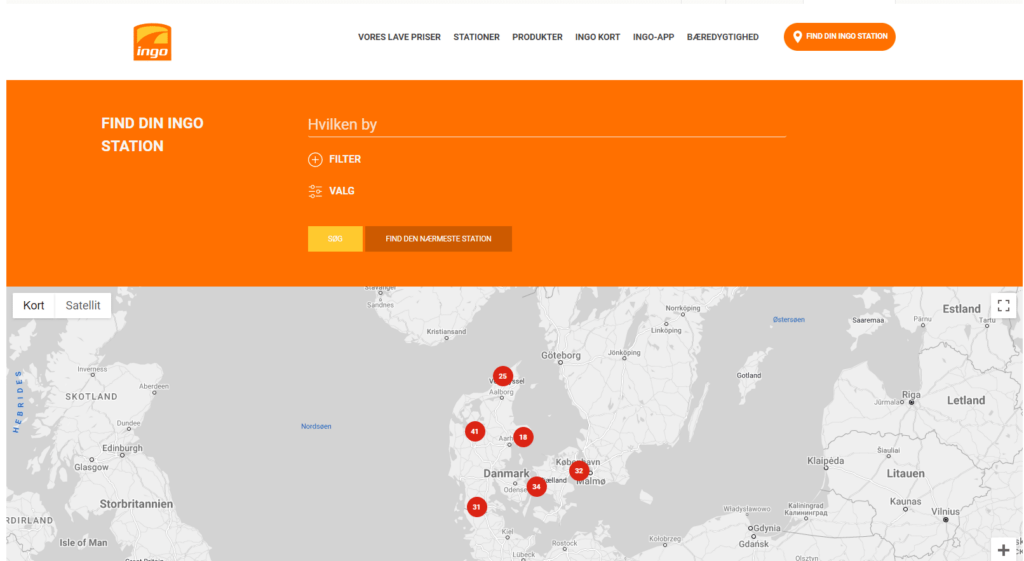 INGO is the go-to station for those who value fuel prices. Like its competition Cirkle K, INGO once belonged under the Statoil banner until Couche-Tard bought the chain.
For those looking for bioethanol gas (92 & 95), INGO provides 71 service stations with a strong representation in major centers.
Their headquarters are in Copenhagen, or you can use the website.
Click this convenient search map tool to find a station. Better yet, get the app on Google Play or Apple Store.
Opening Hours
To serve their customers better, INGO petrol stations are open 24 hours, Monday to Friday. Some holiday restrictions might apply.
Q8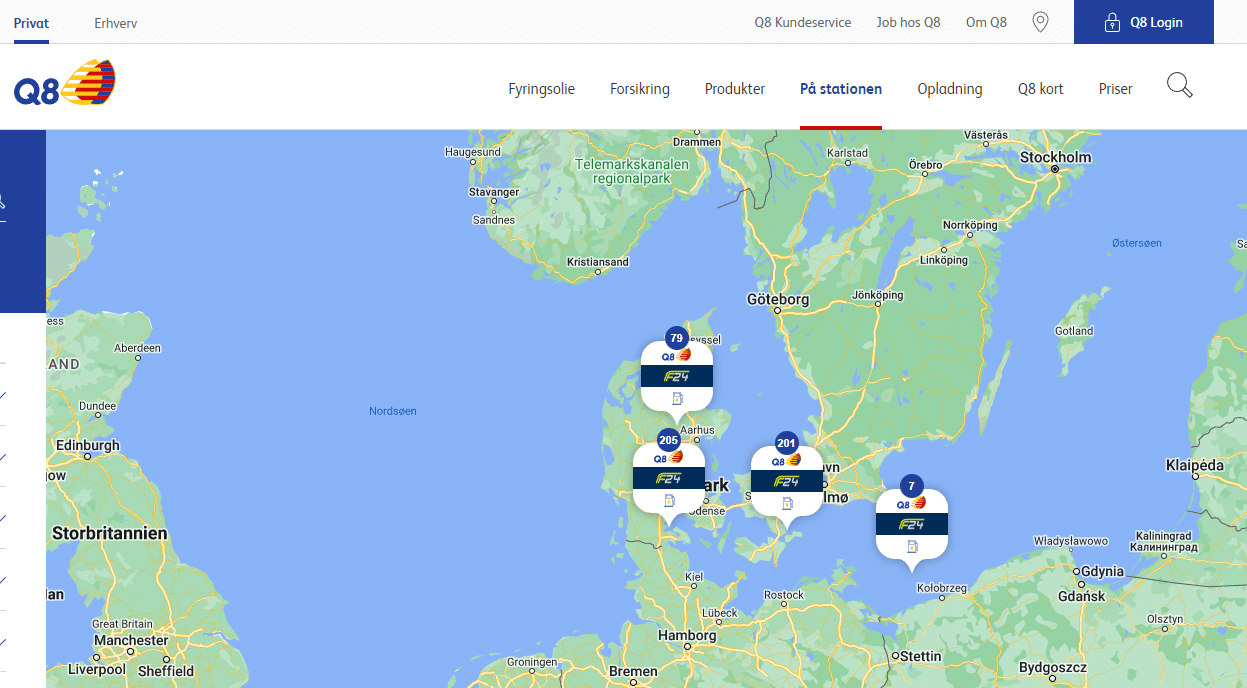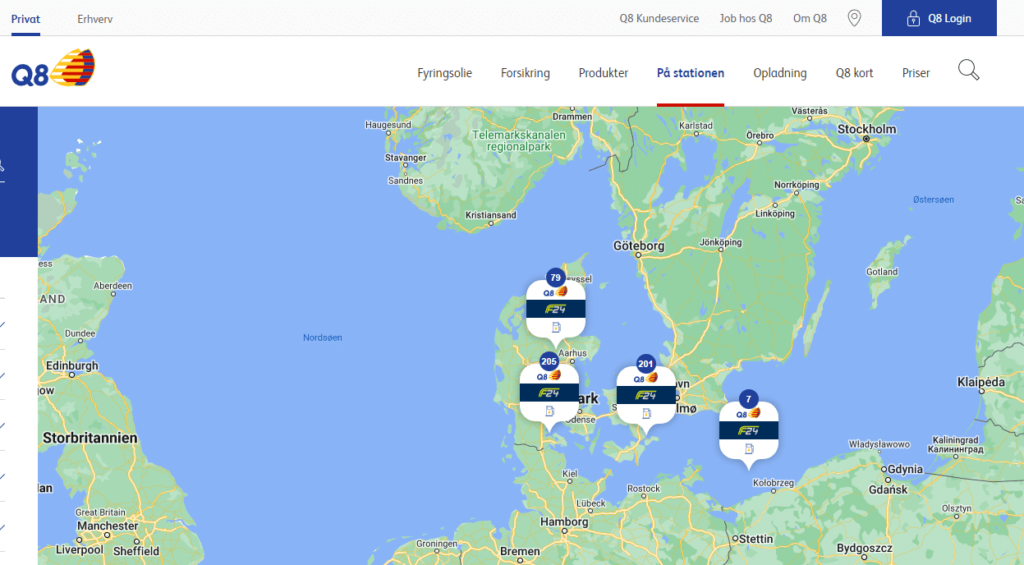 If you're looking for consistently good gas prices, Q8 is a great choice. As a major petrol provider in Denmark, Q8 also provides convenience store services.
Q8 also offers car washing stations, electric fuel options, and rental trailers. Loyal customers can use the petrol card option at their 250 stations.
Kuwait Petroleum International owns Q8, and they have an office in Birkerød, northern Zealand.
Opening Hours
Each Q8 filling station has independent hours of operation. On average, they are open from 6 am to 10 pm, Monday to Sunday. Some 24-hour stations exist.
Uno-X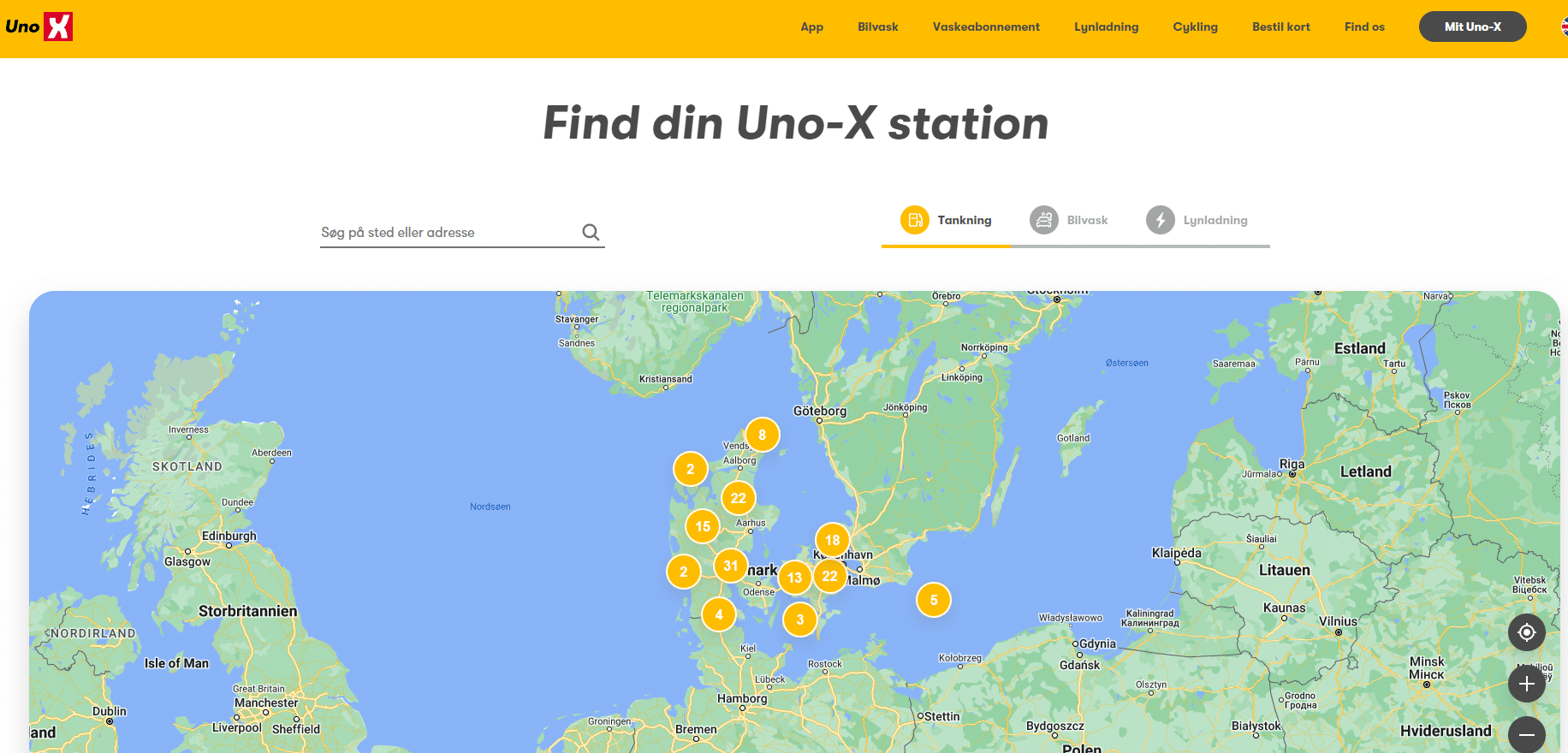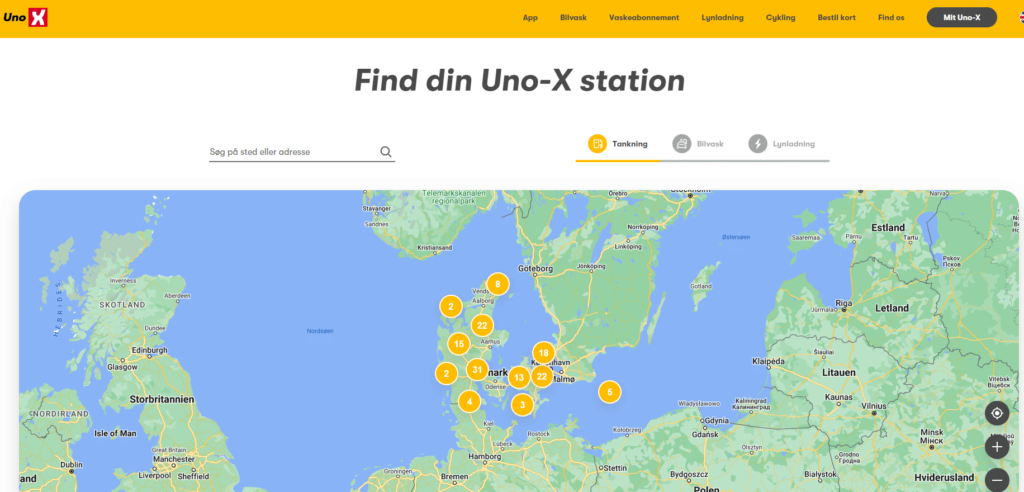 With nearly 300 filling stations across Denmark, Uno-X offers consistently lower gas prices than its competitors.
Uno-X is a self-serve petrol station with easy-to-use pay and pump services. Some stations offer carwash stations but don't expect to find any amenities.
Their head office is in Søborg, and you can visit their website. They offer a helpful app.
Opening Hours
Uno-X is a self-serve 24-hour petrol station. You can find their locations here.
F24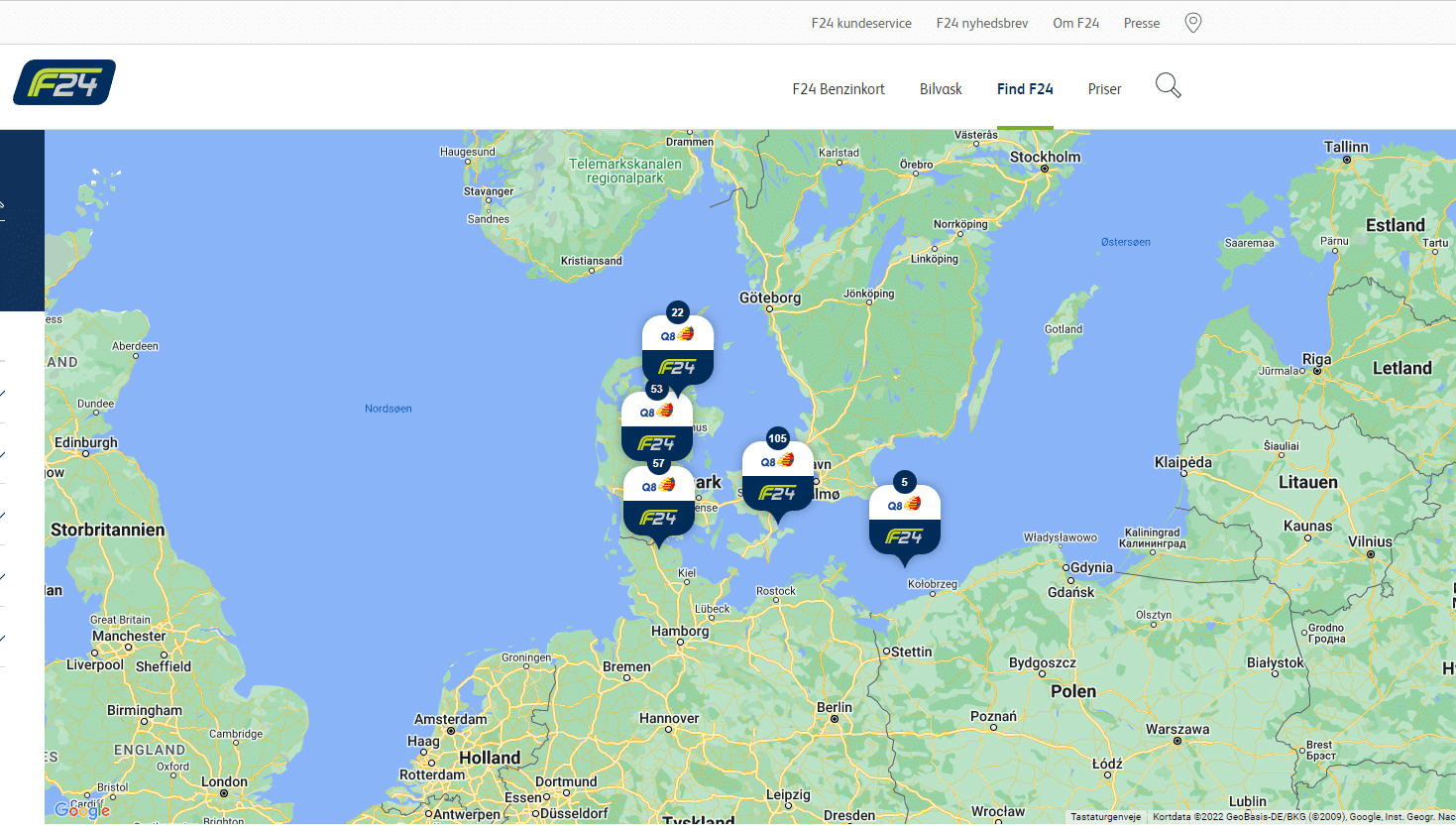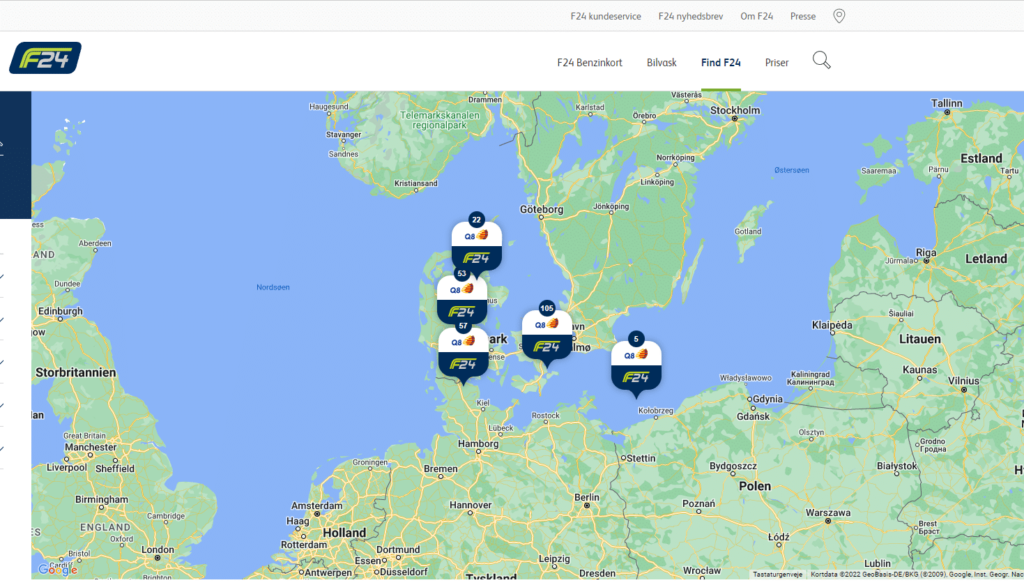 F24 is another prominent but smaller chain on the Danish petrol market and part of the Q8 Kuwait Petroleum International family.
F24 sets itself apart by offering the best price consistently. However, an F24 filling station is difficult to find since there are only 70-plus stations.
To find their headquarters, visit the Kuwait Petroleum office in Birkerød. Find an F24 station near you. You can also purchase gas and car wash services on the app.
Opening Hours
F24 service stations are open 24 hours, Monday to Friday.
YX
This smaller chain service station with 73 stations is part of the Uno-X family. Several decades ago, YX started as Texaco and Hyrdo until they merged. In 2006, Reitangruppen purchased the company.
They share head office space with Uno-X in Søborg. You can also use the same app service.
Opening Hours
For convenience, YX is open to 24-hours, Monday to Friday.
Go'on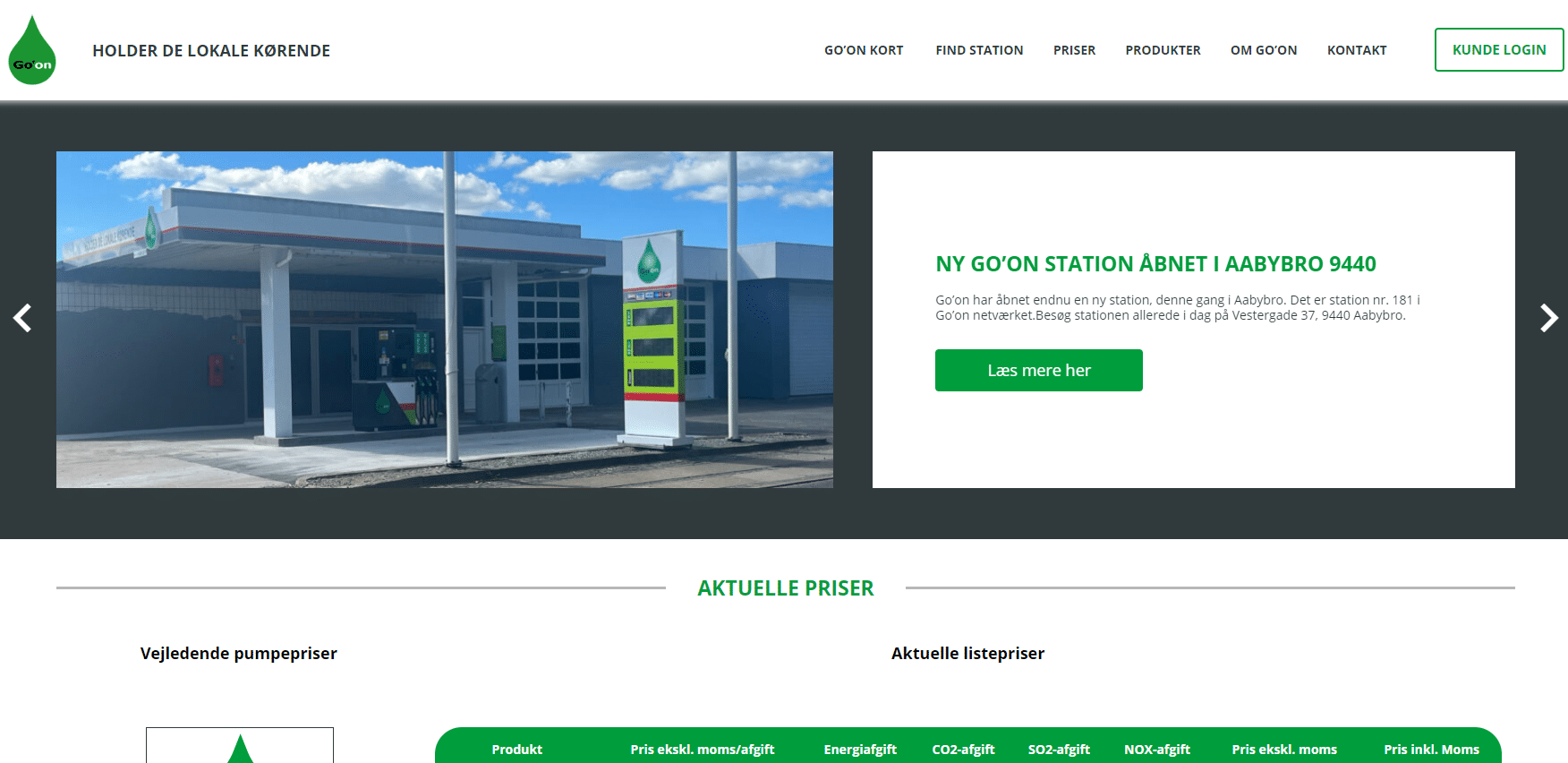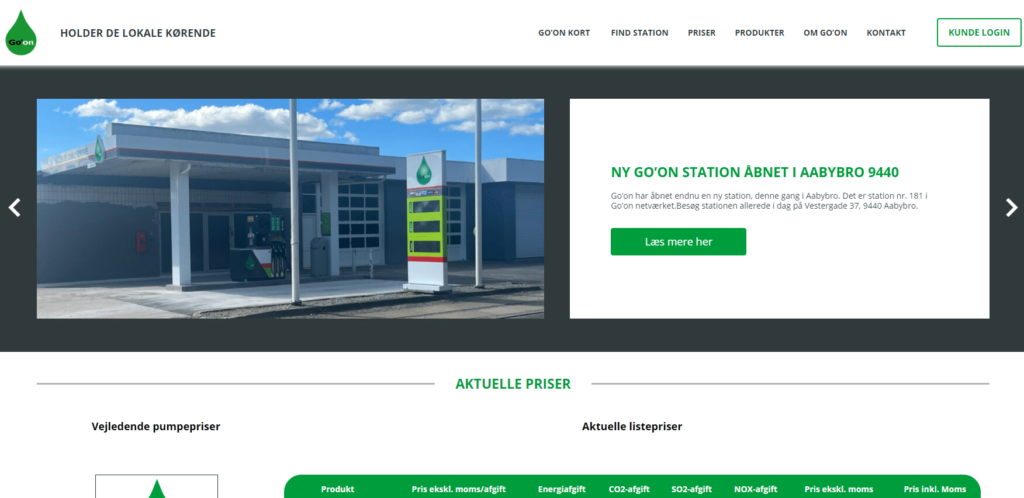 If you're looking for a unique petrol station, Go'on is the one. Go'on is often part of the Spar Supermarket chain in smaller rural areas with strong community involvement.
In operation since 2010, this newbie is locally and independently owned. Expanding quickly, Go'on hopes to have 185 stations complete by the end of 2022.
To follow Go'on updates, visit their website or their headquarters in Skanderborg.
Opening Hours
Go'on locations are diverse, and their operating hours are 24/7.
FAQs
Still have questions about gas stations in Denmark? Here are some frequently asked questions with answers to help you out.
How many gas stations are there in Denmark?
What is a gas station called in Denmark?
Danish people call gas stations Tankstation. The official translation is 'petrol station.' Gasoline translates into Benzin.
Is gas expensive in Denmark?
Gas prices in Denmark are typically higher than in other European countries. But it's not the most expensive either. 
Final Thoughts
Gas stations in Denmark are constantly changing to service their clients with quality fuel products at convenient locations.
Make sure you follow Danish driving regulations and observe the laws.
Shopping articles: