Are you visiting Denmark on vacation or temporarily relocating for work? Maybe you're a native Dane looking to switch up your grocery shopping experience due to changing needs or living locations. Whatever the case, acquiring high-quality groceries at affordable prices is essential for sustaining a happy and healthy life.
However, where do you start your search for a good supermarket? How do you know which supermarkets are favorable and which ones are best to avoid? What better way to get a handle on the best supermarkets than looking to the locals for guidance? So, that's exactly what we did.
Are you ready to learn which supermarkets the locals rely on most? Start putting together your grocery list and check out our compilation of the top 11 supermarkets in Denmark. 
Key Takeaways
Go to SuperBrugsen for the best steak and wine.
For the healthiest fish and vegetable options, choose the IRMA grocery store.
Denmark's ALDI supermarket is committed to sustainability
Overview of the Best Supermarkets in Denmark
| | |
| --- | --- |
| Name | Type of Foods |
| SuperBrugsen | Fresh fruits, vegetables, canned goods, steaks, and wines |
| Bilka | Meat, fish, dairy, and bread |
| Fakta | Eggs, dairy, meat, fish, and pasta |
| Netto | Fruits, vegetables, and grains |
| Kvickly | Wines, meats, and other delicacies |
| Irma | Organic products, coffee, and chocolate |
| Føtex | Wine and spirits, chocolate, coffee, fruit, vegetables, eggs, and bread |
| REMA 1000 | Fish, vegetables, grains, and wines |
| Spar | Snacks, chocolates, and fruit |
| ALDI | Wine, coffee, teas, and desserts |
| Dagli'Brugsen | Meat, coffee, vegetables, and cereals |
The Multiple Kinds of Supermarkets in Denmark
Below, you will learn about the top 11 types of supermarkets you can check out in Denmark. You can pick your favorite shop and buy the food and drink you need.
SuperBrugsen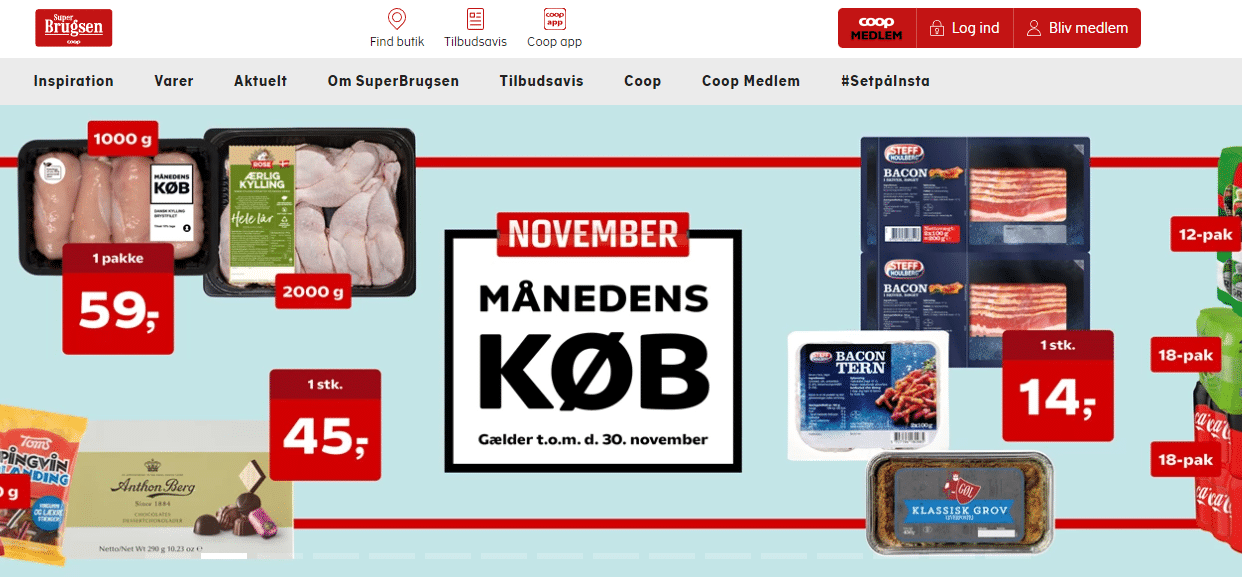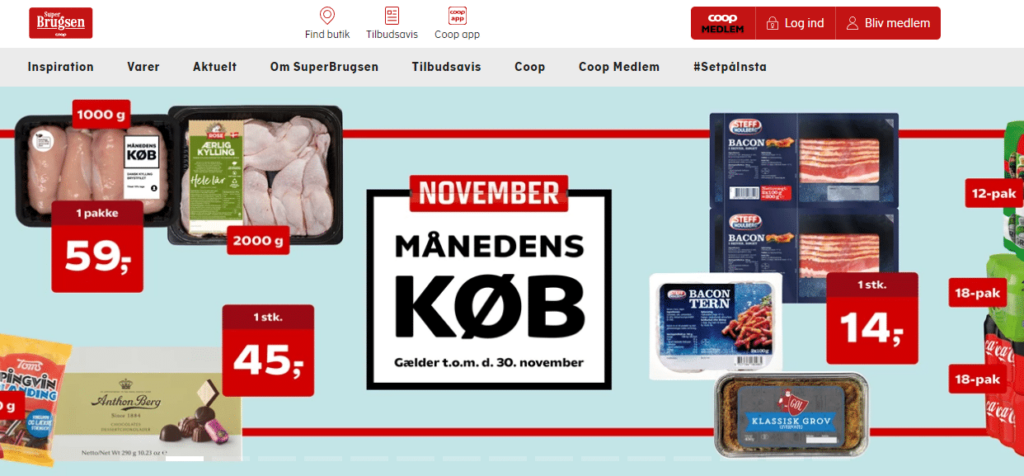 The SuperBrugsen store is a large supermarket chain in Denmark operating under Coop Denmark. At the start of 2018, the supermarket chain consisted of 235 stores. Essentially, SuperBrugsen is one of the largest chains in the country.
However, that is a drop from the original 327 stores available when the stores first opened.
Bilka


The Sailing Group owns the Danish hypermarket chain Bilka. Here, you can find typical foods like dairy (cheese, milk, yogurts) along with bread, grains, meat, and fish. As of August 2018, Bilka has operated 18 warehouses. Furthermore, the chain has other vendors like opticians, bankers, and pharmacists.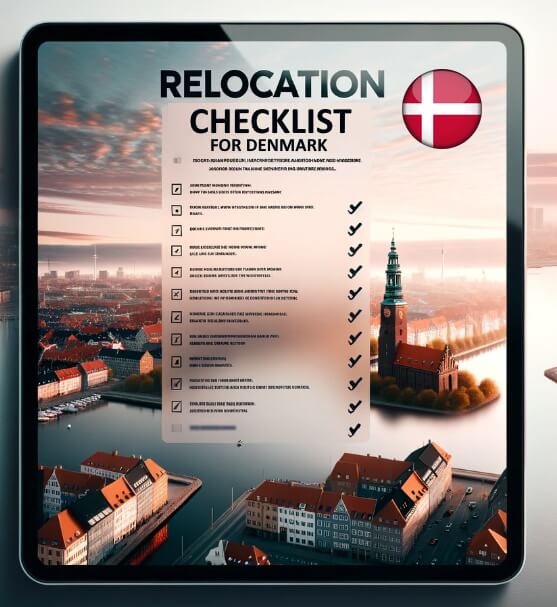 FREE Checklist for a Smooth Move to Denmark
Don't miss a step in your relocation journey. Subscribe and receive our detailed relocation checklist straight to your inbox
Fakta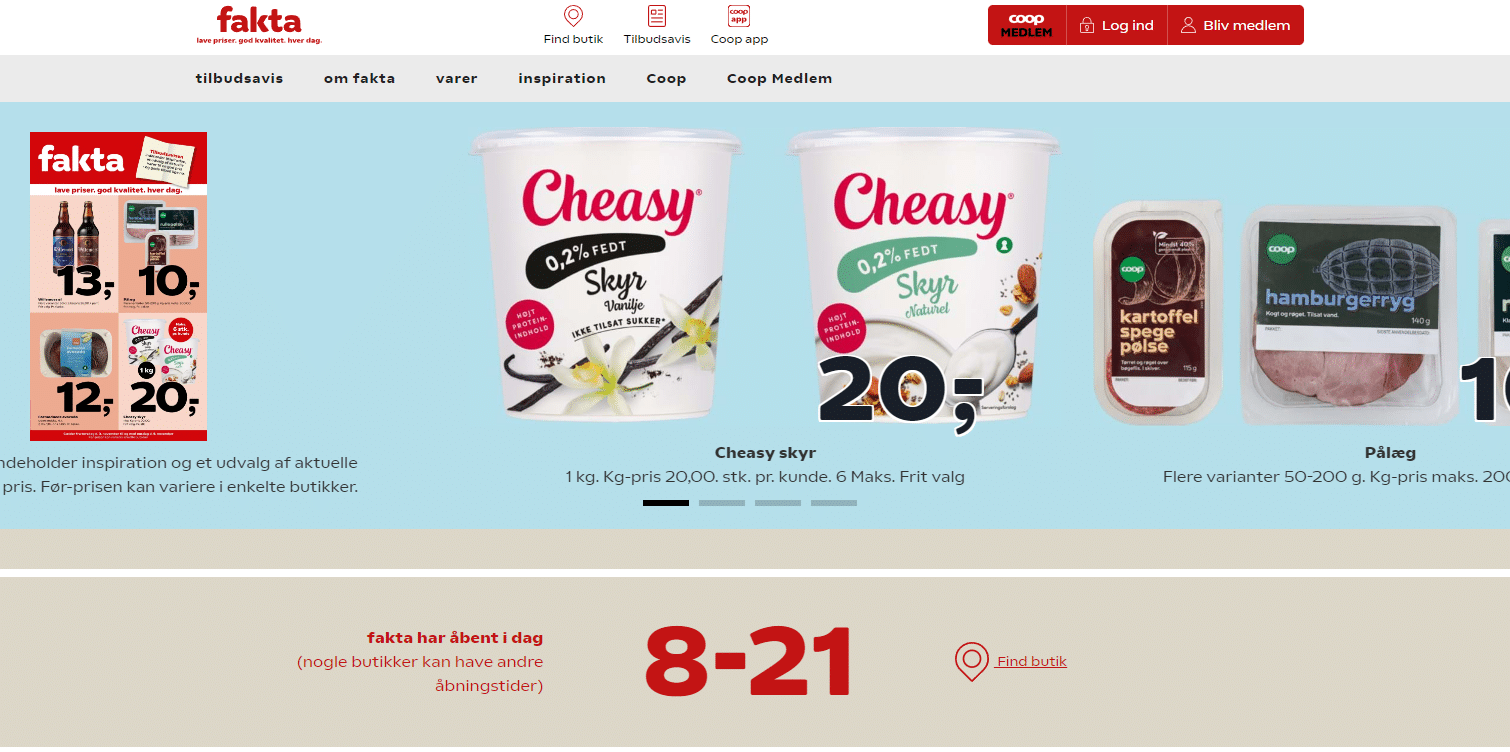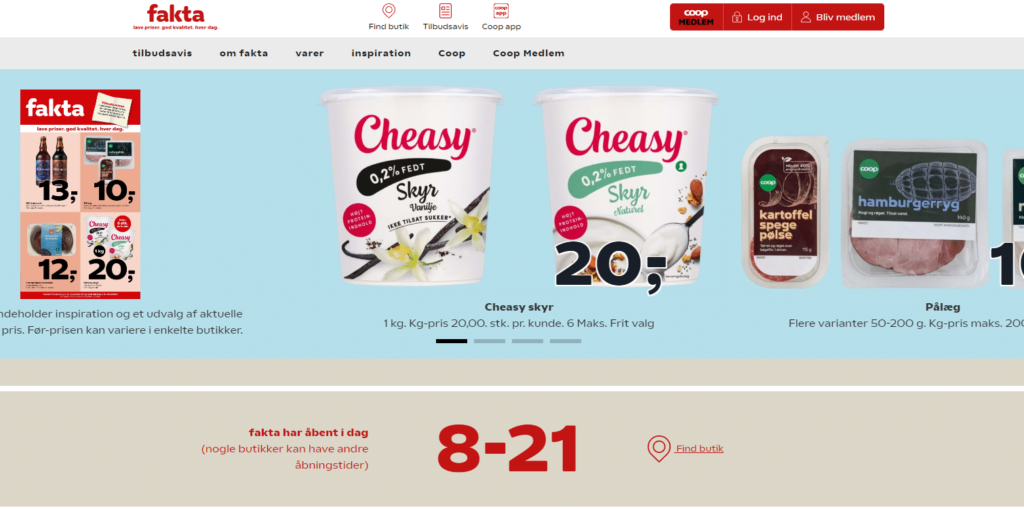 As of 2019, Fakta has operated 370 stores in Denmark. Coop Danmark owns the supermarket chain. You can find these stores anywhere around the nation. Here, you can enjoy meat, fish, and pasta.
However, as of September 2022, the company Coop Danmark announced that the Fakta stores would be closed. 
Netto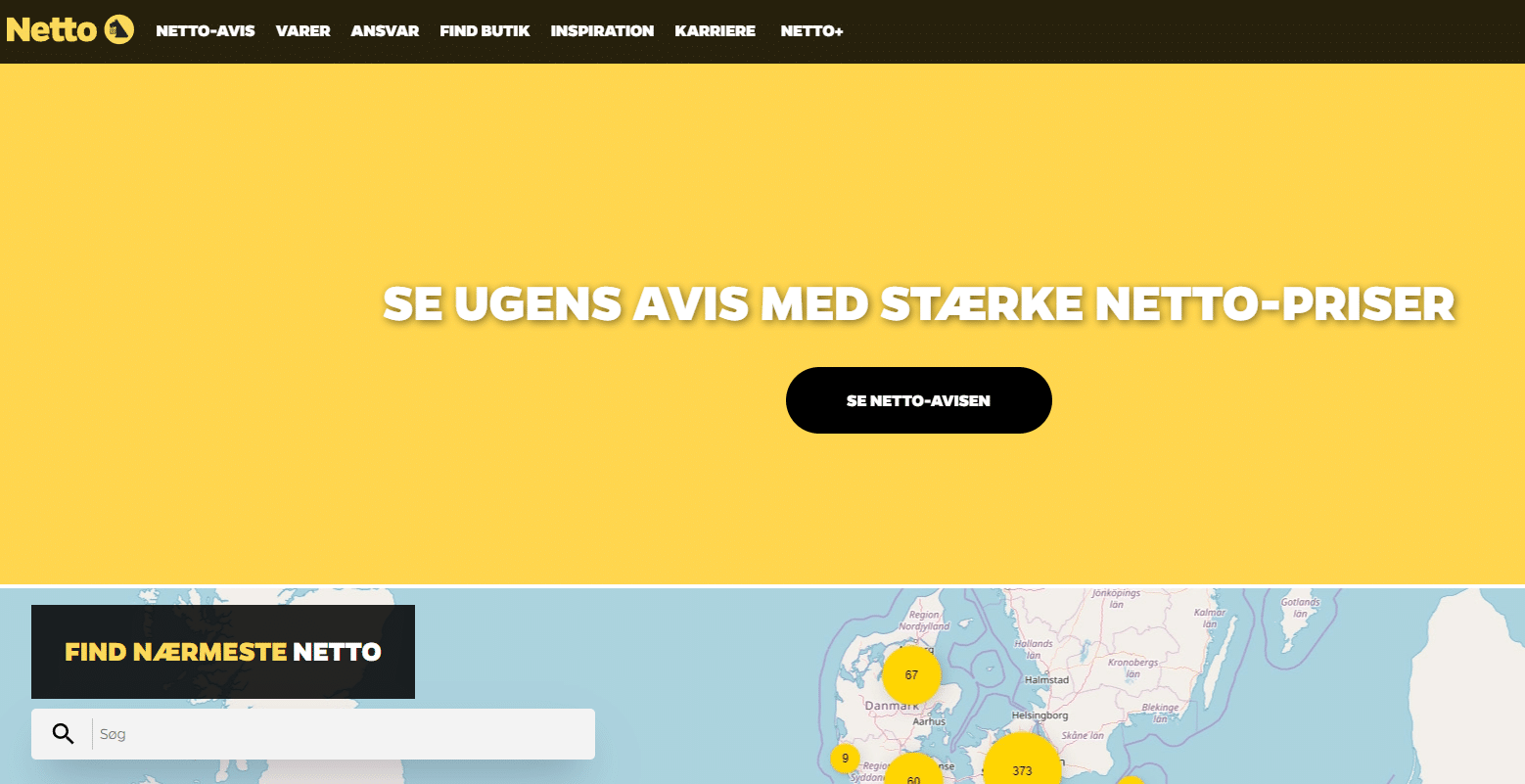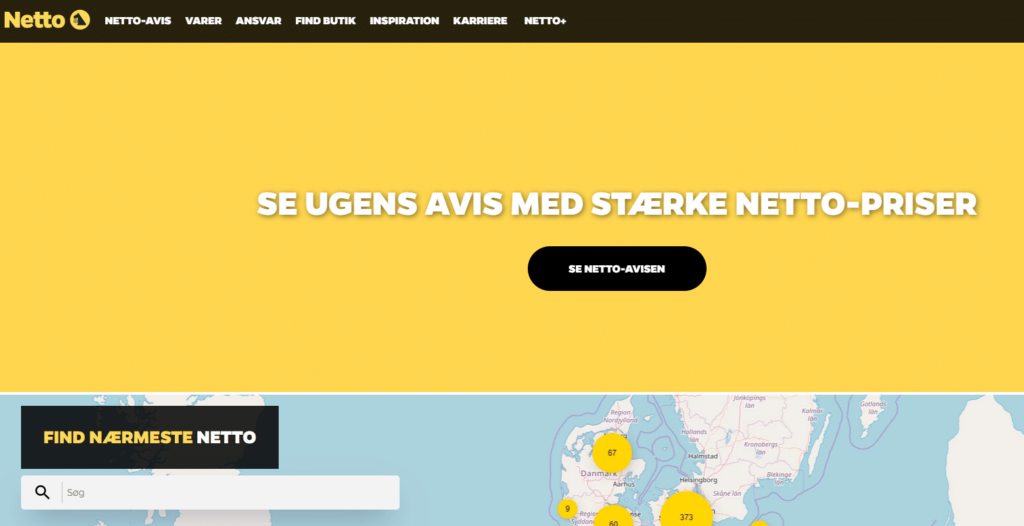 Netto is the largest grocery store chain in Denmark. As of 2019, the chain operated 505 shops. The Sailing Group owns all of the Netto shops.
You can purchase bread, pastries, salads, desserts, and drinks here.
Fun Fact: The Netto store stays open later in the evenings and on weekends compared to other grocery stores in Denmark.
Kvickly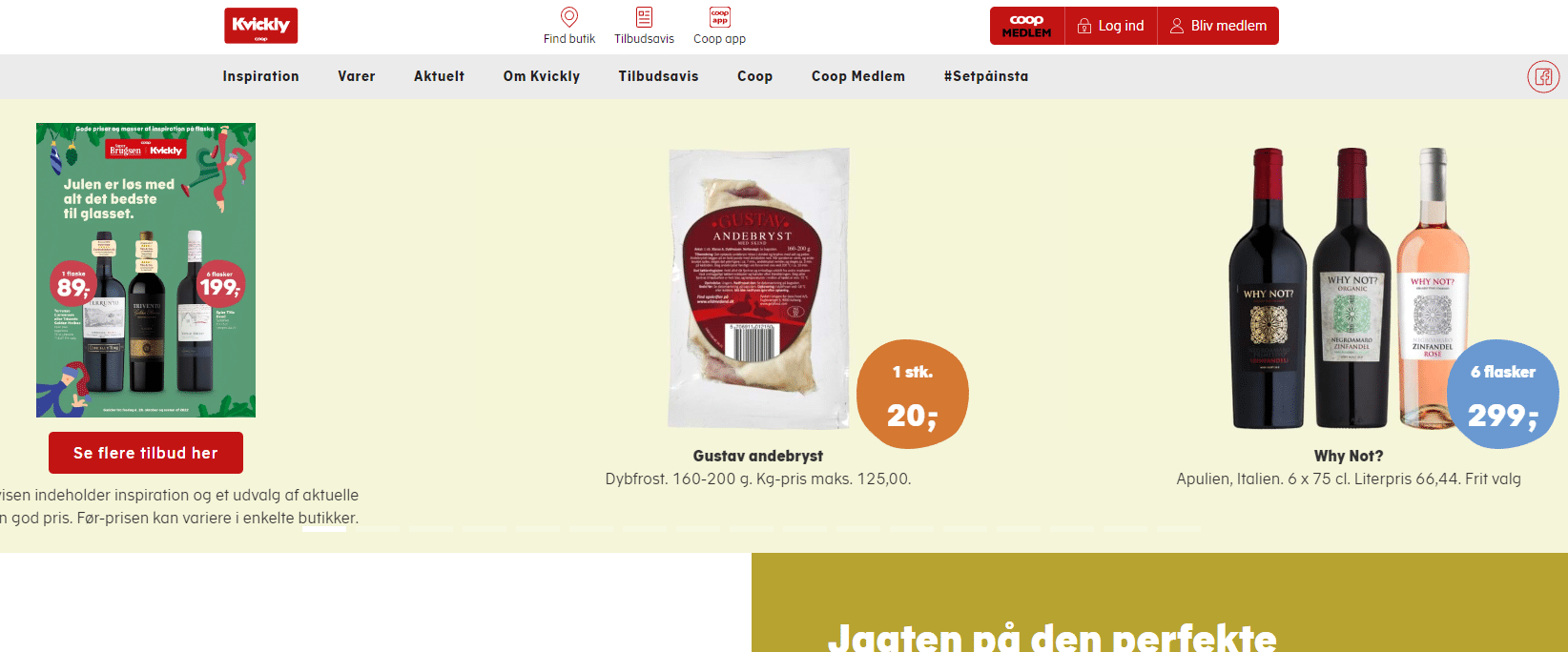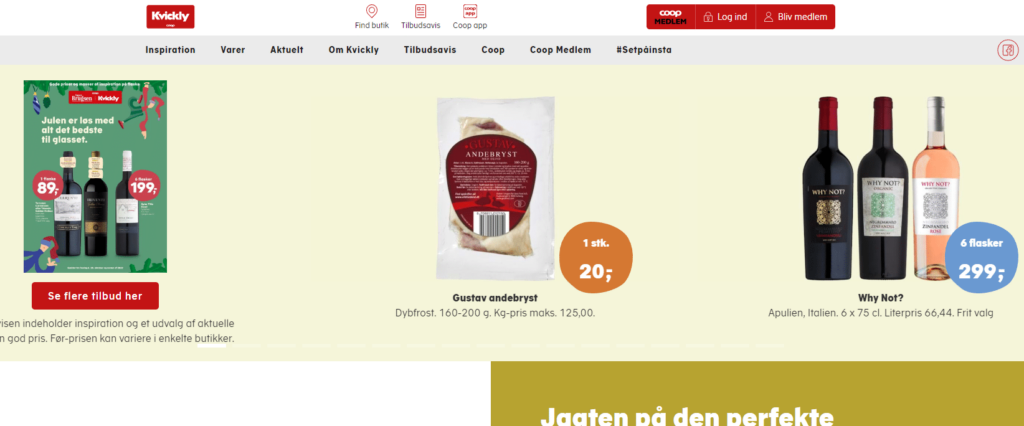 Kvickly is a department store chain with 79 warehouses across Denmark as of May 2016. The chain has been in business since 1961 and serves various products, including wines and delicacies. 
Good to Know: Pick your favorite chicken, steak, or wine at the store.
Irma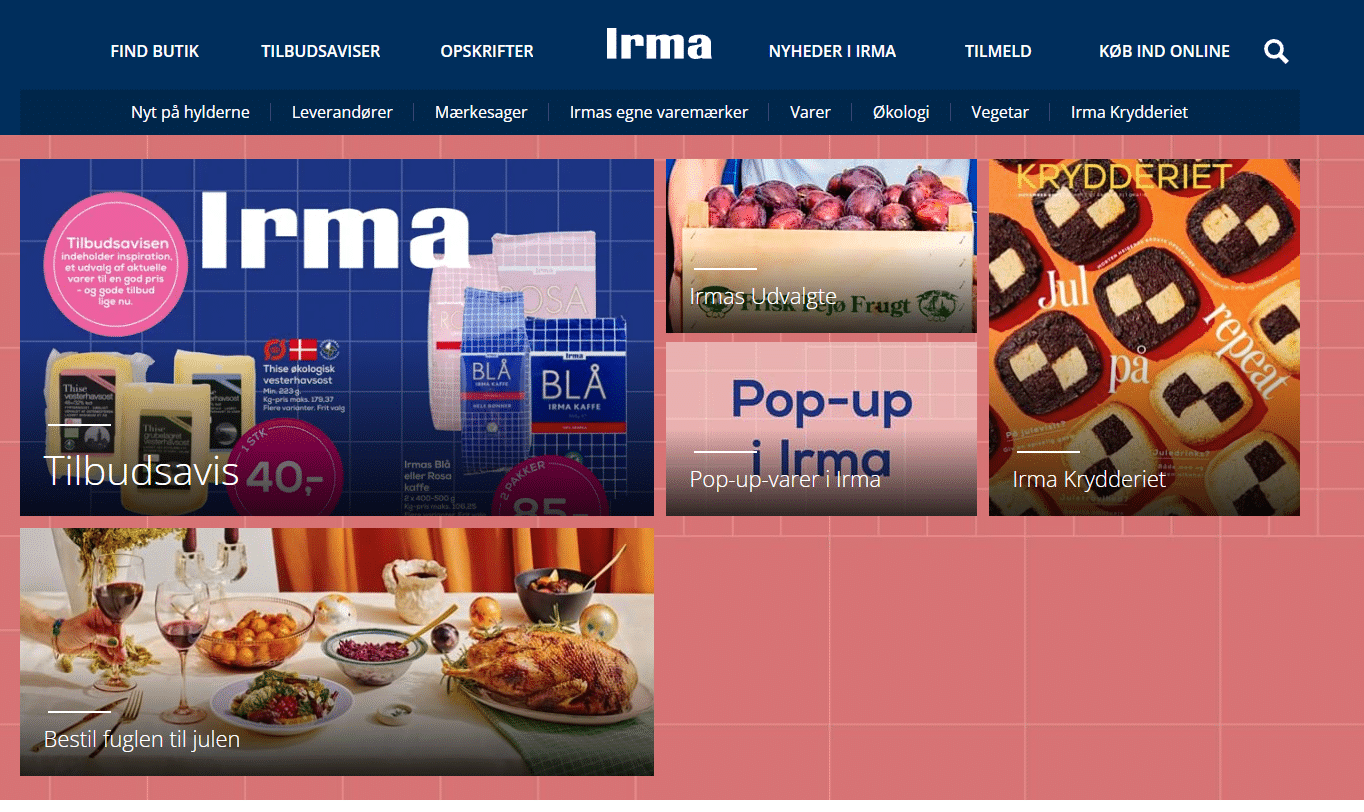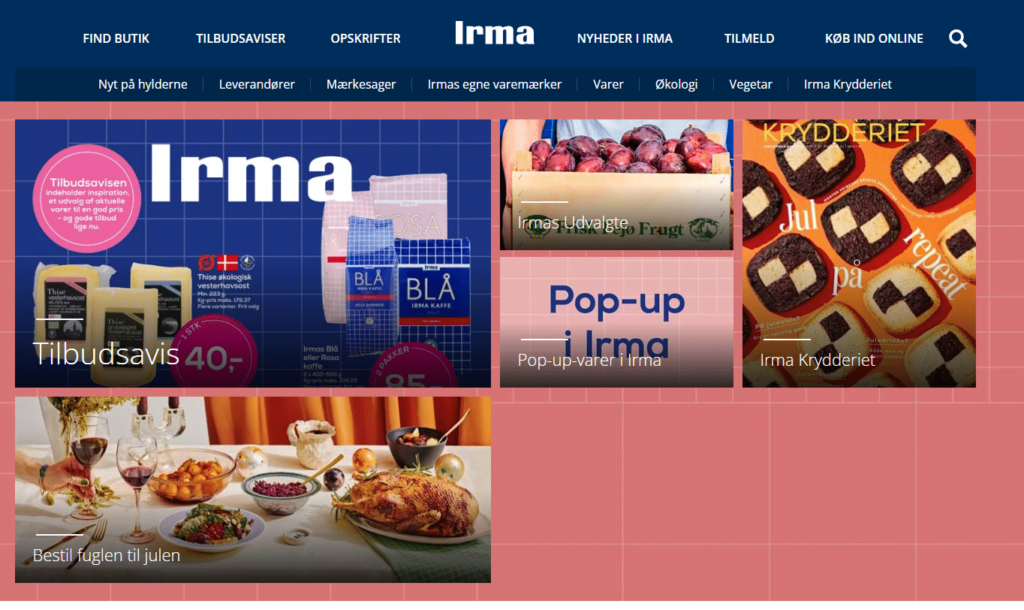 The history of the Irma grocery store chain dates back to 1886, when Karen Marie Schepler opened a shop for the brand. It began by selling eggs and milk. Then it began selling tea and sugar. 
Fun Fact: The store sells a wide range of organic and specific products under a private label.
Føtex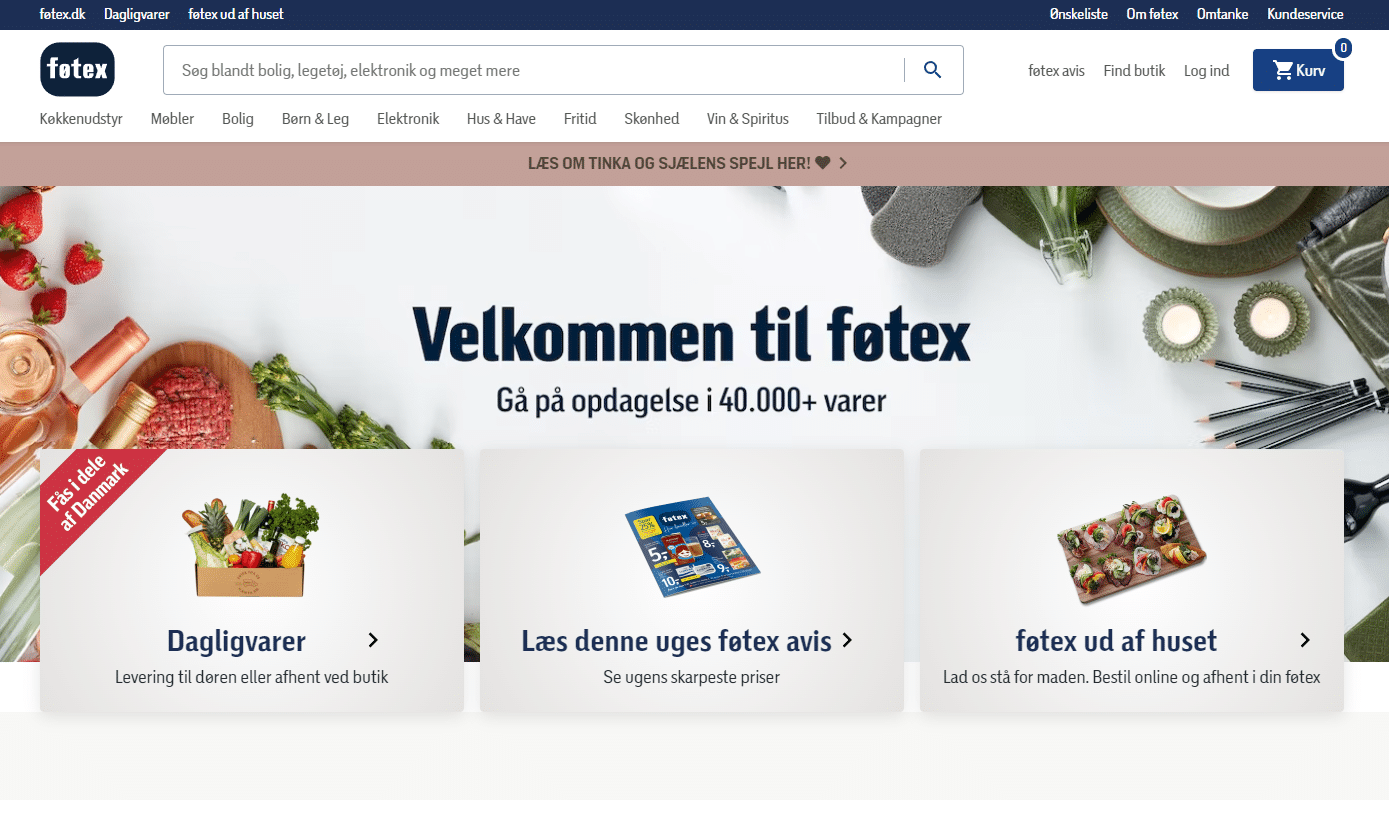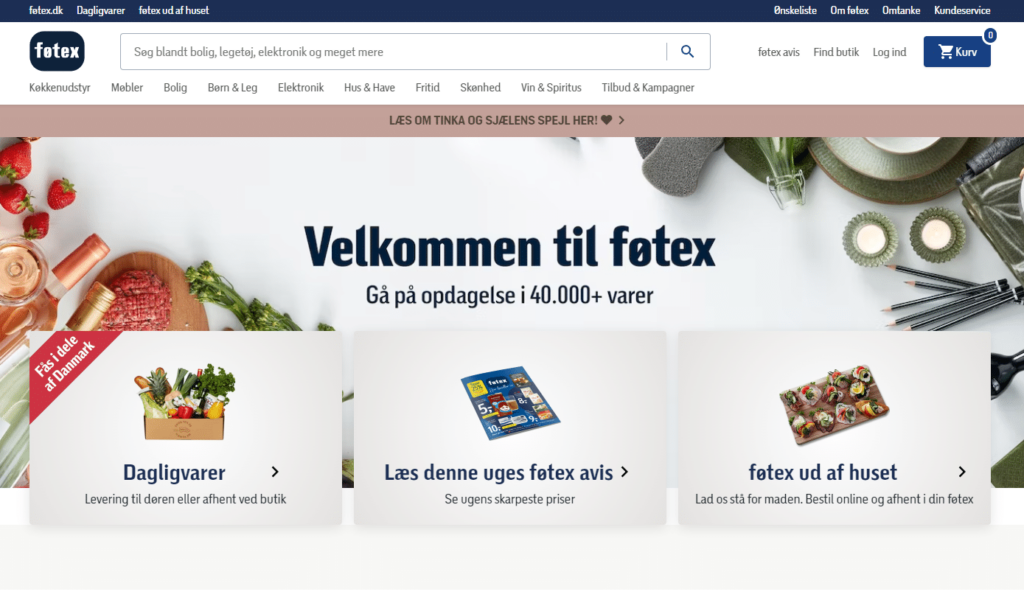 Føtex is yet another chain of supermarkets in Denmark. The company first began operating in 1960 when it opened its initial store in the city of Århus. By 2006, the Føtex business operated 76 stores across Denmark.
You can get chocolates, fruits, wines, bread, coffee, and more here. 
REMA 1000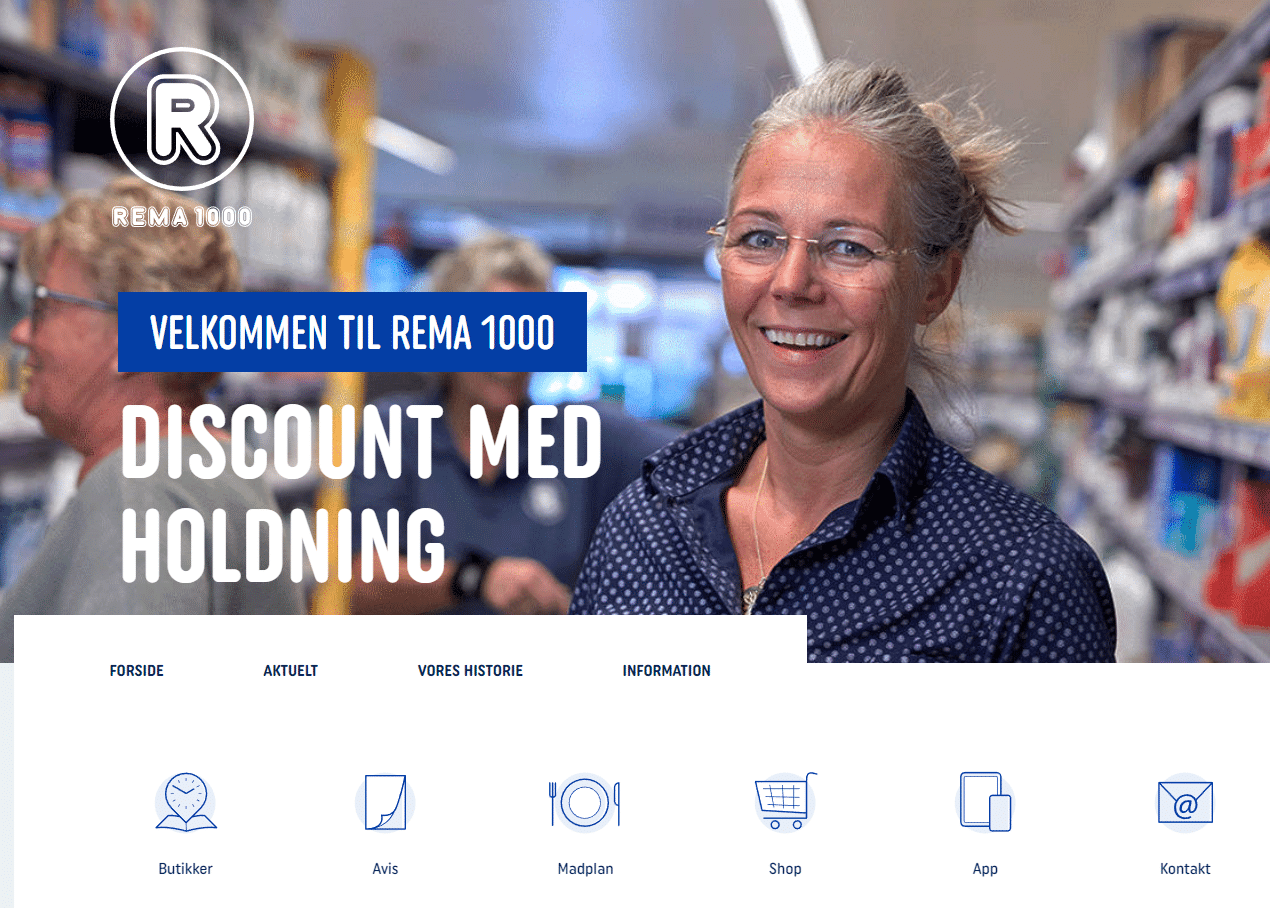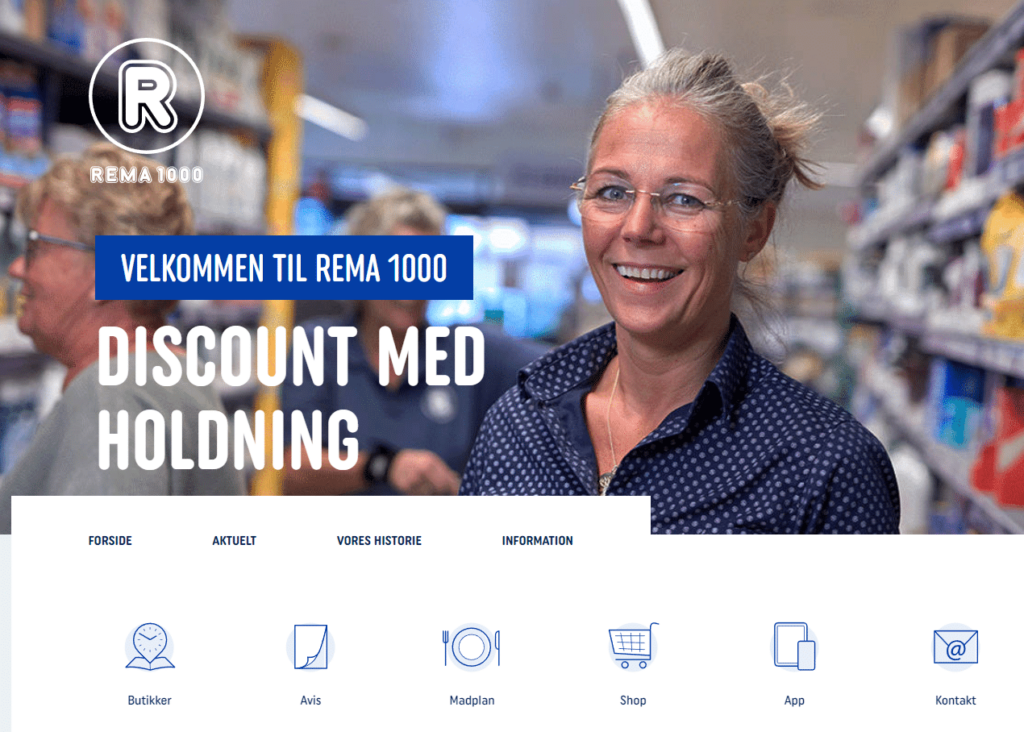 Founder Odd Reitan opened the first REMA shop on February 15, 1979. The REMA 1000 chain has a mission to keep it simple and not stress about decorating its stores. 
Its focus on simplicity allows for cost savings while investing in high-quality foods, drinks, and other products. If you want impressive wines and fresh vegetables, REMA 1000 is the perfect chain.
Spar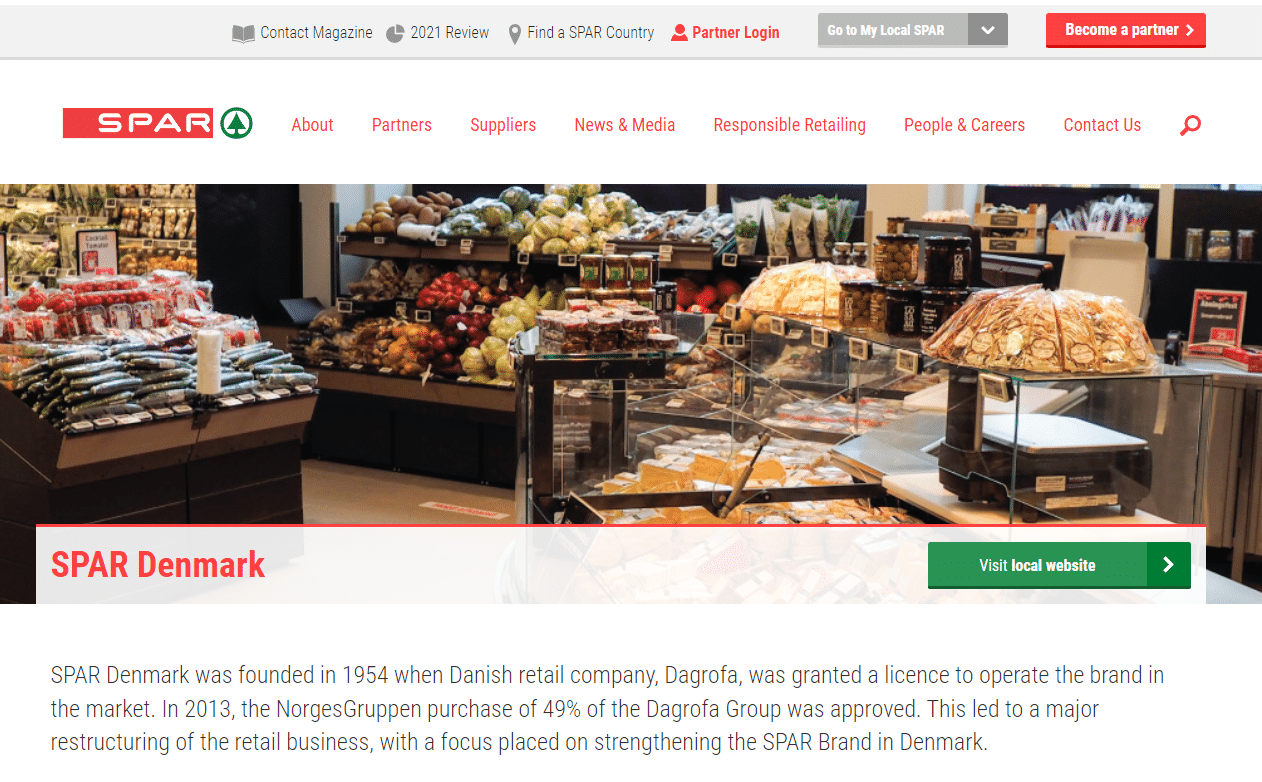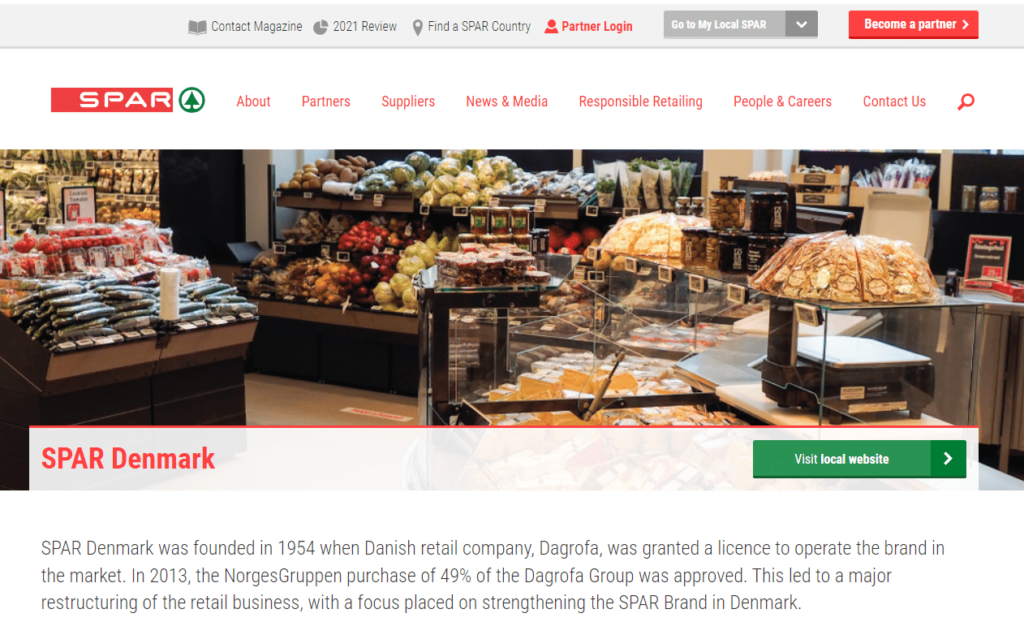 Denmark's Spar chain operates multiple food retail stores around the country. It began operating in 1954 in the Netherlands. By 2021, Spar began running 13,623 stores in 48 countries around the globe. That year, the company's financial profit increased by 3.3 percent compared to 2020. The headquarters of Spar is located in Amsterdam. 
ALDI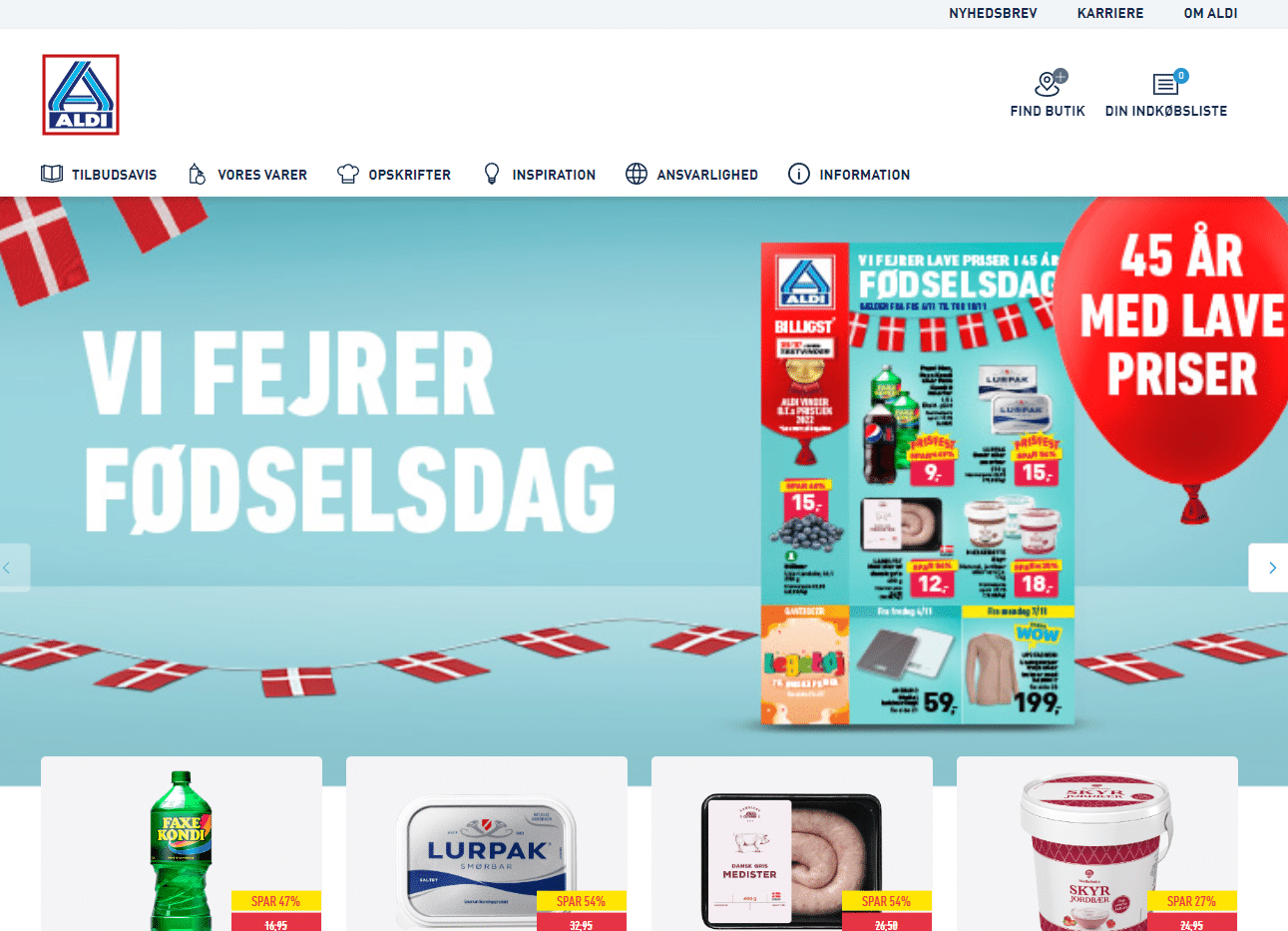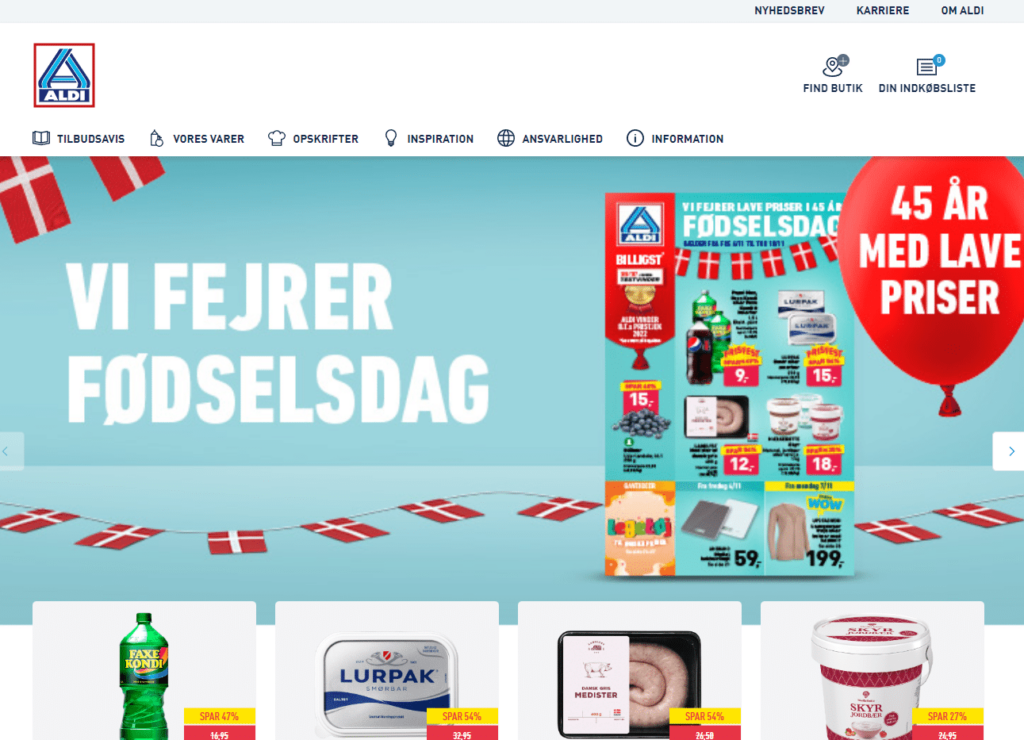 The German family-owned ALDI supermarket chain operates over 10,000 shops in 20 countries. In Denmark, you can get all sorts of products from ALDI, including
Wine
Coffee and teas
Desserts
The brothers Karl and Theo Albrecht founded the ALDI chain in 1946. By 1967, the company began expanding internationally. ALDI Denmark also commits itself to improve sustainability with a mission to reduce food waste and deforestation.
Dagli'Brugsen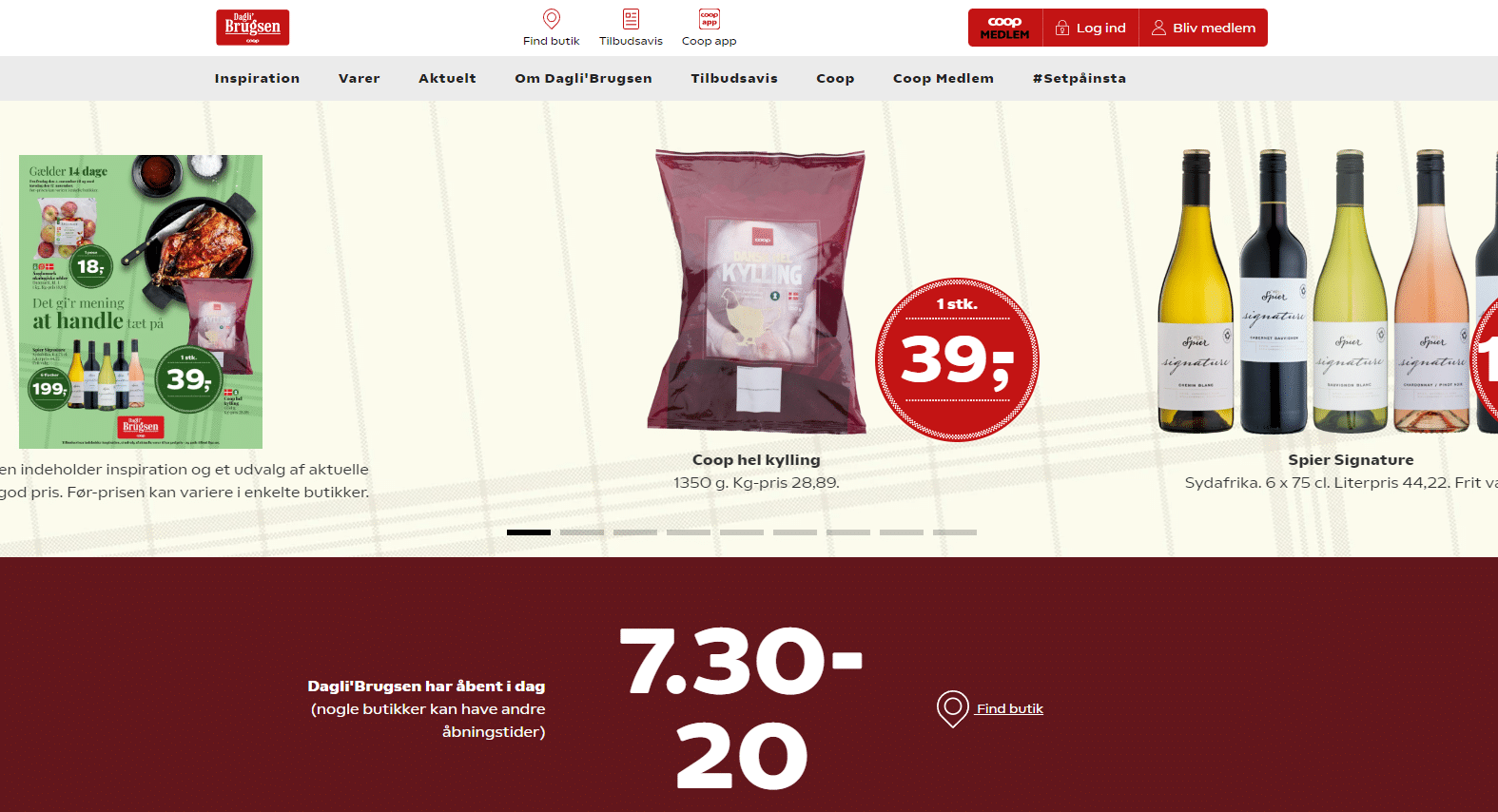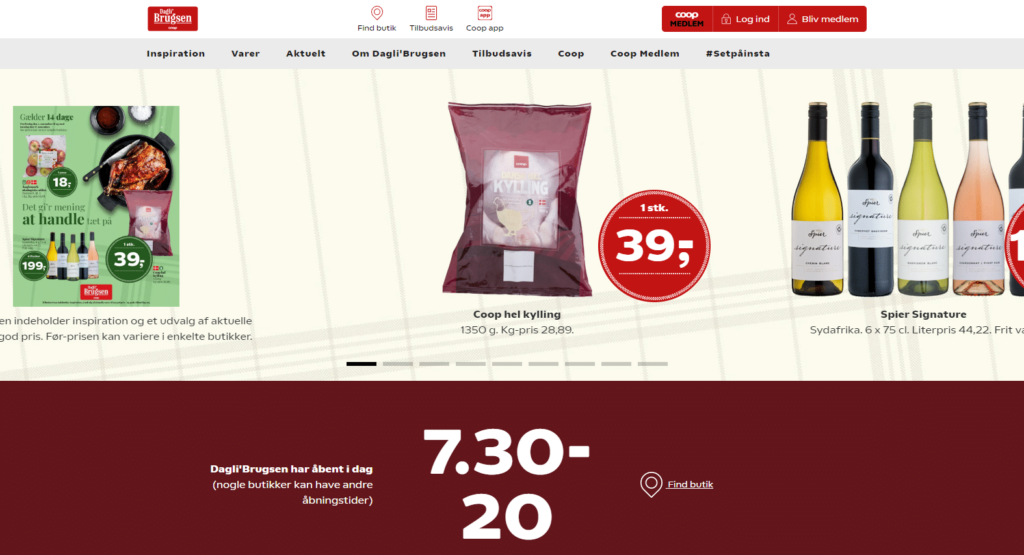 In 1991, the Coop Danmark company spun off its Brugsen stores and began operating smaller stores named Dagli'Brugsen and larger shops named SuperBrugsen. In 2016, however, four stores were re-branded back to Brugsen shops. You can expect to find all foods at the small shop, including grains, cereals, meats like lamb, coffee, or fresh veggies.
Which Supermarkets Deliver in Denmark?
Føtex is a supermarket chain that delivers food in Denmark. However, you can also use multiple mobile apps to deliver groceries to your home. Popular grocery delivery apps in Denmark include
Aarstiderne
Lidl Plus
Nemlig.com
Coop dk.MAD
If you're looking for grocery delivery services, try these mobile apps. 
Related: Grocery stores opening hours
Frequently Asked Questions (FAQs) About Top Denmark Supermarkets
Check out the answers to several common questions about the best supermarkets in Denmark.
Are groceries expensive in Denmark?
Denmark has very expensive prices for all types of products, including groceries. If you come from the United States and taking a vacation in Denmark, you can think of every grocery store in Denmark as a Whole Foods. The prices for groceries here resemble the costs of Whole Foods.
What shop is famous in Denmark for groceries?
Denmark's most famous grocery shops include ALDI, Netto stores, Fotex, and Kvickly. Several of these grocery stores act as department stores, selling cosmetics, bicycles, clothes, and electronics.
What famous brand comes from Denmark?
LEGO is one of the most famous brands that comes straight from Denmark. The LEGO brand has become a common toy for children around the globe. The company has headquarters in Denmark and has been in business for more than 85 years.
Conclusion
If you want the best quality food with the most variety at a good price, consider purchasing your groceries at one of these 11 best supermarkets in Denmark. Denmark locals give these shops their stamp of approval.