Car lease Denmark: Leasing a car in Denmark has become increasingly popular over recent years, especially among ex-pats, businesses, and those who prefer flexibility over long-term commitment. In this article, we will provide you with a comprehensive guide on car leasing in Denmark, covering the benefits, types of leases, factors to consider, and the leasing process. Let's dive in!
Benefits of Car Leasing
Car leasing offers several advantages over purchasing a vehicle outright. Some of the key benefits include:
Lower upfront costs
Fixed monthly payments
Access to newer, more fuel-efficient vehicles
No depreciation risks
Flexibility to change vehicles at the end of the lease term
🏆 Top pick: Oscar Car Leasing
Lease from DKK 2,970 / month (= DKK 99 a day)
English website and support
Car leasing throughout Denmark
Large selection of cars
Car leasing companies in Denmark:
Types of Car Leases in Denmark
There are three main types of car leases available in Denmark:
Operational Lease
An operational lease is a full-service lease where the leasing company retains ownership of the vehicle and covers all maintenance, insurance, and other related expenses. This type of lease is popular among businesses and individuals who want a hassle-free, all-inclusive solution.
Financial Lease
A financial lease is a long-term lease where the lessee is responsible for the vehicle's maintenance, insurance, and other expenses. At the end of the lease term, the lessee can purchase the vehicle at a pre-agreed residual value or return it to the leasing company.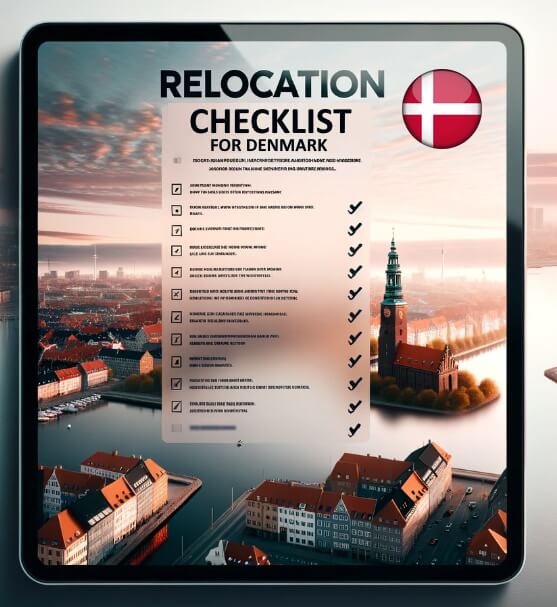 FREE Checklist for a Smooth Move to Denmark
Don't miss a step in your relocation journey. Subscribe and receive our detailed relocation checklist straight to your inbox
Private Lease
Private leasing is designed for individuals who want to lease a car for personal use. It is similar to an operating lease but with a shorter contract duration, typically between 1 and 3 years. At the end of the lease, the lessee can either return the vehicle or extend the lease.
Factors to Consider Before Car Lease Denmark
Before deciding to lease a car in Denmark, consider the following factors:
Budget and Lease Duration
Determine your monthly budget for leasing a car and the length of your preferred lease term. Keep in mind that shorter lease terms usually come with higher monthly payments.
Vehicle Type and Specifications
Choose a car that meets your needs in terms of size, fuel efficiency, and features. Consider whether you need a compact city car, a family-sized SUV, or a luxury sedan.
Insurance and Maintenance Packages
Some lease providers include car insurance and maintenance packages as part of the lease. Compare the options and decide if including these services in your lease is more cost-effective or arranging them separately.
Mileage Limits and Penalties
Leases often come with mileage limits, and exceeding these limits may result in additional fees. Ensure you understand the mileage limits and potential penalties before signing a contract.
Lease Termination and Early Exit Options
Review the lease termination conditions and early exit options, as they can vary between providers. Find out if there are any penalties or fees for early termination and if you can transfer the lease to another person if needed.
The Car Leasing Process in Denmark
Once you have considered the factors mentioned above, you can begin the car leasing process in Denmark:
Choosing the Right Lease Provider
Research and compare various lease providers, considering their reputation, customer reviews, and lease terms. You can find a list of reputable car leasing companies online or by asking for recommendations from friends or colleagues.
Documentation and Credit Checks
To lease a car in Denmark, you will need to provide the leasing company with certain documents, such as:
A valid driver's license
Proof of residency in Denmark
Proof of income or employment
The leasing company may also perform a credit check to ensure you have a good credit history and can meet the lease payments.
Contract Signing and Vehicle Delivery
Once you have chosen a leasing provider and have been approved, you will sign a lease contract outlining the terms and conditions of the agreement. After signing, the leasing company will arrange for the delivery of your chosen vehicle.
Conclusion
Car leasing in Denmark is an attractive option for those who want flexibility and the ability to drive newer vehicles without the commitment of ownership. You can find the perfect car lease that meets your needs by considering factors such as budget, vehicle type, insurance, and mileage limits. With a better understanding of the leasing process and the different types of leases available, you can now make an informed decision about car leasing in Denmark.
Related: Car loan in Denmark & Rent a car in Denmark
FAQ
Do I need a Danish driver's license to lease a car in Denmark?
No, you can lease a car in Denmark with a valid driver's license from your home country or an international driver's license.
Can I lease a car in Denmark if I have a poor credit history?
Leasing companies may perform credit checks, and poor credit history may affect your chances of being approved for a lease. However, some providers may still offer you a lease with higher interest rates or require a larger deposit.
Is it possible to lease an electric or hybrid vehicle in Denmark?
Yes, many leasing companies offer electric and hybrid vehicles as part of their selection. Leasing an electric or hybrid car can be an environmentally-friendly option.
What happens if I damage the leased vehicle?
You must notify the leasing company immediately if the leased vehicle is damaged. Depending on your insurance coverage and the terms of your lease agreement, you may be responsible for the cost of repairs.
Can I lease a car in Denmark for a short period, like a few months?
While most car leases in Denmark have a minimum term of 1 year, some providers may offer short-term leases or flexible contracts. Be prepared for higher monthly payments with shorter lease terms.