Navigating through the process of obtaining a work permit can often be a complex task, particularly for foreigners in a new country. This comprehensive guide is specifically designed to help expatriates and international job seekers understand and effectively manage the work permit process in Denmark.
Understanding the rules and regulations concerning work permits is an essential part of living and working in Denmark as a foreigner. With this knowledge, you can ensure that your professional journey in Denmark starts on a strong legal footing, thus avoiding unnecessary complications or legal issues in the future.
It's important to note that procedures and requirements may vary depending on various factors such as nationality, profession, and the type of permit applied for. Therefore, accurate information and careful preparation are key components of a successful application.
Key Takeaways
Denmark offers various types of work permits based on qualifications, job type, and individual circumstances.
Applying for a Danish work permit involves a detailed process, including filling out an application and providing necessary documentation.
Processing times for work permits can vary, and it is advised to apply well ahead of your intended start date.
Upon approval of your work permit, there are important steps to take, such as collecting your residence permit card and registering with Danish authorities.
Who Needs a Work Permit in Denmark?
Before delving into the intricacies of the application process, it is crucial to identify who requires a work permit to be legally employed in Denmark. Generally, non-EU/EEA or non-Swiss citizens are required to hold a valid work permit. However, some exceptions apply based on nationality and specific circumstances.
EU/EEA and Swiss citizens
As a member state of the European Union, Denmark allows citizens of EU/EEA countries and Switzerland to live and work in the country without a work permit. This is based on the EU principle of free movement, which grants EU/EEA and Swiss citizens the right to work in any EU country. It's important to note, however, that while a work permit may not be necessary, registration with the Danish authorities is required.
Nordic citizens
For citizens of Nordic countries – Norway, Sweden, Finland, Iceland, and the Faroe Islands – the process is even simpler. Nordic citizens are free to live, work, and study in Denmark without the need to apply for a residence or work permit.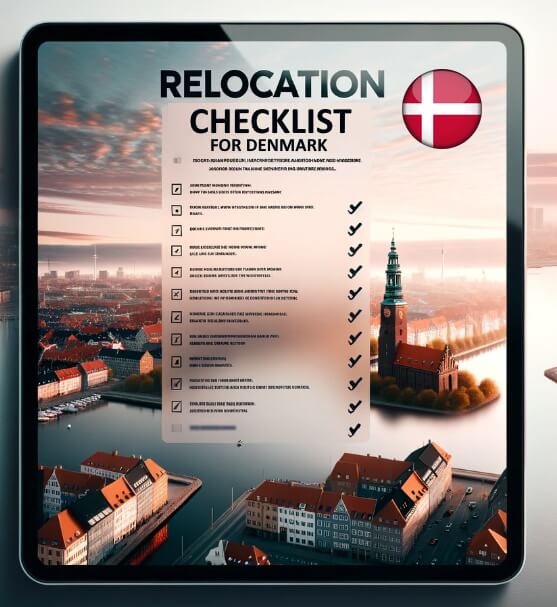 FREE Checklist for a Smooth Move to Denmark
Don't miss a step in your relocation journey. Subscribe and receive our detailed relocation checklist straight to your inbox
Non-EU/EEA or non-Swiss citizens
If you are a citizen from a country outside of the EU/EEA or Switzerland, you are required to have a valid work permit to take up employment in Denmark. The type of permit and the associated application process depend largely on the specifics of the job and the qualifications of the applicant, as discussed in the following sections.
This is a general overview, and special circumstances may exist. Therefore, it's recommended to seek information from the official Danish immigration authorities or consult with a legal professional to understand fully whether you need a work permit based on your specific situation.
Different Types of Danish Work Permits
Denmark offers a variety of work permits tailored to suit different professional roles and qualifications. Understanding these various permit schemes is vital to ensure that you apply for the correct category. Here are the most common types of Danish work permits:
Positive List Scheme
The Positive List is a list of professions currently experiencing a shortage of qualified professionals in Denmark. If your profession is listed and you have a job offer from a Danish employer, you can apply for a work permit under this scheme.
Pay Limit Scheme
This scheme is designed for individuals who have a valid job offer from a Danish employer with an annual salary above a certain threshold (updated annually). The job offer must meet normal Danish standards for salary and employment conditions.
Fast-Track Scheme
Designed for certified companies to bring foreign employees to Denmark quickly, this scheme allows foreign employees to start working in Denmark as soon as the application for a residence and work permit has been submitted, as long as certain conditions are met.
Researcher Scheme
For those intending to carry out research activities, a researcher permit can be obtained. To qualify for this permit, one must have a signed contract or job offer from a Danish university or other approved research institution.
Trainee Scheme
This scheme is for foreign nationals who have a desire to undergo training as a part of an educational program or to improve qualifications in fields where Denmark has a particular interest. The trainee scheme is not intended for unskilled or semiskilled trainees.
Related: Maternity leave in Denmark explained
The Application Process
Successfully applying for a Danish work permit requires a clear understanding of the process and precise compliance with the instructions provided by the Danish immigration authorities. Although the specifics can vary depending on the type of work permit scheme, the general process is as follows:
Eligibility Check: Begin by confirming your eligibility for a work permit based on your job offer and the type of work permit scheme relevant to your profession or job role.
Application Preparation: Gather all necessary documents and information. This typically includes passport details, job offer details, proof of educational qualifications, and relevant work experience.
Application Submission: Once you have gathered all necessary documentation, the application can be filled out and submitted. In most cases, the application can be submitted online through the official website of the Danish immigration authorities.
Biometric Features Recording: If you are applying from abroad and have not previously had your biometric features recorded in Denmark, you must appear in person to have your biometric features recorded within 14 days of submitting your application.
Application Fee Payment: A fee is usually required to process the application. The amount can vary depending on the type of work permit and is subject to change.
Await Processing: Once the application has been submitted and the fee paid, the Danish immigration authorities will process the application. The processing time varies based on several factors, including the type of work permit scheme.
Notification: You will be notified once a decision on your application has been reached. If granted a permit, instructions will be provided on how to receive it.
Bear in mind that this is a general overview of the application process. The specifics can differ based on the type of work permit scheme, and for certain schemes, your employer may have to complete some parts of the application process.
Required Documents for Application
The application for a Danish work permit requires a set of specific documents to verify your identity, qualifications, and employment offer. While the precise list can vary depending on the type of work permit you're applying for, generally, the following documents are necessary:
Passport: A copy of all pages of your passport, including the cover, is required. The passport must be valid for at least three months beyond the date you plan to leave the Schengen area.
Employment Contract or Job Offer: You should have a formal contract or offer of employment from your prospective employer in Denmark, which includes details such as job title, job description, salary, and employment terms.
Educational Qualifications: Diplomas, certificates, and other proofs of your professional qualifications and skills may be required. These should be translated into English if they are in another language.
Work Experience: Documents that prove your relevant work experience might be necessary, depending on the type of permit. These could include reference letters from previous employers or an up-to-date curriculum vitae.
Proof of Application Fee Payment: A receipt or other proof that you have paid the required application fee.
Depending on the type of work permit, additional documents may be necessary. For example, researchers might need to provide a research plan, while those applying under the Fast-Track Scheme may need documentation from the company certifying its eligibility under this scheme.
Ensure that all documents are clear, legible, and officially translated into English or Danish, where necessary. All translations should be carried out by a certified translator. Always refer to the specific document requirements for the type of work permit you're applying for to ensure you provide everything required.
The Processing Time
Understanding the expected timeline for the processing of your work permit application is essential for effective planning and peace of mind. The processing time varies depending on the type of work permit you have applied for, the completeness of your application, and the overall workload of the immigration authorities at the time of your application.
In general, the Danish immigration authorities aim to process work permit applications as quickly as possible. However, it is not unusual for the processing time to span several weeks or even months. As such, it is advisable to apply well in advance of your intended start date in Denmark.
Several factors can affect the processing time of your application:
Completeness of Application: An application with all necessary documents and information provided correctly is likely to be processed faster. An incomplete application may require further communication and clarification, leading to delays.
Type of Work Permit: Some types of work permits, such as those under the Fast-Track Scheme, have expedited processing times. Others may take longer due to the complexities involved in verifying job offer details and applicant qualifications.
Volume of Applications: During periods of high application volume, processing times may increase. This can often be the case during certain times of the year or during events that cause a surge in immigration, such as major conferences or sporting events.
External Factors: Unforeseen circumstances, such as technical issues or staffing constraints at the immigration authorities, could also impact processing times.
While waiting for your application to be processed, ensure that your contact details are up to date, as the immigration authorities may need to contact you for further information or clarifications. Finally, be sure to keep track of the status of your application, which can usually be done online through the official Danish immigration authorities' website.
What to Do Once You Receive a Work Permit
Congratulations on receiving your Danish work permit! However, the journey doesn't end here. There are several steps and procedures you need to follow upon receiving your permit to ensure your compliance with Danish laws and regulations.
Residence Permit Card Collection
Upon approval of your application, a residence permit card will be issued. This card contains your personal data, your fingerprints, and a photo. If you are in Denmark when your application is approved, your residence card will be sent to your Danish address. If you are abroad, you must collect your residence card at the Danish diplomatic mission in your country of origin or the country where you have resided legally for the past three months.
Related: How to obtain permanent residence in Denmark
Registering with the Danish Authorities
Once you arrive in Denmark, it is crucial to register your residence in the National Register (Folkeregistret) at your local Citizen Service Centre (Borgerservice). Once you register, you will be issued a CPR (Civil Registration) number. This number is the key to accessing a variety of services in Denmark, such as healthcare, banking, and tax registration.
Work Permit Validity and Extension
It is important to note the validity period of your work permit. The duration can vary based on the type of work permit and the terms of your job offer. If you wish to continue working in Denmark beyond the validity of your current work permit, you will need to apply for an extension, usually a few months before the expiry date. The procedure and requirements for extensions are usually similar to the initial application process.
Rights and Responsibilities as a Permit Holder
As a permit holder, you have certain rights, such as access to healthcare services and responsibilities, like abiding by Danish laws and paying taxes. Ensure that you understand these rights and responsibilities to maintain your status as a legal resident and worker in Denmark.
Remember, non-compliance with Danish laws and regulations concerning your work permit can have serious consequences, including fines, deportation, and bans on future entry into Denmark. Always stay informed and proactive about maintaining your legal status in Denmark.
Related: Guide to housing in Denmark
Additional Resources
For further information and support with your work permit application, you can explore the following resources:
Danish Immigration Service: The Danish Immigration Service's website is the most authoritative source of information for all matters related to immigration, including work permits. You can find detailed guidelines, application forms, fee structures, and contact information for further inquiries.
Work in Denmark: This is a public employment service for highly qualified international candidates looking for a job in Denmark, and Danish companies searching for talented foreign employees. They provide information about working in Denmark, job search resources, and tips for understanding the Danish workplace culture. See their website here.
FAQs
Can I bring my family to Denmark on my work permit?
Yes, as a work permit holder, you can typically bring your spouse or cohabiting partner, as well as any children under the age of 18 who are living at home with you. They need to apply for a residence permit, and certain conditions must be met, including financial requirements.
Can I travel to other countries with my Danish work permit?
As Denmark is part of the Schengen area, you can generally travel to other Schengen countries for up to 90 days within a 180-day period. However, remember that your permit does not automatically grant you the right to work in other countries.
Can I extend my work permit in Denmark?
Yes, it is generally possible to extend your work permit if you continue to meet the requirements for your particular permit scheme. It's recommended to apply for an extension well before your current permit expires, usually a few months in advance.
What if my application for a work permit is denied?
If your application is denied, you have the right to appeal the decision. The appeal procedure varies depending on the type of work permit you've applied for and the grounds for denial. Detailed instructions for appeal will be included in your rejection letter.
Can I switch jobs while on a Danish work permit?
ur ability to switch jobs while on a Danish work permit depends on the type of permit you have. Some permits are tied to a specific job or employer, while others offer more flexibility. Always check the conditions of your permit before changing employment.