Denmark is an EU member, but it has not adopted the Euro. It still uses the Danish Kroner, and the country is taking major strides to transform itself into a cashless society. Hence, as a foreigner working or studying here, a credit card in Denmark is a must-have.
Otherwise, you will find it tough to buy things. So, one of the first things you should do when you land in Denmark is to check out the different credit card options and select one that best suits your needs.
Top 4 credit cards in Denmark:
Our Top Choice
Get a credit of up to DKK 25,000 that works like a credit card but online.
Pay only when you use the credit
Easy and safe to apply
💡 Tip: If you're using Google Chrome, you can easily translate the website to English. Just right-click anywhere on the page and select 'Translate to English.'
Example: with a total credit amount of DKK 10,000. Term 1 year. Fixed debtor rate 24.97% APR 24.97%. Total credit costs DKK 1,260 Total repayment 11,260 Min. deposit 3% of the balance. DKK 100 per month is not included in the calculation. Presupposes a fixed monthly payment of DKK 938. Right of cancellation: 14 days.
Selecting a credit card can be a bit overwhelming as you will find many different types from different banks at varying costs.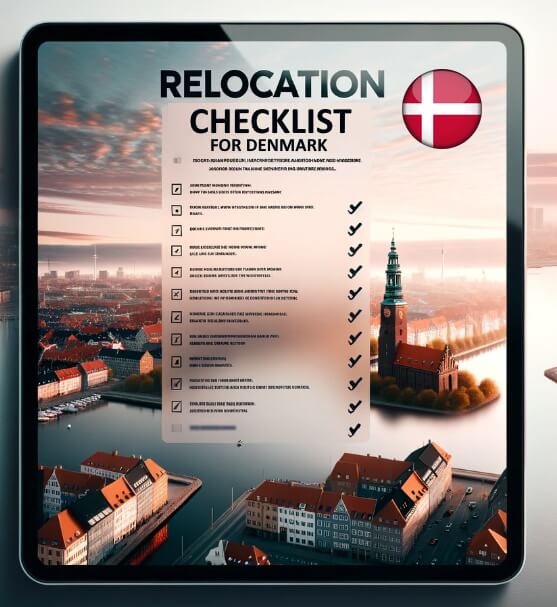 FREE Checklist for a Smooth Move to Denmark
Don't miss a step in your relocation journey. Subscribe and receive our detailed relocation checklist straight to your inbox
Thankfully, you rely on our suggestions as we have done the hard work for you to shortlist the best credit card in Denmark for overseas students and expatriates.
Overview of Credit Card Fees in Denmark
Before January 2018, it was normal for credit card companies to levy surcharges. However, that has changed now.
Per the Payment Service Directive 2 of the European Union, retailers are prohibited from charging a surcharge or fee when you use your credit card to pay. However, it is also essential to know that there are exceptions and limitations to this prohibition, and it is possible that other fees could apply when you use your credit card for purchases.
If your credit card is associated with a non-EU bank, uses a network that does not belong to Mastercard or Visa, or your credit card is a business or corporate card, the merchant can levy a fee.
Visa is Denmark's most widely accepted credit card, followed by Mastercard. Other less-known credit cards, like Amex, are also accepted. However, it is essential to opt for a credit card that allows you to make purchases without causing a strain on your account.
Best Credit Cards in Denmark for Foreigners
As an expat in Denmark, here are two credit cards that you should be taking a closer look at:
Credit Card from Bank Norwegian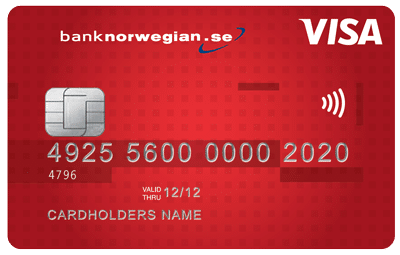 Norwegian offers ex-pats and others a credit card in Denmark that does not charge an annual fee or fees to withdraw cash and make purchases. It provides interest-free credit for up to six weeks, and you earn reward points when you make purchases. What's more is that you also get travel and cancellation insurance with this credit card. The credit card by Norwegian comes contactless payment feature.
As long as you are 23 years old, live in Denmark, and are not part of the Debtor Register in Denmark (it means you should have good credit standing), you can apply for the credit card. Of course, you will have to provide your Danish identity number when you fill out the online application.
This particular credit card is perceived as the best in Denmark for its numerous features and flexibility. It allows you to make all your payments within the country in DKr without incurring a currency surcharge, which is 1.75% based on the exchange rate.
Visit Bank Norwegian
N26 Credit Card
In case you are looking for another alternative in Denmark, you should take a closer look at the credit card issued by N26. The bank was founded in Germany in 2016. Today, it has the distinction of being one of the fastest-growing online banks in Europe.
In fact, N26 is quite popular with expatriates because they like the flexibility this online bank provides and access to its English website. It offers its customers free Mastercard when they open a checking account with the bank.
As the company is a virtual bank, it does not have the overheads and hidden costs that traditional banking institutions levy. So, you will not have to worry about paying withdrawal fees.
You can even fund your N26 account using TransferWise, which costs six times less than currency conversions in other banks. TransferWise is integrated into the bank's app so you can use it to fund and transfer from your N26 account.
Conclusion
As stated earlier, credit card in Denmark is not a luxury; it is a necessity as a majority of the transactions in the country are cashless. Retailers have no qualms about allowing customers to pay for small purchases using their credit cards. Even taxi drivers and public transport in Denmark allow people to use their credit cards to make payments.
For information in Danish, please visit: https://credio.dk/kreditkort-danmark/
The only caveat is to ensure you are carrying your ID card as some retailers may ask you to prove your identity before allowing you to complete the payment. This measure is in place to eliminate credit card fraud.
Now that you know your choices, select the best credit card in Denmark and enjoy shopping online and offline without any hassle. If you like, you can do further research, but you will not find better options than the ones listed here.