The mortgage system in Denmark is unique and different from other countries. Here, a direct connection exists between the mortgage and the bonds issued to fund the loan.
Hence, you can expect financial stability, competitive interest rates, and flexible early repayments that you will not find in any other country. As a smart borrower, you should not hesitate to use a mortgage calculator in Denmark when considering buying a home.
Why Do You Need a Home Loan Calculator?
When considering a mortgage loan, you must figure out whether you can afford it. A home loan calculator allows you to calculate the monthly installments you will be making to the lender, and as a result, you get a clear picture of whether it fits into your budget.
The calculator lets you see what the homeownership will cost you each month for different payment periods and down payment amounts. As a result, you can decide the right term for the mortgage loan and get an estimated amortization schedule.
Usually, to use a loan calculator, you need to input the following details:
The total cost of the house
The down payment amount
Interest rate
Amortization period
Payment period
Once you feed in these details, it will give you an approximate of how much you will be paying each month. The good news is that Denmark has a competitive interest rate system that enables you to buy your dream home without too many problems. Nonetheless, there are a few things that you should know before you take a rush to apply for a mortgage loan in Denmark.
Understanding the Mortgage System in Denmark
In Denmark, you can get mortgage loans from mortgage credit institutions, which are the only permitted financial institutions that can grant mortgages that are funded by covered bonds. These institutions follow a match-funding principle wherein the mortgage loan is funded by issuing and selling covered bonds that match the payment terms that the borrower and lender agree upon.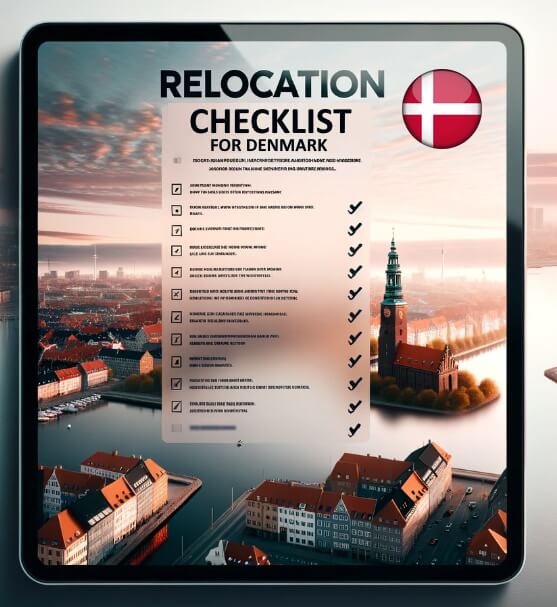 FREE Checklist for a Smooth Move to Denmark
Don't miss a step in your relocation journey. Subscribe and receive our detailed relocation checklist straight to your inbox
You can get a mortgage loan amounting to 80% of the selling price, and the remaining 20% will have to be funded by you. The lending institution will also take into account your creditworthiness. Besides pledging the property as security, the financial institution may also ask for another type of mortgage security, such as a negative pledge or limitations on the dividends you receive from your investment portfolio.
This mortgage system offers several benefits to homebuyers in Denmark, and some of them are as follows:
Competitive interest rate
Transparent pricing system
Possibility of early repayment of the mortgage amount without any penalty
Mortgage loan term of up to 30 years
Possibility of getting interest-only financing
The lending institution cannot terminate your loan unless you default on it
When you pay the monthly installment, you will be paying the interest, principal amount, and a margin that the lending institution charges you. The mortgage credit institution charges margin amounts to a certain percentage of the outstanding debt.
The price of the mortgage bond that funds the loan reflects the interest rate and the repayment price. Hence, it is vital to know that the interest rate will depend on the mortgage loan type you select and the market price.
It does not have anything to do with your negotiation skills, though you can negotiate the margin amount you will be liable to pay each month. That is why you should use an online interest calculator to understand the nitty-gritty of the mortgage loan system in Denmark.
You will be happy to note that Denmark has one of the lowest interest rates, so it makes home buying an affordable endeavor.
Other Things to Note
Besides the recurring cost of taking out a mortgage loan, you will also incur some other costs at the time of disbursal of the mortgage. These costs include the commitment fee cost of registering your mortgage with the Danish Land Register and broker. The registration fee is equal to about 1.5% of the mortgage amount plus a fixed fee that is quite low.
All mortgage loans can be repaid early, so you can also refinance your loan if interest rates dip, or you can clear up the loan amount if you get a windfall. Remember, the online mortgage calculator in Denmark is primarily used for fixed-rate mortgage loans based on callable bonds. So, you can terminate the loan at par value. You also have the alternative of purchasing and giving your mortgage lender a similar type of bond that was used to fund your loan.
In an adjustable-rate mortgage, the interest rate keeps varying. Hence, it is difficult to calculate the monthly installments over the loan term using a home loan calculator.
Such a mortgage loan is based on non-callable bonds, but you can repay the loan amount two months before the interest rate is adjusted at par value. If you do not want to repay at par value, then you can repay it any time with the help of similar bonds used to fund the mortgage loan.
The Closing Thoughts
You should not hesitate to use an online mortgage calculator in Denmark if you want to settle down here. It will prove to be an invaluable tool that will allow you to see the affordability of the mortgage loan.