Simple and affordable ways to send letters in Denmark.
Sending a letter and heading to the post office varies from country to country, and if you're looking to send a letter in Denmark, there are a couple of things you need to know.
Denmark has a postal service called PostNord that has taken over the postal service. You can either head to the separate post offices here that stay open for longer or send your letter via PostNord, which can take up to five working days to get delivered.
Depending on the urgency of the letter, you can find the timings of the post office or postal service and send your letters quickly and easily.
Key Takeaways
Using different postal services for important letters in Denmark
Registered mail is delivered within five working days in Denmark
Registered letters need to be signed by the recipient
You can easily track your letter with the shipping reference number
You can easily pay for the postage of your registered letter online and print it out, this makes it much more affordable.
Sending a letter also allows you to receive electronic confirmation for posting the item to PostNord. They will notify you when the letter arrives and once your recipient receives it.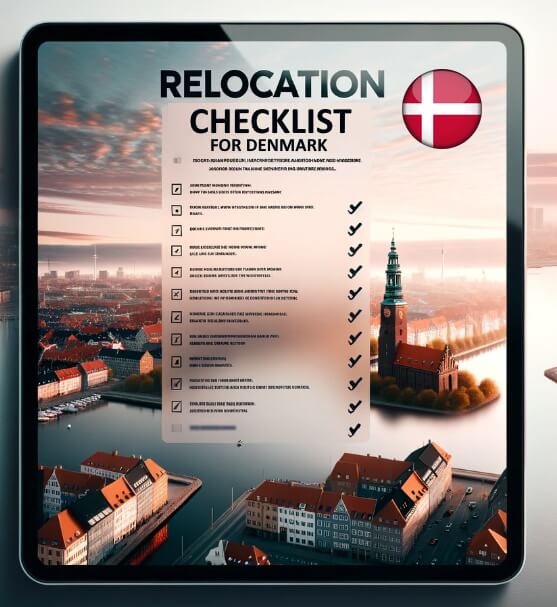 FREE Checklist for a Smooth Move to Denmark
Don't miss a step in your relocation journey. Subscribe and receive our detailed relocation checklist straight to your inbox
How do I send a letter to Denmark?
When it comes to sending letters and parcels in Denmark, it all depends on your letter's dimensions, your shipment's urgency, and who you are sending it to. If you are sending the letter internationally, there are some top logistic providers that you can benefit from. They will offer you the best standard or express shipping price and take care of all the shipping details.
For people shipping urgent documents, paperwork, or parcels, express delivery will allow you to send urgent and important documents anywhere in the world. Check with your international courier company that can offer you the best and safest way to send letters and will even give you an affordable quote.
Depending on your chosen service, your letter will be delivered within five days or a shorter amount of time. With international express shipping solutions, you can be sure that your letter with reaches you in the shortest time possible.
Should I make use of direct mail in Denmark?
If you are looking to send your letter quickly to your friends or family for an important reason and require the process to be private, quick and seamlessly direct mail can help you send your letters effectively and easily.
This is an economical option to help you reach your recipient and send them a letter, a brochure, a magazine, documents, and more. You will need to get in touch with your postal service, be it local or international, and choose the time you would be sending the letter and if you want it to be delivered in a standard five working days or an express delivery.
To send your letter, the name, address, sorting code, and postal code need to be entered properly, and once this is approved, you will receive a confirmation receipt of the same. make sure you leave space on the envelope for the barcode, processing, and anything else that needs to be added.
When sending any individual messages such as account statements, invoices, commercial paperwork, subscriptions, or payment demands, seal the letter properly and have it expressly delivered to your recipient.
While the cost may go up for express delivery, it will benefit you and allow you to send the letter more quickly.
Sending letters to Denmark vs. Internationally – what I need to know?
Here are some things to remember when sending letters to Denmark vs. sending letters abroad and how to go about it.
Sending letters to Denmark
When sending letters locally in Denmark, you have several options for buying postage stamps. You can buy a postage code online, use the PostNord app or buy stamps at your local post office.
Local letters can be delivered within five days, and you can drop your letters into a postbox. Keep in mind to keep the contents of the letter within two kgs, and you can even check and see if the company has any express option that can deliver your letter the next working day.
Sending letters abroad
Sending letters within Denmark allows you to choose between two delivery speeds and get the mail within five days or the next day via PostNord. This can be used for important documents and valuable content; however, if you send letters abroad, you will need to check the delivery time for individual countries and buy a postal code online or on the app.
If express delivery is what you are looking for, you need to write "Prioritaire" on the label, especially for far-off countries. It's important to check the codes with your postal provider and if anything else needs to be added.
What is allowed when sending letters to Denmark?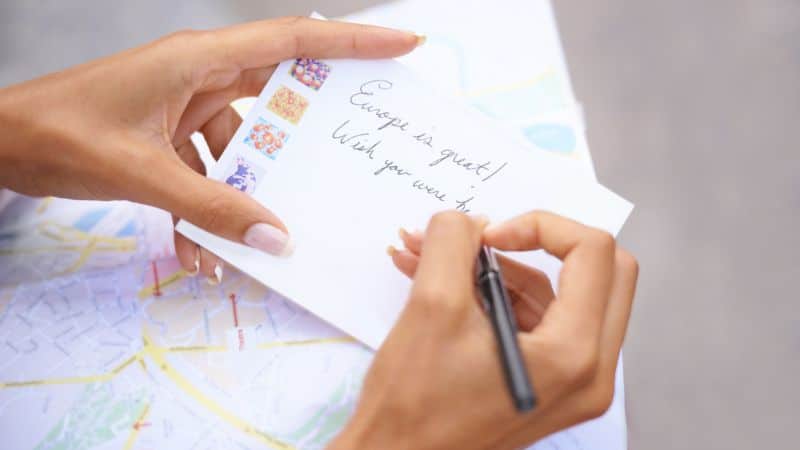 A long list of items is allowed when using a postage service in Denmark. Whether you are sending your letter locally or internationally, there will be rules and regulations along with what items you can send and what to avoid.
Certain things like paperwork, documents, personal information, and more are fine. However, you will need to check with the postal company if you plan to send valuable content, money, precious metals, and more.
The rules will differ depending on the country, and as the sender, you are responsible for any consequences if you send unauthorized content or it gets lost, misplaced, or stolen.
Every shipping company will have a range of services and shipments they allow and avoid. It's best to check that you can send this content to your recipient and how to go about it along with having all the necessary documents, as there is a possibility that the recipient's country may not allow the products and return the shipment.
How do I address the letter properly so that it arrives in Denmark?
If you want your letter to arrive properly and on time, you must keep a couple of things in mind, like writing the sender's and recipient's addresses properly. The recipient's address needs to include the following:
The address should be written in dark ink on a white background.
Use clear fonts such as Ariel, Times New Roman, or Courier with a size of 10 to 12
All characters need to have the same font type and size
The information has to be written without underlining and in a justified format.
For international letters, make sure to write the country code with capital letters, the postal code, and the town, along with the country name on the last line of the address.
The sender's name can be written on the back of the envelope along with the address so that it's not confused with the recipient's address.
Frequently Asked Questions about sending a letter in Denmark
Here are some questions that most people ask about sending a letter in Denmark and what you need to know.
What are the postage rates to Denmark?
For letters, you can access postage rates to Denmark on the postal platform, and some people often wonder why the letter postage online is higher than at a local post office. This is because when you send a letter through a service, it includes online tracking and signed delivery along with other features so you can be sure that the letter has been reached. 
Can I use a regular stamp for international postage to Denmark?
You can use a regular stamp when mailing or posting letters to Denmark. Keep in mind, however, that this might take longer for the letter to be delivered, and if you want express delivery, you will need to opt for a premium postage service and a first-class stamp.
How many stamps do I need to post a letter to Denmark?
If you are posting a letter to Denmark using regular mailing services, your envelope size will determine how many stamps you need. However, if you choose special postage services to post a letter, you will not need any stamps.
Do I need to pay customs when posting a letter to Denmark?
You will not have to pay any customs if you send letters or parcels from one country to another within the same trade agreement. However, if your shipment crosses international borders, it will be checked by customs, and depending on the country and its regulations, you may need to pay.
Where do I get the right materials for posting items to Denmark?
Most Denmark stationary or hardware stores will have the materials you need to post letters or parcels. It's important first to check what packaging materials you require for maximum protection and then invest in the same.
Wrapping Up
Now you know everything there is to know about sending a letter in Denmark. Make sure, as the sender, that you keep in line with any rules and laws both within the country and abroad.
Also, check if the destination country imposes any duties, customs, taxes, or more on the item you are sending.