When you move to a new place within Denmark or leave the country, updating your address promptly is not just an advisable practice—it's a legal requirement. It ensures that you stay connected with governmental and private institutions, continue to receive important mail, and avoid any legal issues or complications arising from outdated information.
In this guide, we will walk you through the steps involved in how to change address in Denmark. From identifying the key institutions you need to notify to detailing the process of how to register your change of address officially, we have you covered.
Key Takeaways
Changing your address within five days of moving is a legal requirement in Denmark.
You can change your address online via the 'Life in Denmark' portal using your NemID.
Alongside Folkeregisteret, remember to notify your employer, bank, PostNord, and other subscription services of your move.
When moving, update your driving license, vehicle registration, and health services with your new address.
Extra tasks such as updating utilities, insurance, and voting registration are essential when changing addresses.
When to Notify About a Change of Address
The legal requirement mandates that you report your new address no later than five days after your move. This includes both moving to a new home within the same city and relocating to another municipality. The five-day rule is equally applicable if you're leaving the country. Failing to abide by this regulation can lead to complications such as penalties or missed communications from the government.
It's important to note that the notification process should be undertaken by all members of the family. If you have children under 18, you must report the address change on their behalf as a parent or guardian. For adults sharing the same household, each individual is responsible for reporting their own change of address.
By adhering to these guidelines and ensuring timely notification of your move, you can avoid unnecessary complications and focus on settling into your new home.
Who Needs to Know
In Denmark, changing your address involves notifying government agencies and private institutions. This ensures that all official records are up-to-date and you continue to receive important communications. Here's an overview of the main entities that need to be informed about your move.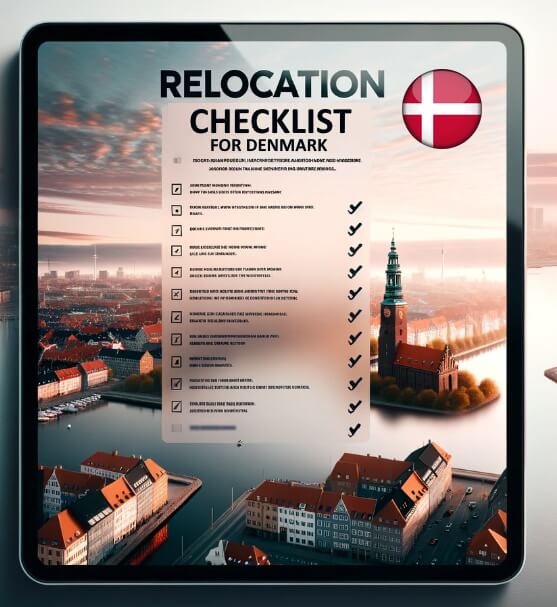 FREE Checklist for a Smooth Move to Denmark
Don't miss a step in your relocation journey. Subscribe and receive our detailed relocation checklist straight to your inbox
First and foremost, the Danish National Register (Folkeregisteret) needs to be informed. This is the government body that maintains your official address record. Changing your address with Folkeregisteret ensures all government bodies, including the tax authority and the health service, have your updated details.
Another crucial aspect of your life in Denmark is your employment. Your employer needs to know your new address to update your contact details, especially if you receive physical mail such as your payslips or other official communications. 
Similarly, your bank should be informed about your address change. This ensures the safe delivery of your bank statements and other financial documents. If you fail to inform your bank about the address change, your account may be flagged for potential fraudulent activity.
Denmark also operates a Digital Post system (E-Boks). Public authorities and some private companies use this electronic mail system to communicate with residents. Updating your address within the Digital Post system is vital to ensure you receive all necessary communications.
While these are the main entities you must notify, other organizations may be relevant to your specific circumstances. These may include your children's schools, insurance providers, mobile phone providers, and any other services you use. 
How to Change Your Address
The process of changing your address in Denmark has been streamlined to be efficient and user-friendly, particularly through the use of online systems. Here's a step-by-step guide on how to do it.
Gather the Necessary Information: Before you begin, ensure you have all the necessary information handy. This includes your Civil Personal Register (CPR) number, your new address, and your move-in date.
Access the Life in Denmark Portal: Visit the official 'Life in Denmark' website (lifeindenmark.borger.dk) and navigate to the 'Change your address' section. This website is an official government resource that offers English language support.
Use Your MitID: Log in using your MitID (formerly known as NemID), a common secure login on the internet, used for all public and private services in Denmark.
Fill in the Details: Once logged in, enter your new address, move-in date, and confirm your information. Make sure to check the details thoroughly before submitting.
Process for Families and Couples: If you live with your spouse or partner, they need to report their change of address separately. If you have children under 18, you can report the address change on their behalf during your own change of address process.
Confirmation: Once you've submitted your details, you'll receive a confirmation. It's advisable to save this for your records.
The law requires you to report your new address within five days of moving. Make sure you plan ahead to complete this process promptly. The online system allows you to register your new address up to four weeks before your moving date.
Changing Address at the Post Office (PostNord)
When moving, it is essential to ensure that your postal services are updated to reflect your new address. PostNord, the Danish postal service, offers a Mail Forwarding service which can be a crucial tool in preventing lost or delayed mail.
Access the Service: Visit the official PostNord website and navigate to the 'Mail Forwarding' section.
Log in with NemID: Use your NemID to securely log into the service.
Enter Your Information: Provide your old and new address details and specify the duration for which you want your mail to be forwarded.
Payment: A fee is associated with the Mail Forwarding service. This can be paid directly through the PostNord website.
Confirm Your Details: Always double-check the information you've provided before confirming your order. An incorrect address or date can lead to misrouted mail.
Wwhile the Mail Forwarding service is a convenient way to ensure you do not miss important mail during your transition, it does not replace the need to inform all necessary institutions about your address change. Forwarding is temporary and is typically used to cover any gap between your move and the update of your address with all necessary bodies.
Changing Address for Driving License and Vehicle Registration
If you're a driver or vehicle owner, updating your driving license and vehicle registration information is a significant part of the moving process in Denmark. This process is managed by the Danish Road Safety Agency (Færdselsstyrelsen).
When you change your address with the National Register (Folkeregisteret), it is automatically updated on your driver's license. However, there's an additional step to update the address on the physical copy of your driving license.
Visit your local Citizen Service Center (Borgerservice): Take your new address confirmation and your current driving license to your local Citizen Service Center.
Request a new license: Here, you can request a new driving license with the updated address. Note that this may come with a fee.
For your vehicle registration, the process is slightly different:
Log in to the Danish Motor Vehicle Agency (Motorstyrelsens): Using your NemID, log in to the Danish Motor Vehicle Agency's online self-service system.
Update your details: Navigate to the vehicle registration section and update your address details accordingly.
Follow these steps promptly to ensure all your driving records are up-to-date. It's also worth noting that driving with an address that doesn't match your driving license and vehicle registration may result in fines.
Changing Address for Health Services
Having your health records up-to-date is crucial to ensure uninterrupted access to healthcare services in Denmark. Your health insurance, known as the yellow health insurance card ("sundhedskort"), is tied to your CPR number and address. When you update your address in the National Register (Folkeregisteret), your health records are automatically updated, and a new health insurance card is sent to your new address.
However, if you are changing municipalities (from one "kommune" to another), you will also need to select a new general practitioner (GP), as your GP is tied to your residential area.
Changing your GP: Your new health insurance card will come with a list of GPs in your new area. You can select a GP from this list and inform the authorities of your choice through the 'Life in Denmark' portal. If you don't choose, you will be automatically assigned a GP.
Notifying the Danish Health Authority (Sundhedsstyrelsen): While your change of address is automatically registered with the Danish Health Authority when you report it to the National Register, if you have ongoing treatments, it's advisable to contact them directly to ensure all records are updated accordingly.
Additional Tasks After Address Change
Aside from the main tasks we've covered so far, there are additional responsibilities to consider when changing your address in Denmark. These tasks will help you seamlessly integrate into your new neighborhood and ensure you're set up for comfortable living.
Utilities: Contact your utility companies, including electricity, water, and gas providers, to inform them of your move. Depending on the provider, you might be able to transfer your existing service to your new address or you may need to close your current account and open a new one.
Insurance: Your home, vehicle, or personal insurance should be updated with your new address details. Contact your insurance provider directly to notify them of your move.
Telecommunication Services: Update your address with your internet, cable or satellite TV provider. If you're switching regions, check with your provider to ensure they offer service at your new location.
Voting Registration: If you can vote in Denmark, your voting registration is tied to your address. Changing your address automatically updates your voting district if you move to a different municipality. Make sure to check your new voting location.
Subscription Services: Don't forget about other subscription services you may use, such as newspapers, magazines, or monthly box subscriptions. These will need to be updated individually, as they are not connected to the national register.